"Reaching above and beyond the stars."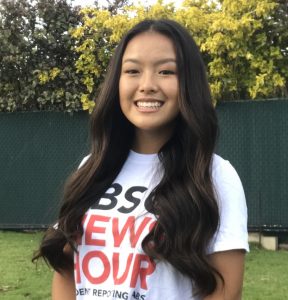 Hometown: Lihue, Hawaii
PBS Mentor Station: PBS Hawaii
Six-word Memoir: Reaching above and beyond the stars.
Why did you choose to get involved in storytelling?
I chose to get into storytelling because it seemed different from filmmaking, which most people in my media class were into. But, I am happy I made that choice because storytelling has become one of my passions.
What story are you most proud of?
The story I am most proud of is about a shark attack victim who is now a advocate for sharks. His name is Mike Coots and when he was a teenager he was attacked by a shark and lost his leg. But he hasn't let this affect he view on sharks. After hearing about how many sharks are killed every year and how insane the number was, he decided to take action. He uses social media as well as speaking to the United Nations and State Legislatures. We told his story as an entry for the 6 day Student Television Fall Challenge.
How can youth media change the world? 
Youth media can inform the world by producing informational, factual videos as well as telling the stories of people who are in the fight against COVID-19.
Who is your role model?
My role model is Dillon Ancheta. He is a reporter at Hawaii News Now, a local news station here in Hawaii. He was apart of the same media class I am currently in. When he was in high school he had the same dream I have had for a while, and that is to tell stories. So, for me it's inspiring to see someone from Kauai following their dreams and making it happen.