"We all have a voice, so why not speak with that voice."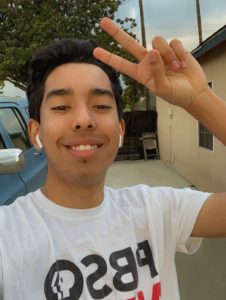 Hometown: Covina, California
PBS Mentor Station: PBS SoCal
Six-word Memoir: Whatever happens, go with the flow.
Why did you choose to get involved in storytelling?
I like to make the unheard heard. We all have a voice, so why not speak with that voice. I want to make those who speak up listened to.
What story are you most proud of?
I am most proud of the air pollution story that I worked on. Although it was never finished due to schools shutting down because of the pandemic crisis, I enjoyed all of the work I put. It was a brand new experience that I will never forget. From interviews at different locations, to traveling with my fellow peers, I loved the experience. I wish that we could have finished the story, so that it can possibly be on national television.
How can youth media change the world? 
Youth media can show the impact that the coronavirus pandemic has brought upon the youth population. They can show what has happened to our mental health, our social life, and our education.
Who is your role model?
My role model is Kobe Bryant. Not only do I like him as a basketball player, but i love him as a person. He is such a hard worker, and was committed to his family. I inspire to work harder and to be involved with my family in the future.