"Youth media can inform. "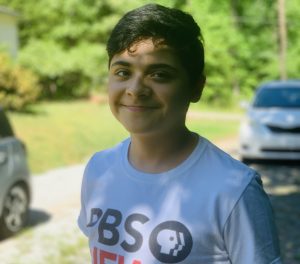 Hometown: Greenville, South Carolina
PBS Mentor Station: SCETV
Six-word Memoir: It's all part of the plan.
Why did you choose to get involved in storytelling?
I chose to get involved in storytelling because I felt like many people were not getting their stories out, so I thought if I were in control of what was stories were being reviewed and viewed then maybe I could balance things out a little.
What story are you most proud of?
A story I am most proud of, isn't necessarily a story, but I am very proud of it because of the circumstances that were applied to me during this time. At my school there is a newscast that airs every Monday, I hadn't had any experience in this field and it looked complicated, the newscast crew had left the job unfinished and it was up to me to deliver. I was new, things were scrambled and very unorganized, and I have 50 minutes to get it done. The task had its challenges and road blocks but I was able to get the story organized, neat, and near perfection in under 50 minutes. My teacher was impressed and very happy with the end product.
How can youth media change the world? 
Youth media can inform.
Who is your role model?
My role model would be my father, I say this because literally all odds could be stacked against him and he wouldn't even be fazed, he has literally ice running through his veins and this makes me admire him so much. Sometimes things get hectic and people freak out and run away from their problems. He will tackle his problems head first whatever the world throws at him he's ready.