Alumni Spotlight: Delilah Brumer
Delilah Brumer is a senior at Daniel Pearl Magnet School in Los Angeles, California, and will attend Northwestern University in the fall. SRL Intern Ryan Mercado recently talked with Brumer about censorship, freelancing, and learning.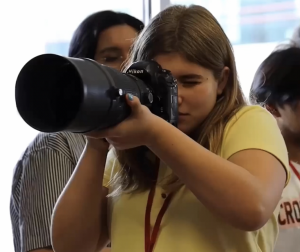 By the time she entered her senior year at Daniel Pearl Magnet School 18-year-old Delilah Brumer had already distinguished herself in the field of journalism. 
She is the editor-in-chief of her school's newspaper, The Pearl Post, and was involved with several Student Reporting Labs projects, like this one remembering the 20th anniversary of the September 11, 2001 attacks. However, she really gained national attention when she helped produce a story about her school's attempts to censor its own journalism program.
In the original story, a Pearl Post staff member reported that their school's librarian refused to get a COVID-19 vaccine, in the wake of the district's mandate that employees be vaccinated, and left her position. Later on, the former librarian requested her name be removed from the story, but Brumer and her staff refused, a decision supported by their advisor, Adriana Chavira. The school administration then attempted to censor the story and suspend Chavira from her job. Brumer and Chavira remained vocal about the district's attempts to shut down the valid, well-researched story, then received legal support from the Student Press Law Center and an outpouring of public support, and made national news. Ultimately, her teacher's suspension was lifted and the story stood unchanged. 
"It made me more confident in my reporting because I think every professional journalist who is reporting on important issues is going to get some sort of backlash," says Brumer.
Aside from her school work, Brumer is also a freelance journalist. She has already written stories for the Los Angeles Daily News, covering a strike in the Los Angeles Unified School District. Her byline has also appeared in the Los Angeles Times, where she is a High School Insider Advisory Board Member, writing everything from opinion pieces to interviews. And Brumer's hard work has paid off – she was named SRL's 20 Under 20 Young Journalists for 2022 and was also recently honored as the 2023 California High School Journalist of the Year.
Brumer credits her time at Daniel Pearl Magnet School and at SRL with expanding her journalism skills to get where she is today, saying it helped her become more confident, try new things like broadcast journalism, and learn essential skills.
"SRL is what forced me to try video. I don't think I would have ever tried video if it wasn't for this program," says Brumer, "SRL focuses on things that young people actually care about."
What's next for Brumer? She is entering Northwestern University's undergraduate journalism program in Chicago, where she hopes to join the campus newspaper and explore long-form journalism writing.