Access our curriculum in StoryMaker
PBS NewsHour Student Reporting Labs (SRL) creates project-based learning resources to support teachers and young people invested in building vital media literacy skills and reporting on important issues in their community. The stories students produce through SRL's award-winning curriculum are shared with local media outlets and the national PBS NewsHour.
Along with technical instruction on the use of cameras and editing equipment, our lesson plans focus on understanding the role of journalism in society and developing broader media literacy and communication skills, including listening, asking questions, writing scripts, teamwork, and public speaking.
In response to the increasing demand for SRL programming, we created StoryMaker, a new, free, self-directed online curriculum and resource tool that serves as a one-stop shop for educators interested in engaging with SRL's signature youth journalism and storytelling resources. 
Every resource on StoryMaker is standards-aligned to help students build life-long learning skills that translate to other areas of their lives, both academic and personal growth. On StoryMaker, you'll find:
Lesson plans, activities, and how-tos for journalism, video and audio production, recording, and editing
Media making and journalism challenges and projects 
Personalized dashboard for educators
Calendar with upcoming opportunities such as challenge deadlines and professional development
Educator directory to connect with like-minded teachers
Office hour scheduling with youth media experts
Sample signature lesson plans now on StoryMaker: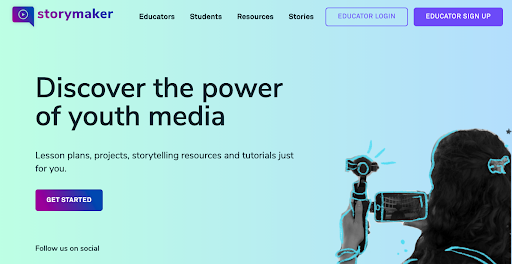 2022-2023 PROMPTS:
Every year, Student Reporting Labs (SRL) creates new prompts for students in our network to create video stories about topics tied to national and newsworthy issues. Labs in SRL's community use the prompt instructions and guidelines to submit work to our team of youth media producers for publication.
Any school, teacher, and student can use our newest prompts to practice essential video journalism and production skills. The prompts include deadlines, but educators can create their own timelines and deadlines. You may submit student work that you would like for SRL and PBS NewsHour to consider for publication by following the submission instructions in each project. SRL chooses your story for publication, and a producer will be in touch with you.
RESEARCH:
Independent research from the Temple University Media Education Lab and New Knowledge Organization shows that students who participate in Student Reporting Labs have significant increases in media literacy, news literacy, STEM and information literacies, as well as critical thinking skills. After producing video news stories and experiencing public recognition for their work, students are more civically engaged, meaning that they are more likely to discuss current events, seek out different types of news, share stories, and volunteer in their community.
LEVEL UP Video Tutorials
SRL's video tutorial collection called "LEVEL UP" aims to inspire students to take their storytelling and camerawork to new heights.