2023-24 PBS NewsHour Student Reporting Labs Student Advisory Team to guide SRL's editorial coverage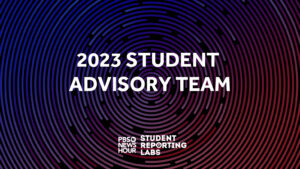 Congratulations to the students on the 2023-24 Student Advisory Team! PBS NewsHour Student Reporting Labs (SRL) recently selected 26 dedicated students who will work closely with SRL staff to guide the team's editorial strategy and approach. 
The team will bring their perspectives on the issues young people want to see covered in the news, contribute feedback to SRL projects, pitch stories, and help determine next year's SRL prompts.
"It's never been more important to hear from young people, particularly as we head into the 2024 election cycle," said Marie Cusick, SRL's Editorial Director. "Their voices are critical to informing how we approach our coverage."
Members of the student advisory team are ready to bring their expertise and diverse approaches to the group. 
"I think our world needs to be reminded more of the people that are using their time to solve problems rather than creating them," said Caroline Berry of Oxford High School in Mississippi. "Reporting from a human interest perspective invites audiences to be internally challenged to engage in the problems they might see in their own communities."
Jay'Shun Mathews of Houston County High School in Warner Robins, Georgia said that he is looking forward to "contributing his skills, experiences, and perspectives to ensure that the voices of marginalized communities are not only heard but also central in shaping the future of SRL." 
Meet the 2023-24 Student Advisory Team below:
NAME: Alicia Mathew

SCHOOL: Metea Valley High School

LOCATION: Aurora, Illinois

Alicia Mathew is a current junior at Metea Valley High School in Aurora, Illinois. This is her first year on the Student Advisory Team, and she is so happy to be selected and to engage with the rest of the team. Alicia is interested in researching international relations, scientific advancements, and fashion. Outside of her educational interests, Alicia is a classical singer who has performed at Carnegie Hall, and she runs her own youth-led organization dedicated to increasing interest in STEM within her community.

NAME: Allison Pope

SCHOOL: Madison High School

LOCATION: Rexburg, Idaho

Allison Pope is a senior at Madison High School, where she studied journalism for two years. Allison is the editor-in-chief for her school's newspaper, Bobcat Beat, where she's published articles and even started her own blog for book reviews. In her spare time, she loves experiencing all the different ways a story can be told, through movies, books, and music. Allison has loved being a part of SRL and can't wait to continue her work with this amazing team!

NAME: Ani Ceccacci

SCHOOL: Royal Oak High School

LOCATION: Royal Oak, Michigan

Ani Ceccacci is currently a junior at Royal Oak High School in Michigan. He attended the 2023 SRL Summer Academy and has been obsessed ever since. Ani has always been passionate about filmmaking, photography, videography, and journalism. He's very involved in school culture and student council and is also an athlete. He loves to go out with friends and have fun, and whenever given an opportunity for a new project to work on, he is always there to participate. Ani has loved being involved with SRL and can't wait to take it another step further by joining this year's Student Advisory Team. 

NAME: Arya Rao

SCHOOL: Independence High School

LOCATION: San Francisco, California

Arya Rao is a sophomore at Independence High in San Francisco, CA. This is her first year on SRL's Student Advisory Team. As a committed PBS Newshour viewer and an avid reader, she is really looking forward to working with SRL staff and the other student advisors to bring out those stories that matter to young people and may not otherwise be told!

NAME: Caroline Berry

SCHOOL: Oxford High School

LOCATION: Oxford, Mississippi

Caroline Berry, a senior at Oxford High School, is editor-in-chief of her school's newspaper, The Charger, and an executive producer for Charger Media Group broadcast productions. The Mississippi Scholastic Press Association, Scholastic Art & Writing Awards, and JFK Presidential Library have all recognized her award-winning writing. Quick on her feet, she competes as an NSDA Academic All-American on the national debate circuit and cheers on the Chargers during Friday Night Lights, captaining the Chargerettes Dance Team. Caroline is grateful to be able to share her love for silver linings and human interest stories with the Student Advisory Team this year.

NAME: Hannah Coulthurst 

SCHOOL: Northview High School

LOCATION: Covina, California

Hannah Coulthurst is a senior at Northview High School in Covina, California. This year, she is the producer for her school news channel, Viking Vision. When Hannah's not in school, she loves playing volleyball, listening to music, baking, and reading. She discovered her love for journalism after co-producing and editing a story about unsettled teacher contract issues happening in her district. Hannah also attended the 2023 SRL summer academy, which solidified her love for telling stories. She is always excited to learn new things and is always looking to tell important stories from untold perspectives. After high school, she hopes to study broadcast journalism. Hannah is so incredibly grateful to be a part of the second Student Advisory Board and is so excited to meet and work with everyone! 

NAME: Harrison Tran

SCHOOL: Herschel V. Jenkins High School

LOCATION: Savannah, Georgia

Harrison Tran—the son of Vietnamese immigrants—is a junior at Herschel V. Jenkins High School in Savannah, Georgia. A born-and-raised Southerner, he is organizing his community and peers for education justice and equity in schools, testifying before local and state officials about the issues that matter to young people. He currently serves as the Policy Fellow for Deep Center's Action Research Team and the Assistant Editor of the Sequoyah Yearbook. Harrison is continually dedicated to amplifying the voices of young people because he believes that when young people band together for a common cause and vision, they can do absolutely anything. You can find him reading, writing, listening to music, or dipping into some graphic design in his free time.

NAME: Haset Mekuria

SCHOOL: Bellaire High School

LOCATION: Houston, Texas

Haset Mekuria is a junior at Bellaire High School in Bellaire, Texas. She is the assignment editor of her school's news publication, Three Penny Press. In her free time, she likes to bake cookies, read new books, or work on new stories for her school's newspaper. As part of the SRL Student Advisory Team, Haset hopes to make sure unheard stories are told, learn more about the inner workings of journalism, and work diligently with the SRL team!

NAME: Henry Dozier

SCHOOL: St. Anne's-Belfield School

LOCATION: Charlotte, Virginia

Henry Dozier is a sophomore at St. Anne's-Belfield School in Charlottesville, Virginia. Henry lives in a rural area outside Charlottesville and is passionate about the challenges faced by small towns and rural communities. At school, Henry serves on the Honor Council, writes for the school newspaper, and is a member of the track and field team and Academic Team. Outside of school, he is a Boy Scout and volunteers at the local children's museum. Henry is very interested in ethics and recently began an internship with a legal clinic that does advocacy work for immigrants and refugees.

NAME: Imania Mohamed

SCHOOL: John F. Kennedy Memorial High School

LOCATION: Iselin, New Jersey

Imania Mohamed is a senior at John F. Kennedy Memorial High School in Iselin, New Jersey. She spends most of her time in the library discovering new books, reading, and writing. She has been involved with many volunteer efforts and is a committed member of the National Honor Society and the National English Honor Society. A few of her passions are reading, creative writing, cinematography, embroidery, and drawing. She loves telling stories and working with people, and someday she hopes to write a series of books and direct a movie or short film. She is ecstatic to be a part of the PBS Student Reporting Labs and work with other students.

NAME: Jay'Shun Mathews

SCHOOL: Houston County High School

LOCATION: Warner Robins, Georgia 

Jay'Shun Mathews, an advocate and aspiring creative director, is a passionate storyteller dedicated to empowering marginalized communities and minorities. He harnesses the power of storytelling as a tool for social change, recognizing the profound impact it has on raising awareness and fostering compassion. With a background rooted in understanding the challenges faced by underserved communities, Jay'Shun is committed to amplifying their voices and advocating for equity. His journey showcases his resilience, resourcefulness, and unwavering compassion. Through community initiatives and creative projects, Jay'Shun strives to make a meaningful impact, actively contributing to the mission of organizations like SRL.

NAME: Josephine Murphy

SCHOOL: Brooklyn Technical High School

LOCATION: New York, New York

Josephine Murphy is a senior at Brooklyn Technical High School in New York City. She is an aspiring journalist and judge, majoring in Law and Society at her school. She is the Co-Editor-in-Chief of her school's newspaper, The Survey, which recently celebrated its centennial. She enjoys editing, debating, and listening to music. She interned with The Sonia and Celina Sotomayor Internship Program and the Vera Institute of Justice this past summer, furthering her interest in the criminal legal system and the legal system as a whole. Josephine looks forward to working with SRL!

NAME: Julian Weaver

SCHOOL: Brooklyn Technical High School

LOCATION: New York, New York

Julian Weaver is a sophomore at Brooklyn Technical High School. He joined the SRL team in 2023 and has always had a great interest in history and the telling of underrepresented stories. He is the president of the Brooklyn Historical Society at his school, a member of the forensic speech team, and sells shaved ice over the summer. In his free time, he likes to practice the piano, socialize, and study. He is incredibly excited to be a part of the Student Advisory Team.

NAME: Keely Crawford

SCHOOL: Edmond North High School

LOCATION: Edmond, Oklahoma

Keely Crawford is a student journalist based in Oklahoma City, Oklahoma, and is a junior at Edmond North High School. Keely is the sitting News Editor for her school announcement show, The North Report on Husky Network. She attended the SRL Summer Academy in 2023 and plans on continuing with journalism for her career. Keely fell in love with all things media during the COVID-19 pandemic and wants to share her passion for other people's stories with the world. She is extremely excited to work with Student Reporting Labs and meet even more people through the team!

NAME: Laghima Pal 

SCHOOL: Cumberland Valley High School 

LOCATION: Mechanicsburg, Pennsylvania

Laghima Pal is a junior at Cumberland Valley High School. She is extremely interested in journalism and international relations and loves to advocate for social issues. She is the captain of her school's debate team and a youth columnist for PennLive. In her free time, she loves to volunteer at the library, play her viola, and delve into fantasy literature. She is ecstatic about being a part of the Student Advisory Team and hopes to make meaningful contributions to her community.

NAME: Maria Witcher

SCHOOL: Cass Tech High School

LOCATION: Detroit, Michigan

A passionate student journalist at Cass Tech, Maria Witcher founded the first journalism club at her school with less than a year of experience. Maria is dedicated to nurturing budding reporters and sharing her love for journalism through her nonprofit. This passion was ignited by her family's brief homelessness, which inspired her to focus on stories related to economic mobility. Maria is committed to using storytelling to address societal challenges and create positive change.

NAME: Mark Leschinsky

SCHOOL: Bergen County Academies

LOCATION: Hackensack, New Jersey

Mark Leschinsky is a senior at the Bergen County Academies in Hackensack, NJ. He is a passionate social-impact filmmaker and founder of the Student World Impact Film Festival (SWIFF), a student-run film festival providing a platform for young marginalized filmmakers across the world. To date, SWIFF has empowered more than 12,100 storytellers in 149 countries. Mark is a first-generation Ukrainian-American, and he is dedicated to providing a space for young artists to feel heard and supported by a community of peers. He is excited to join the Student Advisory Team at SRL!

NAME: Nico Fischer

SCHOOL: Santa Clara High School

LOCATION: Santa Clara, California

Nico Fischer is a sophomore at Santa Clara High School in California's Bay Area. He's excited to be working in public broadcasting, which he believes to be an extremely powerful tool to draw people together. He loves to help tell and respect the stories of people from all walks of life: a mantra that he brings with him as a member of his county government's youth commission and as he teaches and researches local history for a museum and his own podcast. In his free time, he likes to read, write, and run on his school's cross-country team.

NAME: Poojasai Kona 

SCHOOL: Frisco High School

LOCATION: Frisco, Texas

Poojasai Kona is the Student Advisory Team Social Coordinator. Her role is motivated by one question, "What's the point of this team if they help uplift other communities, but can't create one within their own team?" As a member of last year's inaugural Student Advisory Team, this year she will use her previous experience to help build a strong sense of community among the group. While she believes that this group is critical in highlighting important youth issues and helping to uplift youth voices, it's a hard task to accomplish, which is why she looks forward to building support, trust, and community within the team. 

NAME: Reesa Calderon Venterea

SCHOOL: Irondale Senior High School

LOCATION: New Brighton, Minnesota

Reesa Venterea is a passionate youth writer and activist from Minneapolis, Minnesota. As a Mexican-American, she has used her understanding of multiculturalism to bridge gaps between diverse communities. Reesa is the founder of Self First: a journal activism organization dedicated to the intersection of social justice and self-love. Through educational articles and developed resources, she works to instill a regard for personal peace and empowerment throughout justice fights. Reesa serves as a representative on her city's Human Rights Commission, working to put forth legislation that addresses ongoing inequity in her area. She currently works as a researcher in the Department of Diversity, Equity, and Inclusion (DE&I) and is fascinated by the overlap of social science and quantitative analysis. Reesa also enjoys playing and teaching on the violin, as well as dance, lacrosse, and camping.

NAME: Robert Moises Rodriguez  

SCHOOL: Brentwood High School

LOCATION: Brentwood, New York

Robert M. Rodriguez is a film student at Brentwood High School. He joined to hone his skills in film and audio to further aid his path in the film industry. He loves to create stop-motion animations and wishes he could do it more often.

NAME: Roman Sarinana

SCHOOL: Eagle Rock High School

LOCATION: Los Angeles, California

Roman Sarinana is a 9th-grade student from Echo Park, Los Angeles, attending Eagle Rock High School. He loves playing soccer, thrifting, and biking, and is excited to get started on the Student Advisory Team!

NAME: Sandeep Brijesh Pillai

SCHOOL: Beaverton Academy of Science and Engineering

LOCATION: Beaverton, Oregon

Sandeep is a junior at the Beaverton Academy of Science and Engineering in Beaverton, Oregon. He loves to share the stories of people around him by using his platform. His passion for journalism and cameras led to his first news report becoming a finalist in the 2022 Student Journalism Challenge, and his second news report being nationally broadcast on PBS NewsHour for AAPI Heritage Month. Sandeep went on to participate in the SRL Summer Academy 2023 and is now the leader of the journalism club at his school. He hopes to be a travel journalist in the future.

NAME: Sarah Youssef

SCHOOL: Westview High School

LOCATION: San Diego, California

Sarah is a junior at Westview High School in San Diego, California. As a student journalist, she has enjoyed shining a light on issues affecting her school and community. Her media appearances on MSNBC, GBH Boston, and PBS NewsHour have drawn attention to gender equity in sports, youth civic engagement, affirmative action, and the experiences of student journalists. When not reporting, you can find Sarah on the basketball court or in the kitchen baking for her friends and family. She hopes to pursue a career in journalism or law in the future.

NAME: Sophia Loiselle

SCHOOL: Mercer Island High School

LOCATION: Mercer Island, Washington

Sophia Loiselle is a junior at Mercer Island High School in Washington State. She is on the leadership team of her school's radio station, 88.9 The Bridge, where she likes to report on important developments in science and technology in her podcast STEM News. Sophia is passionate about building awareness about health equity and climate change issues through her advocacy projects. Outside of school, Sophia enjoys playing lacrosse, skiing, and creating things with Arduinos, an electronic prototyping platform. 

NAME: Yasmine Sakr

SCHOOL: Lakeside High School

LOCATION: Hot Springs, Arkansas

Yasmine is a sophomore at Lakeside High School in Hot Springs, Arkansas. She is extremely passionate about informing others about foreign affairs and international relations through her research and ability to see from multiple perspectives. In her freshman year, she decided to explore publishing her research and ended up publishing two papers in medical student journals. She wants to continue to learn and educate people on topics in both politics and medicine, for she is devoted to both. Beyond journalism, she loves to watch Gilmore Girls, play the piano, and explore downtown. Through SRL, Yasmine hopes to take her writing to the next level and inspire people through her work.