Founder's Note: Gen Z, COVID and Election 2020
By SRL Founder, Leah Clapman
"We're living in a history book"… Gen Z, COVID and Election 2020

The homestretch is here and the youth vote is again in the spotlight. Ever since the 2012 election, Student Reporting Labs has been exploring the youth vote and why the turn out rate for young people lags behind other groups. In 2014 we asked about attitudes towards public service and running for office – teens gave honest answers that were skeptical of politics, but contained a desire to be heard and to influence the decision-making around them.
I think one of the reasons the SRL video journalism program has thrived over the years is this need for a greater sense of agency, and the recognition that communication, critical thinking and media literacy are skills teens can use to achieve their goals. And we've seen Gen Z's sense of urgency grow, translating into social movements around climate change, March for Our Lives and Black Lives Matter.
So the question pinging around my head this year, is, are we at a tipping point for youth voter turnout?
In October, Student Reporting Labs held a virtual Youth Election Town Hall called Face the Facts. If you missed it, I highly recommend taking an hour off the relentless election result coverage and tuning in. Participants in the chat remarked on the civil and respectful tone and the Poynter Institute blog called the event "a rare moment of hope.
During one of the segments, guest host Savannah Sellers asked a panel of first-time voters the "one-million dollar question" — will Gen Z actually vote this year? "One hundred billion percent they're going to show up at the polls," chimed Rebecca McKinney, a senior at Dominion High School.
And indeed young voters are. More than a million voters under 30 have already voted in Texas. Key states including Arizona, Florida and South Carolina are reaching record levels.
So while we wait to see what impact the youth vote has on the election, the SRL team will continue to coach students on the skills they will need to be effective communicators, critical thinkers and informed voters. We're lucky to be doing this work – If you want to improve your mood, spend some time talking with teenagers about what's important to them.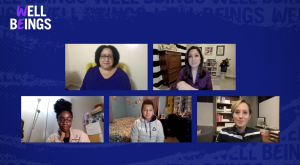 I recently spent a few lunch periods on Google Meet with a high school sophomore preparing for SRL's Teens, COVID and Coping event. He was worried about being part of a high-profile panel because he has a lot going on in his head and tends to speak in tangents. He said it has gotten worse with the pandemic and he finds it hard to stay focused. Together we wrote down bullet points for each topic, and practiced. Each day. And each time, he would find new tangents to go on. They were great tangents, and I learned so much about what it's like to be 15, in South Carolina, going to remote school in a house full of siblings and extended family. And as we spent our lunch periods together, I was increasingly impressed by the effort he was putting in to become a better public speaker.
He was fantastic on the panel, by the way.
Also on the panel was renowned adolescent psychologist Lisa Damour. Following the event, I asked her what teenagers can do to deal with election uncertainty and fear. Among her suggestions, "Preserve energy by working to accept that which is beyond your personal control and channel that energy into tackling problems where you and your peers can exercise your creativity, power, and influence."
Good advice for all of us, and a clear direction for Student Reporting Labs in the post-election period to come: focus on nurturing the skills that empower young people to use their energy and unique perspectives to communicate through media that speaks to authentic audiences, including decision makers.
Voting tipping point or not, Gen Z's creative civic engagement is on the rise… and our democracy is better for it.
*****************
Leah Clapman created Student Reporting Labs in 2009 as an experiment to engage middle and high school students with current events and reimagine public media for tweens and teens. Under her leadership, SRL has grown from 6 pilot sites to 165 schools in 46 states with partnerships extending from major media and online platforms to international education and youth initiatives.