Founder's Note: Student Reporting Labs at 10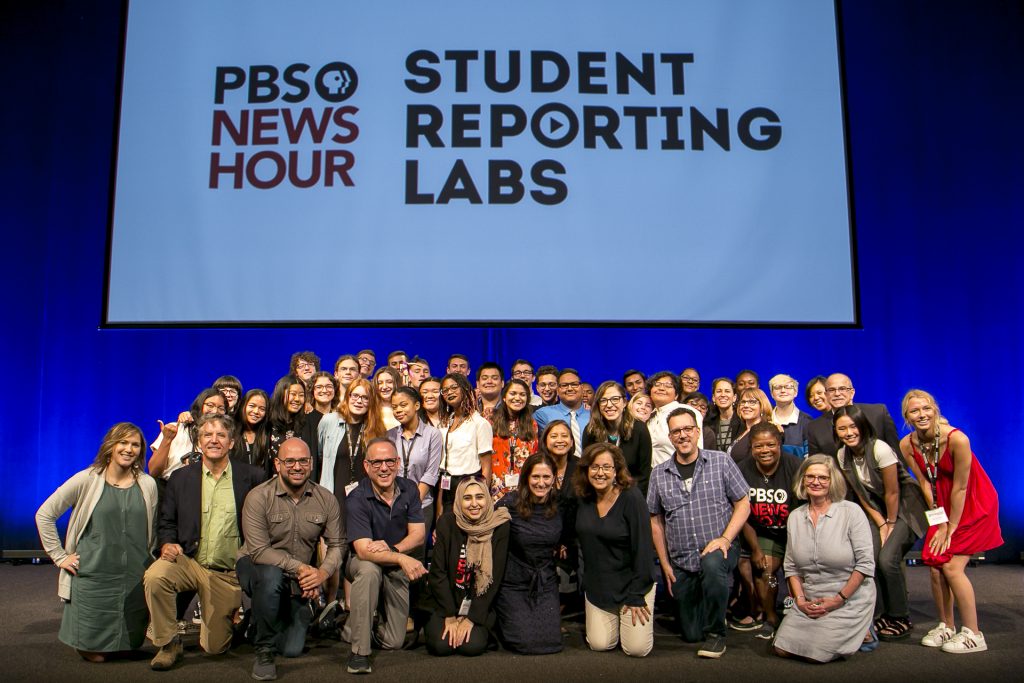 By SRL Founder, Leah Clapman
September 2019
"How can we get more teenagers to care about the news?" That's the question that led to a sketch on a cocktail napkin connecting students to local public media stations, to the PBS NewsHour. 
Growing up, we tuned into the NewsHour, my mom made me watch CBS Sunday Morning and a social studies teacher asked me to lead group activities for a program called CivEd.  After college, I was lucky enough to be part of the team that built the first PBS NewsHour website, but my passion remained education and figuring out ways to bring current events into classrooms.
Whenever possible, I asked teachers what they needed and created a website to develop resources and share best practices. That soon became talking with students across the country – showing videos from many different news sources and asking, "What do you think?" 
Repeatedly I heard, "This feels like news produced by adults for adults. I don't see people who look like me or hear voices that sound like mine. It's fine, but I don't connect with it. It doesn't speak to my experience." Student Reporting Labs was born as a way to solve for this critical gap in the news and media landscape. 
In 2009, a seed grant from the Corporation for Public Broadcasting enabled The NewsHour to work with six member stations and schools to see what it took to produce quality video journalism about how national issues affect students and local communities. We also partnered with Temple University's Media Lab and brought together teachers to draft a curriculum that filled in the gaps between question, story idea and finished video. 
The growth of Student Reporting Labs has been organic and accelerated by needs within education and journalism. For educators, it's the realization that journalism is a powerful form of inquiry and learning – it hits all the latest research on how students learn best – project-based, relevant, collaborative, focused on critical thinking with real-world applications. 
For students, it's learning how to be effective communicators, producing content for an authentic audience outside the school walls and finding purposeful work – far more engaging than getting a grade from a teacher. 
For journalists, working with the next generation of thoughtful and creative young people is a bright spot in an uncertain time. Student Reporting Labs connects with new audiences and surfaces unheard-from voices and perspectives. It's a wholly unique avenue for a news organization to cover the Youth Beat and rebuild trust and understanding, local storytelling and stronger news ecosystems. The NewsHour's values of accuracy, fairness, curiosity, civility and diversity are guiding lights for young people as they navigate an increasingly complex and hazardous media universe. 
Separate evaluations and research from the Temple Media Lab, New Knowledge Organization and San Diego State show that students make significant gains in the following areas: 
Media production skills: gathering and synthesizing information, communicating ideas, and engaging in cycles of revision and feedback.
Collaboration and teamwork competencies, intellectual curiosity and confidence in self-expression.
Significant increases in media literacy analysis skills and a shift towards high‐quality news sources over entertainment-type news: PBS and NPR over TMZ.
Less apathetic view of news and journalism.
Increased interest in civic engagement activities, particularly ones that are digital and collaborative, as well as commitment to volunteering and problem-solving.
Over the years, Student Reporting Labs received awards and new funding to grow our footprint and impact. Talented educators and journalists have joined the team with new ideas, passion and creativity beyond my wildest dreams. PBS NewsHour and WETA staff have invested time and brainpower, supporting the project and coming up with new ways to engage with youth around the issues that affect them. 
I'm eternally grateful to everyone past, present and future who has contributed to this effort. You are making a lasting difference.
I've been working at the intersection of journalism and education for over 20 years and firmly believe that we are at a tipping point. Educators talk about growth mindset and social-emotional learning in ways that feel very familiar to SRL teachers and news organizations are reaching out to younger people because, well because now they need to.
But it's hard work, we've put in the time and the public media system has enabled us to build from the ground up. I wish everyone could join us for the SRL Academy each summer when 25 students from across the country gather in Washington for a weeklong celebration of journalism and learning. It's my favorite week of the year because it is so fun, inspiring and hopeful. In the next 10 years, we hope to bring SRL journalism and engagement opportunities to students and communities across the country and the globe. We are building new curriculum tools, content partnerships, teacher professional development resources and models for school systems, informal learning environments and media organizations.
Stay tuned!