Founder's Note: First drafts of history through the eyes of teenagers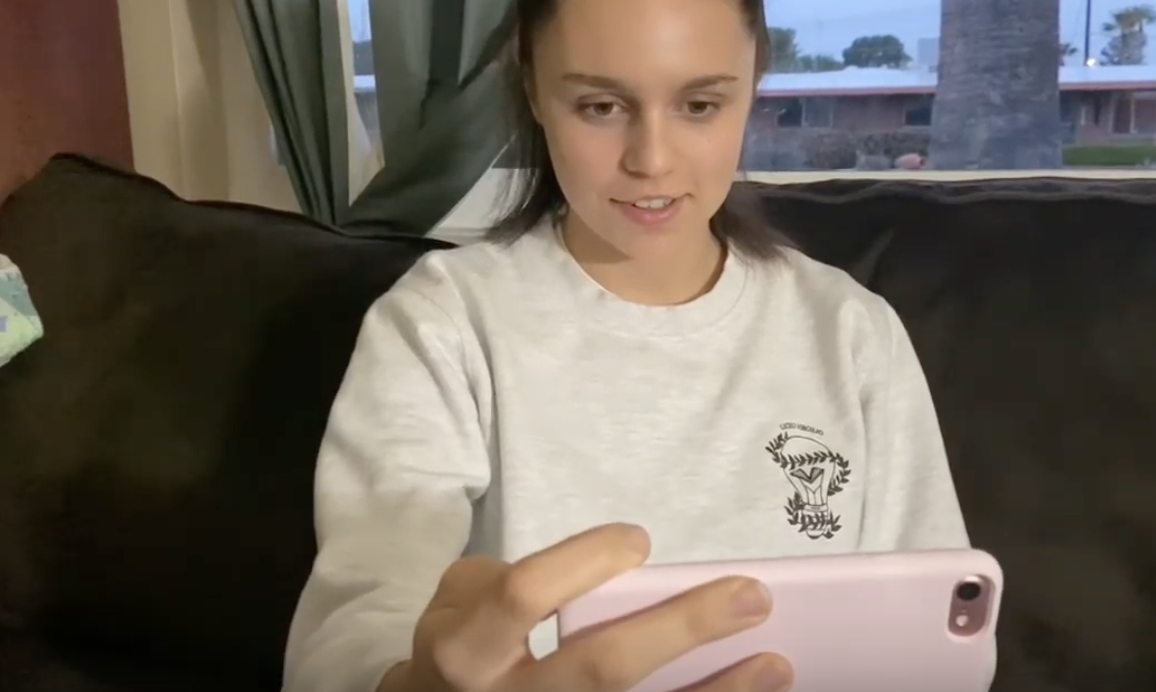 By SRL Founder, Leah Clapman
April 2020
It's hard to know what to say right now. We're bracing for unprecedented challenges over the next few months and I worry about our students, teachers, local media partners, family, staff and especially the vulnerable among us. But at the same time, I'm inspired by a new sense of purpose rising up in the national SRL network and young people who are motivated to produce stories about life during the pandemic.
This is the biggest story of the century, and here at Student Reporting Labs, we're marshaling all of our resources and expertise to empower teenagers to add their voices to this first draft of history. We're receiving dozens of videos every week, narratives that will be primary sources one day from the vantage point of Americans between childhood and adulthood.
This is the moment for student journalism.
Through media making, students can gain some power over a very uncertain and scary situation. We're hearing that the work provides connection and value when days in isolation feel repetitive and empty.
"This is more important than my schoolwork," said John Barnes, of HB Woodlawn Secondary Program, in Arlington, VA. Barnes, one of our Homegrown Fellows, is editing a piece the fellows recently shot about life under quarantine.
When the world turned upside down. 
How did we get here? Just one month ago, I returned from Amman, Jordan where we spent an amazing week training teachers to start video journalism programs, our first official international Reporting Lab. The coronavirus had yet to seriously disrupt the U.S and we were preparing to present at the SXSWedu conference in Austin, Texas and launch the new SRL Election Toolkit. 
But as it became clear that COVID-19 was not going away, the SRL team gathered in our office lounge (oh how I miss the lounge, and gathering!) to figure out how to respond. What could we do to help students and teachers?
The team quickly created a flexible learning unit:  "Making Sense of Coronavirus Through Storytelling and Media Making" for students to cover the coronavirus story. We built on our years of experience working with teenagers, listening to teachers and designing a digital curriculum platform to expand the reach of the Student Reporting Labs program.
Student reporters: this is their moment
The crisis forced us to execute ideas we've been floating for months: differentiated paths for quick, personal stories, new mobile tools strategies and multi-media fact checks.
We marshaled our tutorials, graphic organizers and explainers for anyone seeking to use this sudden shift to online learning to explore citizen journalism for the first time. In our new homebound reality, we created a guide on how to record and edit remote interviews and a signup process for daily virtual office hours.
Elevating Student Voice
My hope is that SRL resources are tools for processing and coping over the coming months. When students assess the situation, think critically about information, storyboard the beginning, middle and end, and use their creativity to capture and weave together audio and visuals, they shape something personal and vital: their story.

We also know that some students don't feel comfortable telling their own story; many are shy or afraid of being judged. So we highlighted SRL's emphasis on empathy, public service journalism and the positive feeling derived from telling someone else's story. At a recent conference session, SRL's 2019 Student of the Year, Karen Ramos, said that journalism is giving a voice to the voiceless.
"When I realized how much it matters to them, I realized that it's important to me too."
When our grandchildren ask, "what did you do during the war against the virus"?
The response to our COVID-19 learning unit has been phenomenal. "SRL's timing on this is amazing for us," wrote Chris Jones, of Cape May Technical High School in NJ. "Several teachers were able to quickly adapt the unit you provided into a series of assignments and assessments. My class (TV/Film/Journalism), as well as the Audio Production class and Graphic Arts class are all making heavy use of this unit."
During one of our (now virtual) staff meetings, SRL Youth Media Producer Eli Kintisch spoke of a distant day when our grandchildren ask, "what did you do during the war against the virus"? I hope that everyone connected to Student Reporting Labs, (whether for the past 10 years, or 10 minutes) looks back and says, "I helped teenagers tell their story. Here, let me show you what they made, so you understand what America went through…"
Like all of you, I look forward to the day this event is behind us, when we can take pride in the incredible work our students, teachers, and public media did to shine a light in a dark time. Until then, the SRL team is here to support our community as we work together to empower the next generation of journalists and storytellers.
WATCH:
SRL Students Share Their Experiences at Home 
SRL Covers COVID-19 – YouTube Playlist