Hank Green, Joy Harjo, Kristi Yamaguchi and others talk about the importance of taking care of your mental wellbeing at SXSW EDU
By Ethan Rodriguez
SXSW EDU  held their second in-person conference since the pandemic and PBS Newshour Student Reporting Labs went back to Austin to conduct interviews, create content, meet speakers, and sit on their own panel on the official SXSW EDU Podcast Stage.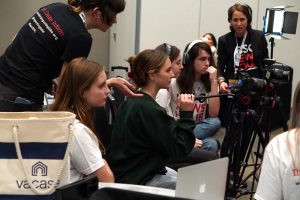 From March 6 to March 10, content creators, influencers, educators, and student journalists gathered in Austin, Texas for a  conference dedicated to amplifying the voice of educators nationwide. This opportunity allowed our student reporters to interview some of this year's conference headliners. 
On Our Minds teen co-host Tyler Pullum of Shadow Creek High School in Pearland, Texas interviewed Crash Course's very own Hank Green. They discussed Green's content and how it has impacted the lives of students. About Green's success, he said, "Honestly…it's like a dream world. It doesn't seem real. Especially because, you know, when I see the YouTube view numbers, it doesn't tell me whether that's a classroom or whether that's a person. And so I have no idea. You know, we do more now, but for a long time we had no idea how utilized Crash Course was in schools."
Ivy Beltran, a student reporter for Westwood High School had the opportunity to interview Kurt Russell, winner of the 2022 National Teacher of The Year award. Russell discussed his approaches to education, and how he strives to help students who might be having challenges at home. 
"I have to be considerate and I have to be willing to listen," Russell said. "And so it's unfair for me to approach a young person and tell them what they need to do instead of taking the opinion of allowing students to talk. To share what's going on, if they feel comfortable enough. And for me to listen. A lot of times students just need a listening ear instead of being told what to do."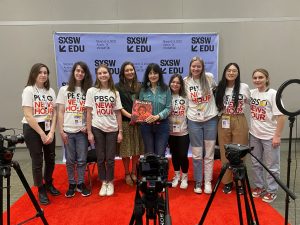 Former US Poet Laureate Joy Harjo and Michaela Goade, Caldecott Award-winning illustrator, were at the SXSW EDU conference highlighting their book Remember. Harjo discussed her experiences as a poet and as a Native teen. SRL's Ingrid Smith of McCallum High School asked, "is there any advice either of you has for American teenagers or young kids who are interested in getting involved with the arts?" 
Harjo shared that an older Pueblo Indian woman had told her to "be yourself."  Harjo explained, "it turned out to be the most profound found advice…Ultimately, you have to honor who you are. Doesn't matter what your story…it depends on what you do with the story. You can use the story to destroy yourself or you can use the story to grow into the most magnificent person that you were meant to be."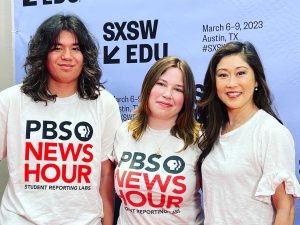 Student journalists Pierce Martin of Rouse High School and Alice Scott of McCallum conducted a joint interview with figure skater Kristi Yamaguchi, who was the first Asian-American to win a gold medal in a Winter Olympic competition. 
"I think it's a huge honor and I think I'm trying to be as positive as possible and encourage people that, you know, go after what they want," Yamaguchi said."Don't let a glass ceiling or perceived glass ceiling stop you from doing what your passion is."
Pierce's enthusiasm stems from his own passion in athletics as an Asian American. "I can confidently say that after conducting my first ever interview with a figure skating legend, I am addicted to the world of journalism. Kristi Yamaguchi as my first interviewee was match made in heaven, I could relate to her in terms of also being Asian American, playing hockey and skating, as well as growing up in the same area of California. I'm very grateful for Student Reporting Labs granting me such an opportunity, and collectively the SXSW trip opened my eyes to how limitless storytelling is, it's a timeless career field and one I could see myself graciously pursuing for an eternity."
SRL also hosted a meet-up to gather Texas students and educators together. Students formed groups, mixing with other schools and sharing stories they had recently produced.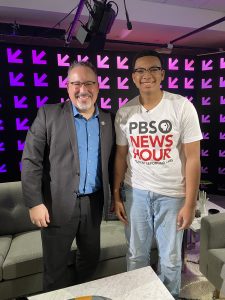 The week's highlight included a live recording of an On Our Minds episode on the SXSW EDU podcast stage. Lead Podcast Producer Briget Ganske joined teen hosts Ashley and Tyler on stage in front of a standing-room-only crowd. They recorded the podcast episode "HELP" about how to ask for help and what good help looks like. After Ashley and Tyler shared personal stories about receiving help, audience members volunteered and shared their own experiences as teens. Ashley later reflected, "Recording an episode in front of so many people who also cared about teen mental health and youth journalism was such an unreal experience and I can't thank everyone enough for this opportunity." This podcast episode will be published on May 3.  
On the last day of the conference, student reporter Tyler Pullum also sat down with Secretary of Education Miguel Cardona to discuss the cost of college and teacher shortages. 
"So as you're seeking college options, make sure you're following what you're passionate about…So fulfill your life's purpose, feel connected with what you're doing, but make sure that it's going to be able to pay the bills. Because if your goal is also to buy a home, you should be thinking about a career pathway that can allow you to do that." 
This opportunity allows student journalists to showcase the importance of their work, all while gaining valuable experiences they could take home. SRL has attended SXSW EDU since 2011, marking this the 12th year of participation.