National Science Foundation Awards PBS Newshour Student Reporting Labs with STEM Grant to Develop Digital Learning Platform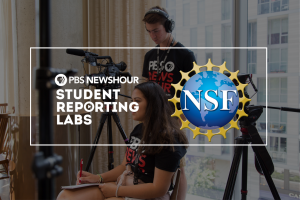 ARLINGTON, Va.–– PBS NewsHour Student Reporting Labs (SRL) was awarded a $2.25 million/four-year grant from the National Science Foundation in order to expand its award-winning student journalism program and bring it to more teachers using innovative digital tools.
Dubbed 'StoryMaker', SRL plans to develop an online learning platform using STEM (Science, Technology, Engineering, and Mathematics) as an anchor. SRL expects this digital learning platform to teach students foundational critical thinking,  journalism, media literacy, science literacy, and STEM skills while supporting an educator community dedicated to interdisciplinary project-based learning with civic engagement outcomes.
Co-developed with educator-experts, StoryMaker will feature standards-aligned curricula, designed and tailored to a student's grade-level. It will incorporate academic standards from the International Society of Technology Education (ISTE), Next Generation Science Standards (NGSS), and Common Core State Standards (CCSS).
Carefully-structured online activities within the platform will enable students to learn at their own speed and time. At the end of the project, students will produce polished videos about topics relevant to young people. Students will gain the necessary data and information literacy skills to understand and report on the issues that matter to them and the ones that impact their communities most.
Over the course of four years, SRL expects to make the tool widely available and free for use to students around the country and globe. The estimated time for completion of the product launch will be in late 2022. 
Stay tuned for updates by following SRL online at https://studentreportinglabs.org. 
---
About the National Science Foundation (NSF)
Founded in 1950 by an act of the United States Congress, the National Science Foundation (NSF) is a federal government agency that supports fundamental research and education in all the non-medical fields of science and engineering. Its stated mission is "To promote the progress of science; to advance the national health, prosperity, and welfare; and to secure the national defense." The NSF's scope has expanded over the years to include many areas that were not in its initial portfolio, including the social and behavioral sciences, engineering, and science and mathematics education. Learn more at https://nsf.gov. 
About SRL
PBS NewsHour Student Reporting Labs (SRL) is building the next generation of video journalists by connecting educators with an innovative video journalism curriculum and network of public broadcasting mentors to develop digital media, critical thinking, and communication skills while producing original news reports from a youth perspective. Over 150 schools across 46 states and the District of Columbia participate, reaching 3,000 students. Over the last decade, SRL youth media producers have helped students place over 50 video news reports on the PBS NewsHour's nightly broadcast and more on local media outlets. Visit www.studentreportinglabs.org to learn more.
About PBS NewsHour
For more than 40 years, millions of Americans and citizens of the world have turned to the PBS NewsHour for the solid, reliable reporting that has made it one of the most trusted news programs on television. PBS NewsHour is a production of NewsHour Productions LLC, a wholly-owned non-profit subsidiary of WETA Washington, DC, in association with WNET in New York. More information on PBS NewsHour is available at www.pbs.org/newshour. On social media, visit PBS NewsHour on Facebook or follow @NewsHour on Twitter. 
About PBS
The Public Broadcasting Service, or better known as PBS, was established in 1969 and has grown to 350 member television stations. PBS distributes a number of television programs that speak to children and families, from Mister Rogers' Neighborhood and Sesame Street to Downtown Abbey and This Old House. According to Nielsen Media Research, PBS reaches over 80% of households in the United States.
Support Provided By
The MacArthur Foundation, National Institutes of Health SEPA partnership, The American Graduate: Getting to Work initiative, public media's long-term commitment, made possible by the Corporation for Public Broadcasting (CPB) to help young people succeed in school, career, and life.
Media Inquiries
Marcus Markle, Communications Manager, mmarkle@newshour.org
Elis Estrada, Director, eestrada@newshour.org