PBS NewsHour Student Reporting Labs and the Poynter Institute's MediaWise team up to host #Election2020 Youth Town Hall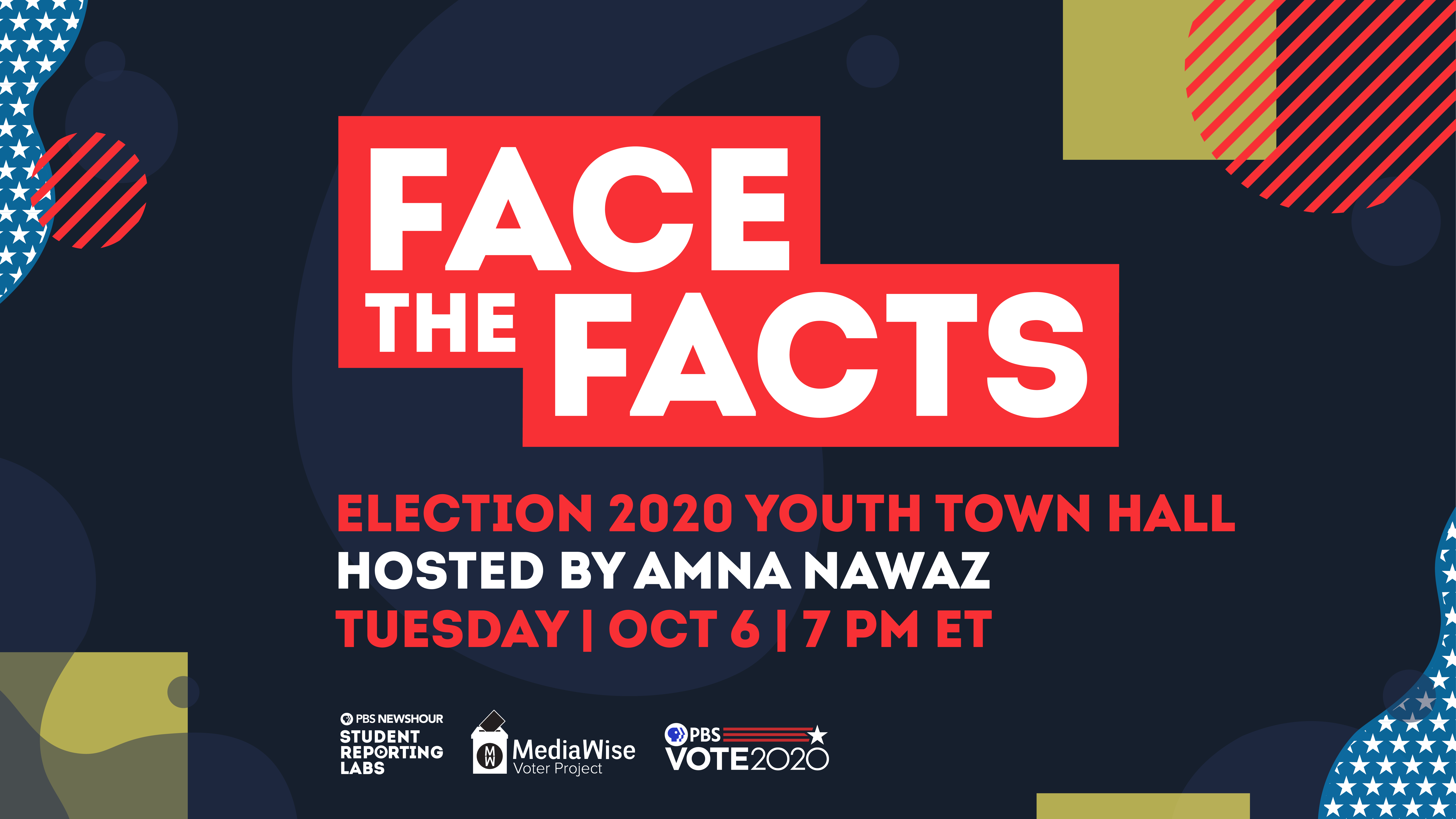 The PBS NewsHour Student Reporting Labs (SRL), in partnership with MediaWise, will host Face the Facts: Election 2020 Youth Town Hall, a one-hour, virtual youth town hall streaming on NewsHour digital platforms on October 6 at 7pm ET. The event will engage students and first-time voters on how to be prepared and better informed ahead of the November elections. 
Amna Nawaz, senior national correspondent and primary substitute anchor for the PBS NewsHour, will host. Special guests will also include Hari Sreenivasan, NewsHour senior correspondent and anchor for NewsHour Weekend, and Savannah Sellers, NBC News and MSNBC correspondent and co-host of Stay Tuned, NBC's twice-daily news show on Snapchat and Instagram. Nawaz, Sreenivasan and Sellers are MediaWise Ambassadors who work with MediaWise — a digital media literacy project from the Poynter Institute — to teach people of all ages how to sort fact from fiction online.
"This town hall will create a space for young people to hear from other young people and experts about the critical issues they are facing during this historic election year and how to be more confident in navigating news and information online," said SRL Senior Director Elis Estrada. 
The livestream will feature conversations with young people about how to spot election misinformation and engage in the democratic process as they're making decisions about how to cast their vote. The event will culminate with Nawaz and guests taking questions from viewers. The event is open to the public — to RSVP, register on Eventbrite. 
"In today's hyper-partisan environment, we are happy to work with PBS SRL to provide a nonpartisan forum where first-time voters can learn key digital media literacy skills so they can feel confident that they are voting based on reliable and accurate information," said Katy Byron, MediaWise Editor and Program Manager.
This event was made possible with support from MediaWise and funding from Facebook.
About Student Reporting Labs
Now in over 160 middle and high schools, Student Reporting Labs (SRL) is a national youth journalism program and public media initiative that trains teenagers across the country to produce stories that highlight the achievements, challenges, and reality of today's youth. SRL creates transformative educational experiences through video journalism that inspires students to find their voice and engage in their communities. Since 2009, SRL youth media producers have helped students place over 100 video news reports on PBS NewsHour's nightly broadcast and more on local media outlets. SRL is supported by the Corporation for Public Broadcasting, a private corporation funded by the American people, and the MacArthur Foundation. Visit www.studentreportinglabs.org to learn more. 
About the PBS NewsHour 
For more than 40 years, millions of Americans and citizens of the world have turned to the PBS NewsHour for the solid, reliable reporting that has made it one of the most trusted news programs on television. PBS NewsHour is a production of NewsHour Productions LLC, a wholly-owned non-profit subsidiary of WETA Washington, DC, in association with WNET in New York. More information on PBS NewsHour is available at www.pbs.org/newshour. On social media, visit PBS NewsHour on Facebook or follow NewsHour on Twitter. 
About MediaWise
MediaWise is a digital media literacy initiative led by The Poynter Institute: Its mission is to teach Americans of all ages how to sort fact from fiction online. MediaWise content has been viewed 17 millions times by more than 9 million people since the project launched in 2018. The MediaWise program teaches people through in-person and virtual training events, online educational videos, fact-checking content reported by its Teen Fact-Checking Network, and its MediaWise Ambassador program — a group of prominent journalists and influencers who help promote the MediaWise mission. In 2020, Poynter launched the MediaWise Voter Project (#MVP2020) to teach first-time voters how to find reliable information online about the U.S. presidential election, a new initiative supported by Facebook. MediaWise for Seniors was announced in June, 2020 to bring MediaWise tips to the 50+ population in advance of the general election. MediaWise for Seniors has a program funded by AARP to provide resources to their membership and a program funded by Facebook bringing virtual training and a social media awareness campaign to the senior population. The foundation of MediaWise was created with support from Google.org as part of Google News Initiative. Learn more at poynter.org/mediawise.
About The Poynter Institute
The Poynter Institute for Media Studies is a global leader in journalism education and a strategy center that stands for uncompromising excellence in journalism, media and 21st-century public discourse. Poynter faculty teach seminars and workshops at the Institute in St. Petersburg, Florida, and at newsrooms, conferences and organizations around the world. Its e-learning division, News University, offers the world's largest online journalism curriculum, with hundreds of interactive courses and tens of thousands of registered international users. The Institute's website produces 24-hour coverage about media, ethics, technology and the business of news. Poynter is the home of the Craig Newmark Center for Ethics and Leadership, the Pulitzer Prize-winning PolitiFact, the International Fact-Checking Network and MediaWise, a digital news and information literacy program for young people, first-time voters and senior citizens. The world's top journalists and media innovators rely on Poynter to learn and teach new generations of reporters, storytellers, media inventors, designers, visual journalists, documentarians and broadcasters. This work builds public awareness about journalism, media, the First Amendment and discourse that serves democracy and the public good. Learn more at poynter.org.