PBS NewsHour Student Reporting Labs to host 'Our New Normal' special exploring key education issues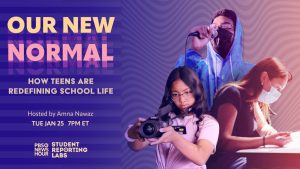 PBS NewsHour Student Reporting Labs (SRL) will host "Our New Normal: How Teens are Redefining School Life," an hour-long event on PBS NewsHour's YouTube channel on Tuesday, January 25 at 7pm ET, with an encore presentation on the WORLD Channel.
From vaccination mandates to book bans, social media policies to teaching history and race, responding to school shootings to addressing the surging mental health crisis, districts across the country are facing some of today's toughest civic debates.
But how do students experience these issues and participate in conversations about the future?
"Our New Normal: How Teens are Redefining School Life" will explore how young people are rethinking their educational experience, what they want to see changed, and how students are redefining spaces they are traditionally left out of.
Co-hosted by Amna Nawaz, chief national correspondent for the PBS NewsHour, and student journalists Terry Jones Jr. in Alabama and Kate Nakamura in Hawaii, the show will feature teen voices, school board diaries, conversations with educators and leaders, and student-produced stories about the challenges they're facing in school, including gun violence and trans athletes in sports.
"A lot of kids are struggling with how to stay organized, making classes, how to balance work life, being introduced back into having friends and socializing with a mask on," school counselor Edith Porter told student reporters at Caesar Rodney High School in Delaware. "There was a lot of loss. A lot of the students have lost family members. They haven't been able to grieve properly and they haven't had any grief counseling."
"Education is in the news more than ever and it's critical that coverage reflects the widest range of student experiences and perspectives," said Leah Clapman, SRL founder and managing editor of education for the PBS NewsHour. "Schools are the centers of communities and this unique program will connect student-produced stories from across the country to show how school life is evolving in the public square."
Audience members will be invited to engage with featured guests in a live chat during the premiere event and share their own stories.
The event is free and open to the public — register on Eventbrite.
For a more detailed picture of the featured storytelling in the program, view this one-pager.
About Student Reporting Labs
Student Reporting Labs (SRL) is a national youth journalism program and public media initiative that equips teenagers across the country with the skills to produce stories that highlight the achievements, challenges, and reality of today's youth. Using SRL's new StoryMaker platform, educators everywhere can create transformative media experiences through video journalism that inspire students to find their voice and engage in their communities. Since 2009, SRL youth media producers have helped students place over 100 video news reports on PBS NewsHour's nightly broadcast and more on local media outlets. SRL is supported by the Corporation for Public Broadcasting, a private corporation funded by the American people, and the MacArthur Foundation. Visit www.studentreportinglabs.org to learn more.
###
Media contacts:
Student Reporting Labs
Marcus Markle marcus@studentreportinglabs.org