SRL Connected Educator of the Month: November 2017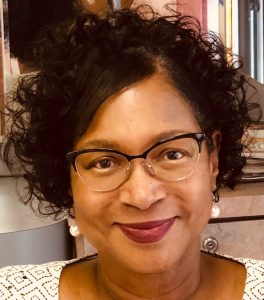 What is your teaching philosophy when it comes to storytelling? 
It is vitally important, especially in this era of fake news stories, that journalists and writers report and tell important, factually based, honest, and objective stories that highlight the highs and lows of the human condition.  Our storytelling should force us to look introspectively at ourselves, inspire us to move forward to improve and innovate, help us to uplift our society, and work towards becoming our best selves as human beings. Good storytelling allows us to look at the best and worst of the human condition, and to contemplate solutions to solve pressing community and world problems, and particularly, to hold those who are in power accountable.
How can student journalism help promote a greater understanding of the world?
Students who participate in most Journalism classes, especially those engaged in PBS SRL, actually come away with a certain type of insight—a better worldview—as they learn the ins and outs of ethical Journalism. To practice journalism, and/or become a journalist, requires astute observation, research, listening to the viewpoints of others, and examining the conditions of others as well. Being a journalist, even a student journalist, requires introspection and self-reflection in order to develop the capacity and wherewithal to earnestly and objectively present both sides of an issue without bias. As students perform the tasks required and necessary to practice ethical journalism, students receive an invaluable opportunity to view situations and conditions outside of their own realm and learn about others. Learning about others, and exposure to ideas, situations, people, and places outside of a student's normal sphere of influence, helps to promote an increased understanding of the human condition. The act of interviewing and talking with others to produce a news story helps students to understand what people go through, and how they live—thus, promoting within their sense of self, a greater understanding of the world at large.
How can we get youth more interested in the news?
By allowing students to explore and report topics that interest them, and are expressly about them, or related to the youthful experience in some manner, SRL will be able to inspire and interest students to explore journalism. Students like to see themselves, and those who are their own age, just like we adults do, involved in the daily life experiences and perspective issues and tenets of news values that are used to form the basis of news. Students love a little mud racking, too. Many students have a deep sense of social justice and want to be actively involved in writing and reporting news stories that expose wrongdoing.
What would life look like without public media? 
Without public media, we'd basically have only "entertainment news"—the gossip of the day. Today's news industry is already replete and saturated with it. Public media allows more freedom in reporting. Without public media, we increase the chances of having only entertainment news, and news peppered with the opinions of the advertisers and corporations who are paying for the news ads that are shown throughout their shows. Without public media, the truth about what's really going on in the world would become harder to fathom. Without public media, and excellent, independent ethical reporting, our society would lose the freedom of speech it so richly adores.
What do you hope to accomplish with SRL?  
I hope to give students a chance to write and produce meaningful, decisive, and powerful story content that impacts the world in which we/they live—calling and encouraging us all to be responsible, and productive members of our communities. It is important to provide students with the opportunities to report stories that expand their/our knowledge and help explain who we are as human beings. It's important that students be allowed to grow and contribute to the world in this manner—by being a participant in Student Reporting Labs, and learning journalism skills to advance themselves forward, and others, who read and benefit from what they have learned and produced. If I can pull the best work out of anyone student, and hold it up and say, "Look at the excellent job you have done," that student will forever be inspired to achieve his/her best and develop his/her sense of confidence to expand upon the need to wonder…and report about it.