SRL partners with Close Up for Video Workshop
Arlington, Va.–– PBS NewsHour Student Reporting Labs (SRL) launched a new partnership with Close Up, a non-profit civic education organization that inspires students to develop the knowledge and skills they need to become informed, active, and engaged citizens.
A group of students from Close Up's civic engagement programs were selected to participate in a special workshop with SRL. They explored pressing election issues with their peers from across the country this fall with Close Up. The SRL workshop will provide ten students with the opportunity to develop their video production and storytelling skills. In teams of two, students will produce videos that highlight diverse youth perspectives on pressing issues facing our country.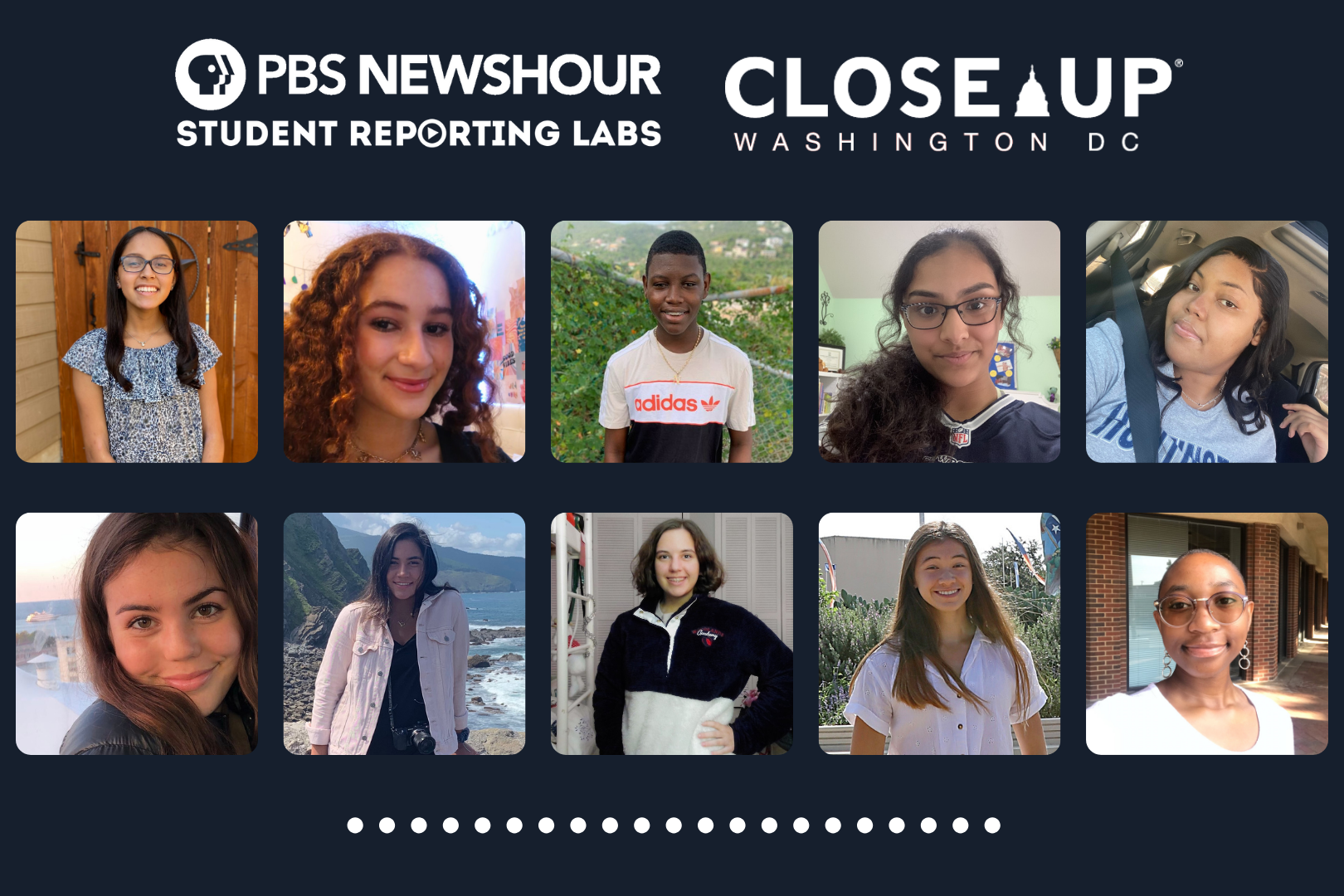 Students selected for the workshop: 
Julia Ashworth
Francis W. Parker School, Chicago, IL
Clara Bartusiak
Woodlands Academy of the Sacred Heart, Lake Forest, IL
Nashibo Benjamin
Ivanna Eudora Kean High School, St. Thomas, USVI
Avery Echols
Irma Rangel Young Women's Leadership School, Dallas, TX
Laila Gheis
Bryn Mawr School, Baltimore, MD
Ellerbe Mendez
Ashley Hall School, Isle of Palms, South Carolina
Sophia Ortiz
Young Women's Leadership Academy, San Antonio, TX
K'La Richmond
Huntington High School, Shreveport, LA
Kaavya Sampath
Greenhill School, Plano, TX
Ava Thigpen
The Hockaday School, Dallas, TX
"This partnership represents SRL's ongoing commitment to bringing the power of media making to young people everywhere," said SRL senior director Elis Estrada. "We've seen storytelling and media production make a lasting impact on young people and their civic engagement."
"We are excited to partner with PBS and SRL to highlight the importance of storytelling and empower more young people to use their voice. On Close Up programs, we see how powerful it is when students share insights and the perspectives that reflect how their own experiences connect to the issues impacting their lives and communities," said Eric Adydan, Chief Operating Officer at Close Up.
On Tuesday, December 8 at 7pm ET, students will showcase their videos to educators and community members. The Student Reporting Labs team and Close Up's Curriculum team will discuss the impact of the program on participants and share how educators can be involved with SRL and Close Up media literacy resources and projects. Register here.
About PBS NewsHour Student Reporting Labs
Now in over 160 middle and high schools, Student Reporting Labs (SRL) is a national youth journalism program and public media initiative that trains teenagers across the country to produce stories that highlight the achievements, challenges, and reality of today's youth. SRL creates transformative educational experiences through video journalism that inspire students to find their voice and engage in their communities. Since 2009, SRL youth media producers have helped students place over 100 video news reports on PBS NewsHour's nightly broadcast and more on local media outlets. Visit www.studentreportinglabs.org to learn more.
About PBS NewsHour
For more than 40 years, millions of Americans and citizens of the world have turned to the PBS NewsHour for the solid, reliable reporting that has made it one of the most trusted news programs on television. PBS NewsHour is a production of NewsHour Productions LLC, a wholly-owned non-profit subsidiary of WETA Washington, DC, in association with WNET in New York. More information on PBS NewsHour is available at www.pbs.org/newshour. On social media, visit PBS NewsHour on Facebook or follow NewsHour on Twitter. 
About Close Up
Established in 1971, Close Up is a nonprofit, nonpartisan civic education organization dedicated to helping students develop the knowledge and skills they need to become informed, active, and engaged citizens. Close Up's resources and virtual programs offer students a balanced and multipartisan look at controversial issues by using a selection of primary sources drawn from decision makers and experts on all parts of the political spectrum. Close Up Instructors have over 120 hours of curriculum and methodology training and are experts in facilitating student discussions around controversial issues. Each year, Close Up helps thousands of students and teachers across the nation engage in civil discourse and take informed action in their communities.