CANCELED: SRL Returns to SXSWEDU in 2020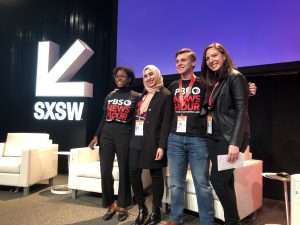 MARCH 10, 2020 UPDATE:  SXSW EDU 2020 was cancelled as a result of coronavirus concerns, but SRL looks forward to providing virtual resources in the weeks and months to come. Follow SRL on social media for more information.  
—
ARLINGTON, Va.–– PBS NewsHour Student Reporting Labs (SRL) is excited to return to SXSW EDU to showcase our civic engagement work and student journalism tools for educators ahead of the 2020 elections. Teachers and students from SRL's Austin-area Labs will participate, including Westwood High School, Rouse High School, Oak Ridge High School, Navarro P-TECH Early College High School, and Pflugerville High School. 
"SRL has been a part of SXSW EDU from the beginning," said Elis Estrada, SRL director. "It provides a key opportunity for attendees and community members to learn about innovative practices in education and gives us the chance to show how SRL can play a role in empowering the next generation of media creators and consumers."
Rawan Elbaba, SRL digital producer, said "Journalism matters now more than ever. To have the opportunity to explain how that connects to Gen Z and young people is exciting."
See the sessions below:
Monday, March 9, 2020 | 11:00 AM – 12:00 PM
How can media making be a way to practice critical thinking? How do you create space for multiple points of view and civil discourse? It's crucial for students to be critical consumers of media–to be able to tell factual information from disinformation. In facilitated group discussions, meet others with similar interests in media literacy, identify best practices for integration of instructional standards into media products, instruction in media production and project implementation.
Location:
Austin Convention Center | 500 E Cesar Chavez, Austin, TX | Austin Suite | Floor: 3
Tuesday, March 10, 2020 | 2:00 PM – 3:00 PM
In 2020, one-in-ten eligible voters will be members of Generation Z. Find out how teen journalists from PBS NewsHour Student Reporting Labs are covering the issues that matter to them and their communities in the 2020 Election. From first-time voters to local races to presidential debates, educators will discover tangible project-based resources to guide students through this election cycle. You will walk away with new ideas for strengthening civic engagement and critical thought.
Location:
Hilton Austin Downtown  | 500 E 4th Street, Austin, TX | Room 412 | Floor: 4
Articles about SRL's past work at SXSWEdu
About the SRL Team Appearing at SXSW EDU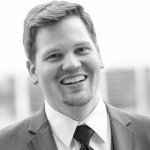 Chris Allen
Chris joined the team as Education Project Manager in October 2019. Overseeing the launch of StoryMaker, SRL's new curriculum tool, he comes to SRL with 10 years of experience in STEM Education, curriculum development, and creating classroom Makerspaces.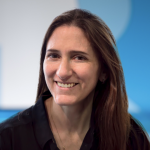 Leah Clapman
Leah is the managing editor of education at the PBS NewsHour. She founded SRL in 2009 as an experiment to engage middle and high school students with current events and reimagine public media for tweens and teens. Under her leadership, SRL has grown from 6 pilot sites to 150 schools in 46 states with partnerships extending from major media and online platforms to international education and youth initiatives. Leah has developed education products such as NewsHour Extra, a resource for teachers, Teacher's Lounge, a periodical update on issues that affect teachers, and "Making the Grade," a weekly focus on education issues, policy, and practice. A Princeton graduate, she serves on the Education Writers Association journalism advisory, Education Innovators, and Library of Congress TPS councils.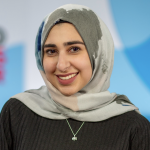 Rawan Elbaba
Rawan is SRL's Digital Producer. Prior to SRL, Rawan was the Digital Media Associate at the Arab American Institute where she worked to enhance community engagement through social media. Rawan received her Bachelor's degree in Communication from George Mason University in Virginia and is currently pursuing a Master's degree in Journalism at Georgetown University. She was born and raised in the Washington, D.C. metro area.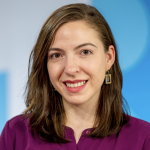 Elis Estrada
Elis is SRL's director and provides leadership over the development and growth of its national network of schools and partner public media stations. She loves puzzling through large-scale projects that aim to motivate and inspire students and teachers. Elis is deeply invested in creating fun, educational opportunities for young people to engage with news media. Before joining the NewsHour, Elis held dual titles at the News Literacy Project, as program manager for the Washington, D.C region and associate communications director for digital media. Prior to NLP, Elis worked as a producer at NY1 News in New York City.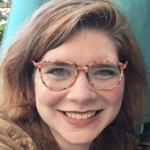 Emily Tkaczibson
Emily is SRL's Grant Writer. She is also theatre artist who specializes in education programming for children, teens, and adults. She has worked with arts and culture organizations including Center Theatre Group, Literary Arts, South Coast Repertory, Inner-City Arts, and Public Media Group of Southern California (PBS SoCal). Emily currently resides with her husband in Portland, OR, where she spends her free time playing board games, reading books, and taking hikes. She also makes killer cheese and charcuterie boards.
About SXSW EDU
Now in its 10th year, the SXSW EDU® Conference & Festival cultivates and empowers a community of engaged stakeholders to advance teaching and learning. The annual four-day event affords registrants open access to engaging sessions, immersive workshops, interactive learning experiences, film screenings, early-stage startups, business opportunities, and networking. SXSW EDU is a component of the South by Southwest® family of conferences and festivals that have grown from 800 to over 8,000 registrants in the last decade. Join the passionate and innovative community at SXSW EDU, March 9-12, 2020 in Austin, Texas. For more information, please visit sxswedu.com.
About SRL
PBS NewsHour Student Reporting Labs (SRL) is building the next generation of video journalists by connecting educators with an innovative video journalism curriculum and network of public broadcasting mentors to develop digital media, critical thinking, and communication skills while producing original news reports from a youth perspective. Over 150 schools across 46 states and the District of Columbia participate, reaching 3,000 students. Over the last decade, SRL youth media producers have helped students place over 50 video news reports on the PBS NewsHour's nightly broadcast and more on local media outlets. Visit www.studentreportinglabs.org to learn more.
About PBS NewsHour
For more than 40 years, millions of Americans and citizens of the world have turned to the PBS NewsHour for the solid, reliable reporting that has made it one of the most trusted news programs on television. PBS NewsHour is a production of NewsHour Productions LLC, a wholly-owned non-profit subsidiary of WETA Washington, DC, in association with WNET in New York. More information on PBS NewsHour is available at www.pbs.org/newshour. On social media, visit PBS NewsHour on Facebook or follow @NewsHour on Twitter. 
Support Provided By
The MacArthur Foundation, The Latino Community Foundation, and The American Graduate: Getting to Work initiative, public media's long-term commitment, made possible by the Corporation for Public Broadcasting (CPB) to help young people succeed in school, career, and life.
Media Inquiries
Marcus Markle, Communications Manager, mmarkle@newshour.org
Elis Estrada, Director, eestrada@newshour.org