SRL student journalists join public media's 'Well Beings' campaign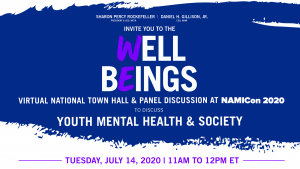 Washington, D.C.–– PBS NewsHour Student Reporting Labs (SRL) has partnered with WETA's WELL BEINGS, a major public media campaign addressing the health needs of Americans, beginning with the Youth Mental Health Project. On Tuesday, July 14, 2020, the campaign will kick off with a free one-hour virtual national town hall and panel discussion at NAMICon 2020. 
The Well Beings Virtual National Town Hall will be live-streamed on wellbeings.org and present powerful stories from young people and notable personalities, remarks from a roster of celebrities, special performances, exclusive campaign content, and a panel discussion.
SRL Alumna Alexis Davis will be part of a town hall event, along with celebrities such as Kid Cudi, Ian Alexander, Ariel Winter, Alanis Morissette, Billy Porter, Sean Astin, Gabriella Pizzolo and more. The event will also feature narration by SRL students from across the country and student-produced content on mental health issues in their communities. The July 14 virtual event will debut exclusive content, including interview excerpts from an upcoming film being produced and directed by Ewers Brothers Productions and executive produced by Ken Burns. 
WETA will also announce the first stops for the WELL BEINGS TOUR, a cross-country tour with community engagement, resource fairs, storytelling, Mental Health First Aid training, panel discussions and more. SRL will be a part of the multi-year community initiative engaging youth voices to create a national conversation, raise awareness, address stigma and discrimination, and encourage compassion with original digital content, broadcast content, and impactful local events. 
For details on how to register, please visit https://wellbeings.org. 
Press RSVP: Kate Formichella, kate_formichella@dkcnews.com
About Well Beings
Well Beings is a mental health awareness campaign that will take place over two years and will convene public media organizations to raise awareness of mental health and provide community resources in the form of a tour across the country, in partnership with local PBS and NPR public media stations. Beyond a multi-city tour, Well Beings will also feature online resources and will culminate in a film chronicling Americans who have overcome mental health challenges, to be broadcast in 2021. For more information, visit https://wellbeings.org. 
About WETA
Founded in 1961, the Washington Educational Telecommunications Association (WETA) is the leading public broadcasting station in the nation's capital, serving Virginia, Maryland and the District of Columbia with educational, cultural, news and public affairs programs and services. WETA hosts the production of the PBS NewsHour, a classical music radio station, and programming that focuses on the United Kingdom. Learn more at https://weta.org. 
About SRL
PBS NewsHour Student Reporting Labs (SRL) is building the next generation of video journalists by connecting educators with an innovative video journalism curriculum and network of public broadcasting mentors to develop digital media, critical thinking, and communication skills while producing original news reports from a youth perspective. Over 150 schools across 46 states and the District of Columbia participate, reaching 3,000 students each year. Over the last decade, SRL youth media producers have helped students place more than 50 video news reports on PBS NewsHour's nightly broadcast and more on local media outlets. Visit www.studentreportinglabs.org to learn more.
About PBS NewsHour
For more than 40 years, millions of Americans and citizens of the world have turned to the PBS NewsHour for the solid, reliable reporting that has made it one of the most trusted news programs on television. PBS NewsHour is a production of NewsHour Productions LLC, a wholly-owned non-profit subsidiary of WETA Washington, DC, in association with WNET in New York. More information on PBS NewsHour is available at www.pbs.org/newshour. On social media, visit PBS NewsHour on Facebook or follow @NewsHour on Twitter. 
Support Provided By
The MacArthur Foundation, National Institutes of Health SEPA partnership, The American Graduate: Getting to Work initiative, public media's long-term commitment, made possible by the Corporation for Public Broadcasting (CPB) to help young people succeed in school, career, and life.