Station Spotlight | West Virginia Public Broadcasting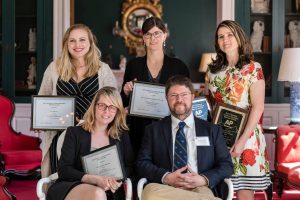 West Virginia Public Broadcasting has been supporting and engaging with local schools in their community for years. Most recently, the station's news director, Jesse Wright, and his team worked with student reporters from Morgantown High School on a story about pipeline construction in the state. Their piece aired both on West Virginia's PBS's station and on NewsHour Weekend. We checked in with Wright to find out more about the role of youth voice at his station. 
How does Student Reporting Labs benefit your station's short and long-term goals?
In the short term, Students Reporting Labs helps WVPB get content on our air that connects with the younger demographic in our audience. In the long term, the program helps raise awareness about public media and what our station can offer to the community. It also helps us expose burgeoning journalists to the public media model of reporting and producing content, providing a potential pool of talent we can draw on to fill news and production positions in the future.
Why do you think it's important to include the perspectives of young people at your local station?  
It's important to include student young peoples' perspectives in our station's work because there are many issues that in our communities affect students of all ages and when policies are developed around those issues, their voices are often excluded from the conversation. Having those voices on our air forces policymakers to hear first-hand how young people feel about the work they are doing.
I also believe that making sure that young reporters have a voice in the content development and reporting process empowers students to become more invested in the issues that affect them and their peers. It also shows them that they have the power to steer the regional conversation around issues that affect us all.
What role do you think youth voice can play at every station?
Beyond what I've described above, I think the diversity of perspective, including youth voices, strengthens any newsroom. We all benefit from hearing from people who aren't like us – whether it be people of different ages, races, religions or geographic regions. Having our seasoned reporters interact with student reporters also helps our news staff connect with a younger generation and better understand how to cover the issues that are important to young people.