From Hawaii to Washington, DC, these Gwen Ifill Fellows put their journalism skills to work this summer
By Becky Wandel
This year's Gwen Ifill Legacy Fellows spent the summer covering important stories and honing their reporting skills at PBS stations around the country. Mercedes Ezeji, Jaylah Moore-Ross, and Tiffany Sagucio worked with station leaders and producers at KLRU, WETA and PBS Hawaii. 
Mercedes Ezeji, who studies broadcast journalism at the University of North Texas, began exploring journalism with the PBS NewsHour Student Reporting Labs at her high school near Austin, Texas. With SRL, she produced stories about race, education, and social justice — work that Sara Robertson, Senior Vice President of Production at KLRU in Austin, said she was aware of even before Ezeji joined their team.
Mercedes worked with journalists at KLRU this summer, assisting them in the production of their news specials and producing a feature of her own about a local nonprofit that provides resources to single mothers facing hardships like homelessness or abuse. Judy Maggio of Austin PBS worked closely with Mercedes and described her as a great member of their team.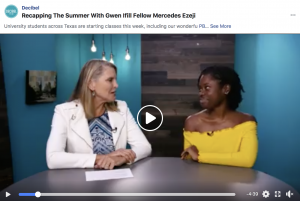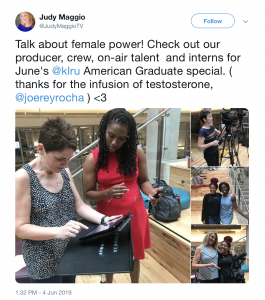 "Storytelling has been a passion of mine since joining my high school newspaper," said Mercedes, and she credits her time at KLRU with allowing her to rediscover this passion outside the context of classrooms, grades, and deadlines. Mercedes remembers being introduced to journalism by reporters like Gwen Ifill and felt honored to represent her legacy with this fellowship. 
Tiffany Sagucio spent her summer working at PBS Hawaii in Honolulu, producing her own first- person narrative piece about her journey competing in the Miss Hawaii Filipina competition. Robert Pennybacker, Director of Learning Initiatives at PBS Hawaii, worked closely with Tiffany and commended her for being part of "a new generation of journalists that will bring a much needed sense of empathy and humanity to the profession."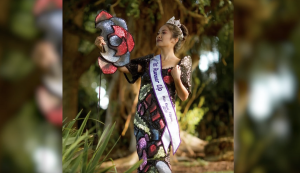 Tiffany first discovered her passion for journalism while taking a digital media class at Kauai High School. The class helped her realize that everyone has their own story to tell which shaped her to be "optimistic, caring, and hardworking, like Gwen Ifill."
Tiffany plans to study journalism at the University of Maui at Manoa. 
Jaylah Moore-Ross spent her summer working with the journalists at WETA  and the PBS NewsHour in Arlington, VA. Jaylah said one of the highlights of her summer was getting to anchor a half-hour broadcast in the NewsHour studio. As a Gwen Ifill Fellow, Jaylah also had the opportunity to mentor high school journalists participating in the PBS NewsHour Student Reporting Labs' summer academy.
Jaylah said the professional environment at WETA helped her learn that if she stays grounded and focused, she can turn her passion for journalism into a rewarding career. To future Gwen Ifill fellows she said, "use your experience to learn and soak up as much information as you can. Get out of your comfort zone […] and take this time to experiment with what you like to do."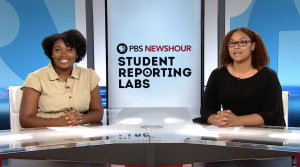 The summer fellowships, now in their third year, were created in honor of award-winning anchor, reporter, and author Gwen Ifill, the former PBS NewsHour co-anchor and managing editor and Washington Week moderator and managing editor, who died in November 2016 after complications from endometrial cancer.
Ifill became one of the nation's most respected political journalists: the first African-American woman to moderate a vice-presidential debate and the first to host a major weekly political-affairs program. After Ifill was named the co-anchor of the PBS NewsHour, she said she hoped little girls would watch her and think it "perfectly normal" to occupy an anchor's desk someday.