Sophie Sabin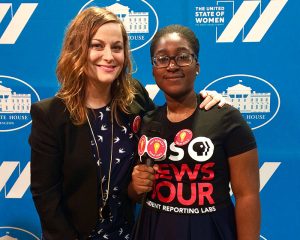 Even though Sophie is not technically an alumnus yet, it sometimes feels like Sophie has been a part of SRL since the beginning. That's probably because she has been such an important part of the Labs ever since she was just a sixth-grader at Philips Academy Charter School in Newark.
In addition to reporting, Sophie participated in the first-ever Student Academy in 2014, has taken part in Google Hangouts discussing student journalism. In 2015, she wrote a letter to Gwen Ifill that convinced her to speak at her middle school graduation. Last year, Sophie joined our team of student reporters covering the White House Women's Summit in Washington, D.C. Read her article about the experience and watch her interview with Valerie Jarrett here. As if all of this weren't enough, Sophie will be interning with NJTV this summer as SRL's first-ever Gwen Ifill Fellow.
All of this, and she's still only a high school junior at the Montclair Kimberley Academy! In light of all her success, we wanted to highlight Sophie this month and find out what SRL experiences have had the most impact on her.
What have you been up to since your last SRL assignment?
My last formal SRL assignment was the United State of Women Summit, and since then I have been trying to form a journalism-type program at my school where I can report stories on school and world-related topics, but I'm still trying to figure out the logistics. After that, it has just been mostly schoolwork, especially now since I'm a junior, which leaves little time for other things unfortunately.
What are your professional goals?
I haven't concretely defined what my professional goals are, but I know for sure that I want to be able to report on news truthfully and fairly in broadcast journalism, so it wouldn't hurt to be a news anchor to help achieve that goal. But aside from that, I would also love to apply myself to some form of writing as I've found quite a bit of inspiration from my current short story class in school and I'm really interested in the art of reading and writing short stories.
How did SRL help you realize these goals?
I can say that SRL has definitely been a major catalyst in helping me to realize my goals of being in broadcast journalism. The early exposure to the world of journalism and the education that I received from SRL has truly helped to build a foundation on which I can continue my journey in learning more about journalism, myself and the world.
What experiences or lessons do you value most from your time with SRL?
I can say that I am truly grateful for being a part of SRL as I was able to have and actually meet a mentor, Gwen Ifill, who helped crystallized my goal of being a journalist by showing me it is attainable. I also really value the opportunity of meeting many other talented young journalists who share the same goals and dreams as me. The experiences I have gone through with SRL have reprogrammed my brain, teaching me the fact that there is a potential story wherever I go — the important thing is my willingness to seek it out and bring it to light to world.