Celebrate 8 ways SRL raises up educators and students
As we begin to close the year, we're embarking on our first-ever digital fundraising campaign from November 28th through December 5th. Whether you're an educator, a student, or an alum, we're proud to have co-created moments that have connected students with real-world experiences and educators with tools, resources, and community. 
If you're part of this community, share how Student Reporting Labs has been meaningful to you. Share this with a friend. We know we'll continue to make it happen in 2024! Donate here.
With the theme #RaiseUp, we're celebrating the top 8 ways SRL has impacted students and educators in our community:  
1) #RaiseUp student voice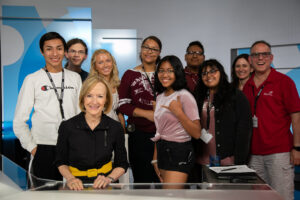 There is no bigger fan of Student Reporting Labs than I am.  I've seen the light in the eyes of the students they bring to Washington from across the country for training sessions. And I've seen the work they do with individual young people through the pieces we've aired on the PBS NewsHour over the years.
One of the most memorable came from Akron, Ohio,  in February 2021, during Black History Month. It was in the darkest days of the pandemic when many students were at home, learning virtually. But SRL inspired teacher Angela Whorton to challenge her sixth graders to find someone in Black history whom they admire.  All three who were featured were amazing:  Ariana Miller, who loves cheerleading and cited gymnast Simone Biles.  J'Adore Smith, who named her older sister, Da'Tajha, who has a hair salon, and in J'Adore's words "helps people feel beautiful and happy."  But young Braelyn Starks jumped off the screen. He said "I am inspired by my pop-pop" who "started as an apprentice for Goodyear Tires in 1972, he was in the first group of Black men accepted."  Braelyn looked into the camera on his home laptop: "He never gave up. And now I can follow my dream, become an engineer because he broke down those barriers."  There was video of Braelyn with his grandfather, at his workbench.
It's stories like these, inspired by SRL, and in the lives of young people across America, that make it the essential, award-winning program that it is. More than simply teaching journalism, it opens doors for young people who might not have known that door was there.
– Judy Woodruff | Former anchor and managing editor, PBS NewsHour
2) #RaiseUp teen reporters
On one particularly cold day in the month of March 2022, I was sitting in my biology class wondering what I should do after school. A few minutes later, my video production teacher pulled me out of class and told me that I was accepted into the 2022 Student Reporting Labs Academy. I couldn't help but give him a big hug as I realized that this was my chance to live out my dreams. I became overwhelmed at the fact that I was given a chance to be someone great and to share meaningful stories with the world. From there, I got my official exposure to Student Reporting Labs. I met so many amazing people who were invested in me and cared about what I, a student, had to say. 
Whether it was a part of the academy in 2022, or doing photography for a new wave of academy fellows in 2023, or most recently, my work as a Gwen Ifill Fellow, I can confidently say that SRL truly invests in all of the students that come across it. I'm so grateful that I get to represent and give back to a program that has given so much to me. 
– Johann Viera Rodriguez | Alum, Boston, MA
3) #RaiseUp educator community
It isn't just about creating a story for NewsHour, it's been about connecting a lot of people who felt disconnected. (But, to be clear, creating a story that airs on NewsHour is pretty damn cool.) SRL has given a voice to a lot of students who have felt lost or not valued. I could tell you stories of so many of my own students who don't feel valued at all, who see themselves in a completely different way because something they said ended up on NewsHour. Even more, it's helped a lot of teachers find a caring community that gets it. This team, this incredible group of people that make up the backbone of SRL, somehow created a sense of family among teachers and students who often feel isolated and alone. Broadcast teachers are unicorns in their schools, and with SRL it doesn't feel that way. You've turned students who normally feel like they don't matter into rock stars with this program. So thank you for that magic you keep weaving, because it's really needed, and it works. 
– Michael Kaufman | Educator, Clinton Township, MI 
4) #RaiseUp hands-on journalism
It is truly inspiring to see students passionately engaged in the process of crafting narratives. As a result of their enthusiasm and creativity, I am able to continue to spark my own interest in storytelling as well as affirm how meaningful connections are fostered as a result of SRL.
Moreover, working on our current project, "Ready for the Real World?" has provided a fascinating insight into how schools prepare students for life beyond graduation. In addition to aligning with my current curriculum, this project has highlighted the importance of addressing real-world challenges within the educational setting. SRL plays an important role in empowering young voices to express their views about how education intersects with life beyond the classroom.
These moments have a ripple effect that extends far beyond the school walls, shaping the next generation of storytellers and amplifying the voices of all students. The SRL's mission is one that I wholeheartedly support, and I invite others to join us in empowering the next generation of storytellers. 
– Sequoyah Wharton | Educator, Brentwood, NY 
5) #RaiseUp civic engagement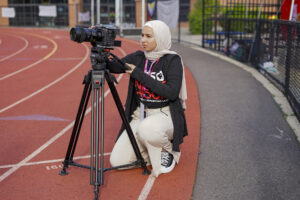 PBS Student Reporting Labs (SRL) program has truly transformed my life. In my first year of high school, SRL provided me with a platform for creating stories that have aired on nationally recognized news programs such as PBS NewsHour. My work with SRL has broadened my understanding of storytelling and underscored the importance of journalism in our society. 
As a 2023 SRL fellow, I had the opportunity to work with like-minded students, professional journalists, and mentors to report on the triumphs and challenges of professional female athletes. It also opened the door for me to cover issues that I never thought I would have the privilege of reporting on such as the importance of voting, affirmative action, youth mental health, and gun violence prevention. Overall, PBS Student Reporting Labs has been a cornerstone in my journey as a student journalist, equipping me with the tools and knowledge I need to pursue a successful career in journalism. 
– Sarah Youssef | Student, San Diego, CA
6) #RaiseUp underrepresented stories
SRL has opened up doors for me, unlike any other experience I've had. The SRL project that resonated with me the most was my story on the food and culture prompt where I got to share the story of a small restaurant owner in Portland, Oregon; a Cambodian refugee sharing his story through food. I put my all into this news report and unlike other subjects, putting my time into journalism didn't make me feel burnt out.
 The fruits of my labor paid off when an SRL staff member reached out to me and informed me that my story was going to be aired live on TV for National AAPI Heritage Month. It was by far the best news I've ever heard; to be able to have my work on television filled me with confidence and made me feel like I could achieve anything. However, what filled me with even more joy was the happiness I was able to provide to my interviewee and his family. It opened my eyes to the amazing talent I had; to be able to share other people's voices using my platform and skills. Thank you so much SRL for showing me my true talents and offering me an outlet for my creativity and skills. 
– Sandeep Brijesh Pillai | Student, Beaverton, OR
7)  #RaiseUp local reporting
I'm a public school teacher lucky enough to stumble upon the Student Reporting Labs program not long after it began. The program inspired a turning point in my school's journalism program and gifted incredible experiences to so many of my students.
It's been hard to pick, but one of the most inspiring moments in my journey with the Student Reporting Labs was our collaboration on a story about a community art project called "Heart Spirits." Our students embarked on a mission to cover the project while prioritizing Native American voices as the community group shed light on the Missing and Murdered Indigenous Women (MMIW) crisis.
This project became a powerful vehicle for our students to hone their reporting skills and amplify the voices of those often unheard. The Heart Spirits project allowed them to interview the artist who created the project, our state's governor, and the women who worked to bring the project to our community.
Witnessing these students' transformations into compassionate storytellers was genuinely remarkable, and that's just one project. My students have traveled as SRL Academies fellows, created lasting relationships with our local PBS station, and found themselves hiking around an island in the middle of Lake Superior as we covered a dwindling wolf population that threatened an important study on Isle Royale.
Student Reporting Labs created positive change in our program; we couldn't have done it without them. 
– Julie Tiedens | Educator, Black River Falls, WI
7)  #RaiseUp media literacy
This fall, I've been working with SRL to produce a video report for our series. "Moments of Truth" about how Artificial Intelligence impacts college admissions. I've worked with my producer to create a story I believe will be incredibly important and valuable for people to learn and understand. SRL is helping me discover who I want to be and what stories I want to tell. And it has allowed me to make the connections of a lifetime
– Pride David | Student, Buffalo, NY
Consider donating to support more moments and opportunities like these. If you're part of this community as a student, educator, or alum, share how Student Reporting Labs has been meaningful to you. Share with a friend. We know we'll continue to make it happen in 2024!