Teacher Feature January 2023: Ryanne Meschkat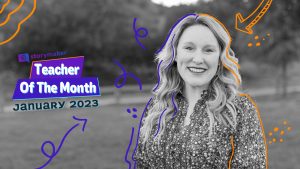 Ryanne Meschkat always knew she wanted to be in journalism— from high school print and broadcast journalism, and majoring in it during college, to working professionally in live sports production for seven years. What surprised Ryanne was her excitement and willingness to leave that field for education. Ryanne advised a Broadcast Journalism program in Santa Clarita, California for seven years and now is back at her alma mater John Burroughs High School in Burbank, California where she teaches both Digital Media and Broadcast Journalism. No matter the school, Ryanne is inspired by the students who are willing and able to share their stories, and the stories of those around them. When Ryanne is not teaching, she loves to spend time with her husband and two young children. 
Learn about Ryanne's favorite StoryMaker lesson, pro-tips, and what she's currently listening to in our Q&A below.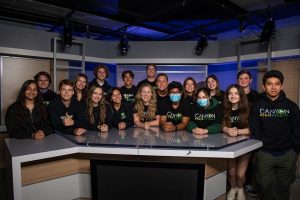 How long have you been using SRL resources? I first went to the teacher workshop in D.C. in the summer of 2017 and have been using the curriculum and mentor producing resources since then. 
What's your favorite StoryMaker lesson?
One of the biggest challenges for me as a teacher is scriptwriting lessons, so the Scriptwriting lesson is a great resource that I use every year.  I love the real soundbite examples that students can use to create their own version of a news story. I also love some of the original Level Up Tutorial Videos that talk about lighting, audio, or the principles of photography. For prompts, there are so many great ones to choose from, but the ones that have been really impactful for my students are the rapid responses, especially some of the ones that came from the pandemic. It allowed them to share their perspective in a time in which so much was uncertain.
Links to your students' work: 
School Website + Instagram. Our show is published to YouTube daily and our channel is @goodmorningjohnburroughs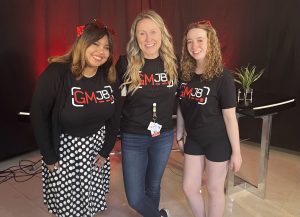 What's a dream story you'd like to report on? 
I actually had a student complete a dream story several years ago.  She wrote a story on a student who came to the United States illegally after facing horrible violence in his home country. To help keep his identity safe, we decided to tell it from a first person perspective; with him dictating the narrative. It was such an honor to help tell his story with honor and grace and help inform our community of the obstacles and challenges that some our students have had to face and overcome.
What's a media making tool you can't live without?  This is tough because equipment is constantly changing, but right now I love the DJI Wireless Lavalier Mics.  The system is so user friendly for students and allows you to record two anchors or interviewees at once. My tried and true program of choice is Adobe Premiere Pro.  While there are other programs that work great, this is still my favorite and the one I teach in class. 
What are you currently listening to? For the past few years I have loved listening to the band Khruangbin…not even sure I know how to say it correctly still.  They are such a unique musical trio from Texas that blend different kinds of music together and great for all occasions.  
Piece of advice for teachers and educators just getting started on StoryMaker: There is such a vast array of amazing content, lessons, prompts, challenges, and projects; however, if you are feeling overwhelmed and not sure where to start, my advice is start with the basic lessons (as suggested in the StoryMaker Toolbox). How can you either use these lessons to form your curriculum or how can these lessons help expand your curriculum. For projects, I think a great place to start is the Rapid Responses. They are a great starting point for students and have more immediate feedback for future projects. 
Anything else we should know? 
At my previous school, Canyon High in Santa Clarita, I had two students featured in the first 20 Under 20 Future Storytellers; Kat Gonzalez was one of the 20 and Patrick Hunter was an honorable mention.  Kat also went to the virtual student academy in 2020 and [filmed a behind the scenes video] at the Democratic Debate at LMU in 2019 with PBS. Canyon student reporters have had a few rapid responses featured on the national broadcast and this year our Good Morning John Burroughs segment with Daniel Pearl Magnet High School was featured on the broadcast as well.
From Chris Schwalm, SRL Youth Media Producer: 
Ryanne Meschkat moved to a new school district this school year, and despite taking over a media program that was new to her, guided four students to produce a challenging story that ultimately aired on the PBS NewsHour Broadcast. Meschkat worked outside of regular class activities with these students at John Burroughs High School who captured four amazing interviews with people in three different locations in two states during production, and at least six revisions of the story in post-production. She also demonstrated incredible flexibility and collaboration in coordinating with the broadcast media class at Daniel Pearl Magnet High School, who filmed two of the interviews on-site while her student journalists interviewed remotely in real-time to capture superior video and audio quality. Students included: Autry Rozendal, Harrison Johnstone, Aidan Robertson, and Kaian Bates. Meschkat's experience, professionalism, and persistence throughout the entire production process make her an incredible role model for her students. Because of her leadership, they were able to see it through until the end.
You can reach out to Ryanne directly to learn more about how she's adapted StoryMaker into her classroom. Email her at RyanneMeschkat@burbankusd.org