Teacher Feature October 2023: Trina Moore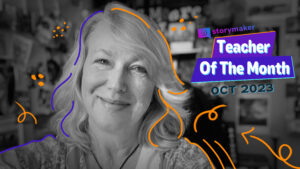 Trina Moore is the AV Teacher at Rouse High School in Leander, Texas. Rocking her 29th year of teaching, she still gets revved up about the process of building a classroom culture that is safe, interesting, sometimes spontaneous, and engaging. With degrees in English, Theatre and Communication, Trina's journey led her to fall in love with journalism/filmmaking along the way. Trina currently works with high school students in audio/video classes, claiming "I probably learn more from them than they could possibly learn from me." 
If you haven't yet joined our  Educator Community Facebook Group, Trina Moore's posts alone are a reason enough to join. From relatable memes to behind the scene shots between two bananas from her class, Trina has a remarkable way of making fellow educators feel less alone in the world of teaching through humor, practical tips, sticker inspo and good vibes. 
Learn the words of poet Maggie Smith that Trina likes to live by, as well as her favorite media making tools, StoryMaker lessons and pro-tips, in our Q&A below. 
How long have you been using StoryMaker or SRL resources in your classroom? 
I've been working with SRL in one way or another since 2010 (I'm an SRL elder).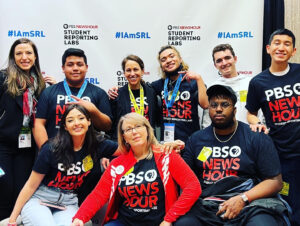 What's your favorite StoryMaker lesson?  
How do I narrow it down to just one? For practical reasons, I love the Level Up tutorials. I use them every year with my AV1 classes to get them on board with the skills they'll need to be student journalists. The challenges are AWESOME. They allow my students real opportunities to express their voices and actually be heard. Specifically, though, I love the freedom StoryMaker allows my students to create their own paths. A couple of years ago my students attended a school board meeting. I knew it would make a strong story so we pitched it to SRL. My kids worked with Youth Media Producer, Briget Ganske, and with her help, crafted a powerful report on their experience. The hands-on availability of the SRL producers is invaluable to the StoryMaker experience. 
What's a media-making tool you can't live without? 
While I love, love, love Adobe Premiere (I can lose hours editing), lately I've been using Canva for my quick-turnaround work that needs graphics. It's graphic design lite, easily accessible for my students, and available as an app or on a desktop. Their latest update for video has allowed my introductory kids to shine with their projects; if they ever add a beefier video editor, Adobe might be in trouble. Gadget-wise, I love our lil nifty fifty lens and the DJI Osmo gimbal. Both make anything we shoot look gooooood. The Rode Go wireless mics are super durable and provide crisp, clear audio. 
Our YouTube channel and our Instagram 
What's a dream story you'd like to report on?
I can feel a story building up within me— a first-person report on being a mother of multiple children who are neurodivergent. Life is a labyrinth of health insurance, public judgment, and red tape. Disrupted home lives, job insecurity, and loss of friends. It's a lot. Working out how to share without oversharing. I like to think, though, that my story would help other parents navigate the myriad of issues that are often hard to balance.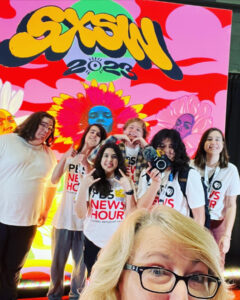 What's your advice for teachers and educators just getting started on StoryMaker? 
OH WOW STORYMAKER IS A LIFESAVER. Diving in can be overwhelming because it is so robust. I suggest exploring it according to the different subcategories and branching out from there. Knowing that there are real people (producers, creators, educators) behind all the content helps. If you have questions, reach out and ask, and WHOOP you've got an email response to come to your aid. Utilize the office hours! Join the Facebook group for extensive advice, commiseration, and memes to let you know you are not alone. It's all so gooooood. 
What are you currently listening to?
My daily go-to is NPR Now for my morning update, and weekly I listen to Al Franken's podcast. I listen to a lot of vinyl at home (Saturday night dance party WHOOT), and on Spotify, I lean towards The Beths, Courtney Barnett, Wilco, Old 97s, Replacements, and gawd so much more.
Fun facts about you?
In my spare time, I am a mom, grandma, photographer, and traveler. I have a cool partner named Scott. I have a dog named Max. As the great poet Maggie Smith put it, "Life is short, and I've shortened mine in a thousand delicious, ill-advised ways."
You can reach out to Trina directly to learn more about how she's adapted StoryMaker into her classroom. Email her at: trina.moore@leanderisd.org