Announcing the 2023 Gwen Ifill Legacy Fellows at local PBS stations
ARLINGTON, Va. – PBS NewsHour Student Reporting Labs (SRL) welcomes five  young journalists of color as Gwen Ifill Legacy Fellows at their local PBS stations this summer: Kate Nakamura at PBS Hawai'i  in Honolulu, Hawai'i; Tyler Pullum at Houston Public Media in Houston, Texas; Liam Wady at Youth Beat in Oakland, California; Alexa D'Amato and Johann Rodriguez Viera at GBH in Boston, Massachusetts. 
This summer, with the support and mentorship of their local station, each fellow will report a story in their community. The fellows' training in local newsrooms pays tribute to the memory and legacy of pioneering journalist and PBS NewsHour co-anchor and managing editor, Gwen Ifill. 
Meet the fellows below:
Kate Nakamura,  PBS Hawai'i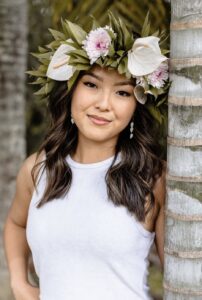 Kate Nakamura is a recent graduate of Kauai High School in Lihue, Hawai'i, a 2020 SRL Academy Fellow, a 2022 SRL Academy Correspondent, and a regular contributor to Student Reporting Labs for the past four years.
Nakamura says that this summer she hopes to grow as a storyteller. "I am excited to learn more about journalistic storytelling while also sharing the rich and diverse culture of the islands. I have been telling stories since I was 12, and I have truly loved doing it ever since. It is something I hope to do for the rest of my life. So I hope to learn more about asking intriguing questions, filming eye catching sequences, and much more."
And her local station is thrilled to welcome her to the team. "Kate Nakamura has been a stand-out student who has participated in HIKI NŌ on PBS Hawai'i," says Brent Keane, PBS Hawaiʻi's Director of Learning Initiatives. "During her high school career, she has produced tremendous stories and served as a host and voice-over talent for our HIKI NŌ on PBS Hawaiʻi episodes. Student voice and responsible journalism are at the heart of HIKI NŌ on PBS Hawai'i and we are honored to congratulate Kate and mentor her through her journey as a Gwen Ifill Fellow. We couldnʻt be prouder of what she has accomplished or more excited to be part of her journey into the next phase of her professional development."
Nakamura will attend Arizona State University as an honors student at the Walter Cronkite of Journalism. After college, she hopes to return to Hawaiʻi to tell the stories about the islands.
Tyler Pullum, Houston Public Media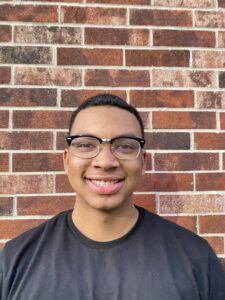 Tyler Pullum is a recent graduate of  Shadow Creek High School in Pearland, Texas, and a co-host of season three of Student Reporting Lab's teen mental health podcast, On Our Minds. 
"I am excited to learn about the field of broadcast journalism and how the public media station works," says Pullum. "I want to learn as much as possible about how to tell a story in a way that has integrity and shines a light on issues that don't often get screen time. I hope to learn the skill of being an effective communicator through writing and researching issues and potential news stories." 
He's looking forward to working with Houston Public Media, where Mark Armes, Director of Special Projects, says, "As a mentoring station for the Gwen Ifill Fellowship, we recognize the immense value in connecting with this emerging generation of media professionals. It provides us with an opportunity to share our production and journalism experiences and the fellows, in turn, bring fresh perspectives that energize our approach to storytelling. This collaboration allows us to better reflect the diverse communities and voices our station serves and we are very excited to be collaborating with the exceptional Alvin ISD student Tyler Pullum this summer."
Pullum will attend Moody College of Communication at The University of Texas at Austin this fall, with plans to study radio, television, and pre-law. 
Alexa D'Amato, GBH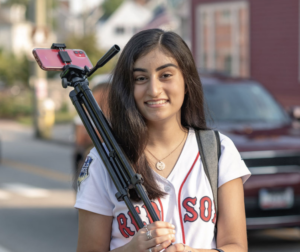 Alexa is a recent graduate of Masconomet Regional High School in Boxford, Massachusetts, a regular Student Reporting Labs contributor, and a 2022 SRL Academy fellow. 
"I'm excited to have an opportunity to learn alongside professional journalists and see what they do to produce a story from start to finish. I want to learn how they overcome unique challenges that a story may present them with and how they apply their skills to all aspects of journalism," says D'Amato.
Boston's GBH is looking forward to welcoming contributions from this year's Gwen Ifill Legacy Fellows, said Pam Johnston, general manager for news at GBH. "At GBH News, we are dedicated to fostering trust and inclusivity within Greater Boston's diverse communities through our journalism. Johann and Alexa are terrific partners to help tell the distinctive stories of our region and we can't wait to work with them."
D'Amato will attend Hofstra University to study journalism in the fall.
Johann Rodriguez Viera, GBH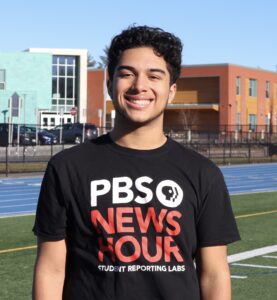 Johann is a rising senior at Holbrook Middle-High School school in Holbrook, Massachusetts, a 2022 SRL Academy Fellow, and a regular contributor to Student Reporting Labs.
"I'm so excited to work in a professional news environment, and I'm looking forward to learning from everyone,"  says Rodriguez Viera. "I hope to meet new people and put together experiences that I can carry into my own career!" 
And GBH staff are delighted to bring this enthusiasm to their team. "We're looking forward to extending the impact of younger voices and perspectives within GBH content with this year's Gwen Ifill Legacy Fellows, " said Hillary Wells, executive producer and director of youth media at GBH. "It is an honor to work with talented young people like Johann and Alexa as we help cultivate a broader reach for the diverse perspectives shaping the next generation of public media producers and audiences."
Liam Wady, Youth Beat
Liam is a recent graduate of Oakland Military Institute in Oakland, California, and is an alum of the 2022 SRL Academy. 
He says "I'm most excited to meet and learn from other creative individuals [at] Youth Beat," and I also hope to gain more knowledge about my community and to receive real life experience working in a media organization."
The team at Youth Beat is looking thrilled to offer that experience. "Having the chance to work with Student Reporting Labs and the amazing young people that come through their program is an honor" said Sagesse Graham, Youth Beat's Education Director.  
"We look forward to working with Liam to develop his storytelling skills while uplifting and empowering him as the next generation of public media professionals," Graham says, "We cannot wait to see what he creates!" 
In the fall, Wady will study journalism at the University of Southern California.
---
About PBS NewsHour Student Reporting Labs 
PBS NewsHour Student Reporting Labs is a hands-on student journalism training program that connects young people to real-world experiences and educators to resources and community.
About GBH
GBH is a trusted source of content that promotes educational equity, delights its audiences, and inspires everyone to engage with the world around them.
About PBS Hawai'i
PBS Hawai'i is the only locally owned, statewide television station in Hawai'i, serving the Islands since 1965. 
About Houston Public Media
Houston Public Media provides Greater Houstonians with free access to informative and inspiring content through a multi-media platform that includes TV 8 | PBS, News 88.7 | NPR and Classical. 
About Youth Beat
Youth Beat provides life changing media training and mentorship for Oakland youth. Free digital media instruction for disadvantaged Bay Area students.