Apply for the first-ever SRL Winter Academy!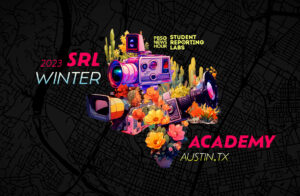 After a decade of hosting an SRL Academy for high school journalists each June, PBS NewsHour Student Reporting Labs is excited to offer a new opportunity for students to train with SRL staff in person this year: the first SRL Winter Academy, to be held December 16-21 in Austin, Texas in collaboration with Austin PBS.
A select group of 12 students from across the country will travel to spend five days training and producing stories in Austin with the SRL team this December — all expenses paid.
Sophomores, juniors, and seniors are invited to apply for a week of journalism training and hands-on story production. All costs are covered for accepted students.
First, check out these guidelines and then APPLY HERE by Sunday, OCTOBER 15th.
To get a taste of the student experience, watch this behind-the-scenes video from this past summer's academy in Boston.
WHAT ARE YOU GETTING?
Fully paid trip to Austin, Texas including travel, lodging, and meals
A unique experience that teaches vital video journalism, storytelling, production, and communication skills
Connection to experienced and influential media professionals through one-on-one coaching
Access to a national community of like-minded peers
Screening event hosted at KLRU celebrating the week's student-produced stories

APPLY HERE  by Sunday, OCTOBER 15, 2023 at 11:59 PT. The SRL Team will notify all applicants of selection decisions by November 6, 2023.
PLEASE NOTE: SRL will be prioritizing students who have not previously attended an SRL Academy, and unfortunately we are not able to offer any BTS correspondent opportunities for this event.