Educators from across the country address teacher burnout at workshop
Written by Beyza Vural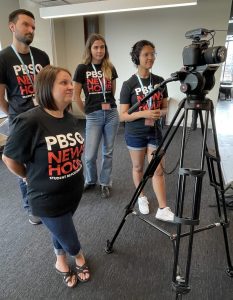 DENVER — 30 educators from across the country joined PBS NewsHour Student Reporting Labs' annual Teacher Workshop from July 25 to July 27 at Rocky Mountain PBS in Denver.
During the three-day professional development workshop, educators were immersed in SRL's award-winning video journalism and media literacy curriculum to implement it during the 2022-2023 academic year.  SRL staff led key training sessions including the art of the interview, scripting, podcasting, three-camera set-up, editing, graphics and mobile journalism.
"The thing that I loved the most about [the workshop], besides getting a chance to gain more knowledge, was seeing how SRL staff taught," said Elizabeth Kennedy-Ryzewicz, an educator at Cody High School in Cody, Wyoming.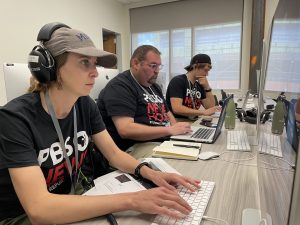 Building upon their audio and visual technical skills, educators worked in groups and produced a hands-on video montage addressing teacher burnout in the United States, interviewing one another about the current challenges that educators face as the new school year begins. 
Educators also had the opportunity to ask questions to longtime SRL teachers during a Q&A panel.
"I felt like I might be out of place being a librarian…but I felt included, and I felt listened to," said Nicole Rambo, a librarian at Middle Country Public Library in Centereach, New York.
On the last day, educators and the SRL team brainstormed some of SRL's upcoming media making prompts, challenges, and themes for the upcoming school year. 
"SRL feels more accessible to me now that I was here, and I actually got to meet the people that run things…So, I'll be more motivated to push it with my students and get them involved," said Cody Hassler, educator at Cedar Crest High School in Lebanon, Pennsylvania.