Gwen Ifill Legacy Fellowship gives young people of color the chance to be seen
By Jaylah Moore-Ross
This year's Gwen Ifill Legacy Fellows spent the summer working with their local PBS stations to expand their journalism skills and cover impactful stories about their communities. Delta Flores, Shakyna Golphin, and Micah Martin interned with station leaders and producers at South Florida PBS in Miami, WQED in Pittsburgh, and DPTV in Detroit. 
Delta, who attended Alonzo and Tracy Mourning Senior High, is currently studying broadcast journalism at Florida International University (FIU) in Miami. She began working with Student Reporting Labs her sophomore year of high school where her interest in journalism grew.
As a Gwen Ifill Legacy Fellow, Flores assisted with various aspects of production on the news team and worked with journalists at South Florida PBS to cover stories, including a piece about the Cuban protests in Miami, Florida, which aired on PBS NewsHour Weekend.
Flores said watching the professionals she worked with in the field and following their lead made it clearer to her that she wants to continue working in journalism. "It 100 percent felt [like] a real world experience," she said.
"There are people that sometimes intern in what they think they want to do, and then the picture completely shatters. To me, it was different. It just built it up more for me that I'm like, OK, I think this is definitely what I want to do," said Flores.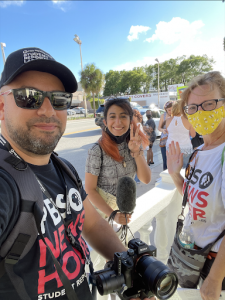 Flores said one of the biggest takeaways from her experience came from her producer and mentor, Melissa Harmon, who helped her realize that she "needed to be more confident" in herself and understand that she has what it takes to keep going and succeed as a journalist. 
At the beginning of her fellowship, Flores was unsure about speaking on the spot when reporting or asking people for an interview. But by the end, she learned how to be more comfortable with herself and took on that role. And these lessons, she said, she is "definitely going to take with [her] in the future."
Shakyna Golphin, who attends Taylor Allderdice High School in Pittsburgh, Pennsylvania, participated in the Entertainment Technology program at University Prep, where she learned about digital media.
Her teacher encouraged her to apply to Student Reporting Labs. When she was accepted, she found an interest in journalism.
"When I got into SRL is really when I got into reporting and digital media," said Golphin.
As a Gwen Ifill Legacy Fellow, Shakyna produced a piece about the KRUNK Movement, a youth production company for high school students in Pittsburgh, that centers on "the elements of hip-hop through dance, song production, and visual art."
Shakyna said she enjoyed working with her producer, Ash Warren, to edit and watch her story come together. The experience taught her about the importance of time management and organization in the journalism field.
Shakyna says she plans to continue journalism in college. As a person of color, she said the Gwen Ifill Legacy internship made her "feel like one of the people that are contributing to the change," opening doors and bringing opportunities to journalists of color.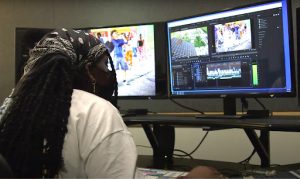 Micah, a senior at Frederick V. Pankow Center, was encouraged to join SRL by her teacher who felt that she would be a good fit. And because of her passion for filmmaking, she applied.
"I did it and couldn't be happier," Martin said. 
As a fellow, Micah produced a piece about racial inequality which was featured on One Detroit's Youtube page.
One of the highlights of Micah's experience was being able to meet and learn from new media professionals.
"I was so excited every time I went to a shoot because I knew there was going to be another person to look up to and, being encouraged at that level, I felt no reason not to be my best," said Martin.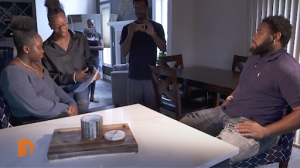 After Micah's experience, she plans to study journalism in college. 
"At first, I was kind of on the fence, but after the internship, I think I'm going to be looking into it for college," said Martin.
Micah said if Gwen Ifill were alive, she would tell her that the Gwen Ifill Legacy Fellowship is a "once-in-a-lifetime experience" that she feels teenagers don't get to do because they aren't taken seriously in professional environments. "I feel like I finally had the chance to show that I can be a professional."