How has your senior year been affected by the coronavirus? Tell us your story on Instagram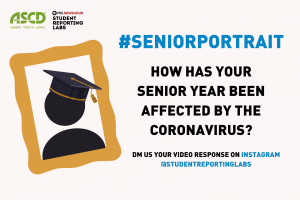 Deadline: Sunday, May 31, 2020.
To all the high school seniors, PBS NewsHour Student Reporting Labs (SRL) & ASCD are thinking about you and your friends, how you're doing and what you're feeling. The unprecedented coronavirus shut down will mark this high school class forever. As part of SRL's mission to lift up student voice and local community storytelling, we've partnered together on a social media challenge to amplify the voices of high school seniors in this historic moment.
Step One: Reflect
Take a look at the questions below and write down a sentence response. You don't have to answer every question, but expand the answers that feel most important to you: tell a story that explains to the world what it's like to be a high school senior at this time in 60 seconds or less.
Sample questions:
What have you personally lost due to the pandemic school shut down? Specifically, which events and/or milestones?
What don't adults understand about how this crisis has affected high school seniors specifically?
What is your school doing to reach out to and support the senior class?

What are seniors doing to support each other up?
How will this affect your plans for next year?
What have you learned about yourself during this period that you will bring with you into life after graduation?
What have you found to be positive about the situation? 
What advice would you give the class of 2025 if they face a similar situation in 5 years? 
Step Two: Record in 60 seconds or less
Use your cellphone or a camera to shoot video answering some of the questions above. You may shoot vertically (9:16) or horizontally (16:9) based on your preference. Always start with an introduction, and let the audience know who you are and why you are doing a story about yourself. Remember that sound is important in a video clip, so be conscious of background noise, wind, etc. For inspiration, take a look at these videos other students have submitted about their life during the coronavirus pandemic.
Step Three: Watch and revise (if you can edit, add b-roll, and edit the audio). 
Step Four: Direct Message the video to SRL on Instagram & Sign Release Form to be considered.
Send your video via DM on Instagram so that ASCD & SRL can reshare. BONUS: add SRL and ASCD's on IG (@studentreportinglabs + @officialASCD).
SRL may even ask you to submit your original footage if we think it could be broadcast on the PBS NewsHour (https://pbs.org/newshour), which is viewed by over 2 million viewers nightly!
The top three videos will receive a gift from Student Reporting Labs in the form of a $250 gift card to a variety of online shopping sites.