Introducing Student Reporting Labs' first annual community report and 5-year strategic plan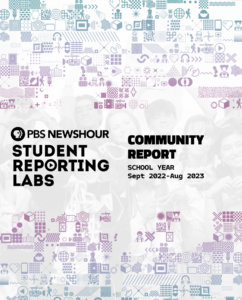 A note from Leah Clapman, Founder and Executive Director: 
This has been a pivotal year for SRL, and as we reflect on the 2022-23 school year with our first-ever community report celebrating the scope of the work we do together, I'm also incredibly excited to share our plans for the future with you. 
The path ahead is informed by our work with StoryThings, consultants who conducted more than 40 interviews with students and teachers, provided literature and media landscape analyses, and hosted roundtable discussions with thought leaders across sectors. The resulting five- year strategic plan is ambitious. We're doubling down on our commitment to students and educators – creating more online resources, in person events, and reporting opportunities. We know there will be challenges along the way, resources to be acquired, and choices to be made. 
I could not be more confident in the team we have in place to carry out this plan. In tandem with our partners and our participants, SRL's talented staff bring curiosity, expertise, and passion to the work ahead.   As we enter our 14th school year, I'm filled with gratitude for everyone who made this period of exploration possible. Here's to the next 14!