PBS NewsHour Student Reporting Labs Holds Seventh Annual Teacher Workshop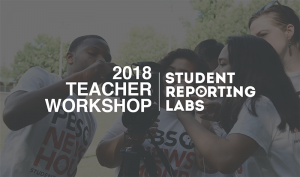 Washington, D.C. –  PBS NewsHour Student Reporting Labs (@reportinglabs) is excited to announce the selection of 30 educators who will be traveling to the nation's capital for our annual teacher workshop.
Educators will be taking part in this three-day professional development opportunity from July 24 to 27. These teachers will work alongside the Student Report Labs team and other public media mentors to learn best practices for implementing SRL's original video journalism and media literacy curriculum during the 2018-2019 academic year.
They will also help national program leaders create innovative resources to engage teenagers with news and bring youth voices into the conversations about critical issues facing the nation.
"We're bringing together new SRL teachers and like-minded educators to hone instruction skills and share insights around teaching video journalism and executing the mission of SRL," said Leah Clapman, managing editor of education for the PBS NewsHour. "These teachers are on the frontlines, empowering students to tell  visually-compelling stories from unique youth perspectives on important events and issues."
The 2018 SRL Teacher Workshop participants:
Abraham Cohen-Garcia, Bronx Arena High School, Bronx, NY
Adriana Chavira, Daniel Pearl Magnet High School, Lake Balboa, CA
Alexander Zacarias, Boys and Girls Club Greater Green Bay, Green Bay, WI
Ashley Porter, Pine Crest School, Fort Lauderdale, FL
Brandy Milson, Jersey Village High School, Houston, TX
Chris Thornett, Hallie Wells Middle School, Clarksburg, Maryland
Corinne Cosic, Xavier College Preparatory, Phoenix, Arizona
Cynthia Booker, Cleveland Heights High School, Cleveland Heights, OH
Duane P Pierre, ParDYM Academy/JMA, New Britain, CT
Elizabeth Kysely, Wausau East High School, Wausau, WI
Erika Quik, Cody High School, Cody, WY
Francis McMahon Ward,  Xavier College Preparatory, Phoenix, Arizona
Joe Hodge, Connally High School, Austin, TX
Joyce Evens, Waimea High School, Waimea, HI
Julie Nucci, Materials Science and Engineering, Cornell University, Ithaca, NY
Julie Tiedens, Black River Falls High School, Black River Falls, WI
Keisha Collins, KC Digital Media Lab, Kansas City, MO
Kyle Hawkins, Santa Fe High School, OK
Laura Caucci, Palo Verde High Magnet School, Tucson, AZ
Lisa Biber, Broadhead High School, Brodhead, WI
Marie Worsley- Matthews, Independence High School, Charlotte, NC
Michael Kaufman, Frederick V. Pankow Center, Clinton, MI
Mitchell Schwartz, Dominion High School, Sterling, VA
Nichole Stanford, Madison High School, Rexburg, ID
Rachel Mahlke, OMI College Preparatory Academy, Oakland, CA
Robert Casas, Westview High School, San Diego, CA
Sarah Horner, Abingdon-Avon High School District, Abingdon, IL
Steve Parker, Center High School, Kansas City, MO
Tara Bordeaux, Lanier ECHS, Austin, TX
Traci White, Ontario High School, Ontario, CA