PBS NewsHour Student Reporting Labs announces 2019 Gwen Ifill Legacy Fellows at local PBS stations
Washington, D.C. –  PBS NewsHour Student Reporting Labs (SRL) has selected three talented aspiring female journalists for summer fellowships at their local PBS stations: Mercedes Ezeji at KLRU in Austin, Texas; Tiffany Sagucio at PBS Hawai`i' in Honolulu, HI; and Jaylah Moore-Ross at WETA in Arlington, VA. Their work and training in local newsrooms honors the memory and legacy of pioneering journalist and PBS NewsHour co-anchor and managing editor Gwen Ifill.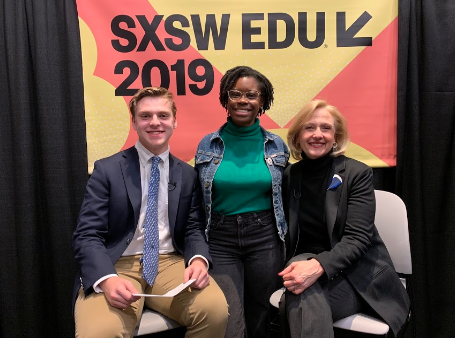 Mercedes Ezeji started with Student Reporting Labs as a student at Pflugerville High School near Austin, Texas, where she produced stories about race, education and social justice. Ezeji participated in the program's annual journalism academy in Washington, D.C. in 2016 and is now studying broadcast journalism at the Mayborn School of Journalism at the University of North Texas. 
"Storytelling has been a passion of mine since joining my high school newspaper," said Ezeji. "I was introduced to journalism by watching reporters like the late Gwen Ifill and I am honored to be representing her legacy."
Mercedes will work closely with KLRU's production team.
"KLRU is thrilled to host Mercedes as a Gwen Ifill Fellow this summer. We have been following Mercedes' work since her involvement with Student Reporting Labs," said Sara Robertson, SVP of Production at KLRU. "It's a homecoming of sorts to have her working alongside our team and it's an honor to help carry on Gwen Ifill's legacy in a way that benefits our team as well as a rising journalist."
Tiffany Sagucio graduated from Kaua`i High School this year and will be attending the University of Hawai'i at Manoa to study journalism.
"Going into high school, I never expected becoming active in my digital media class," said Sagucio. "I came to realize that everyone has their own story to share, and so do I. This class has shaped me to be optimistic, caring, and hardworking, like Gwen Ifill."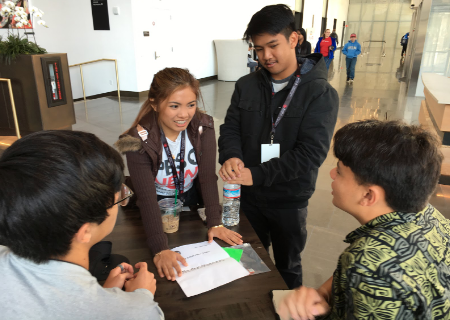 Sagucio's teacher, Leah Aiwohi, says the passion Sagucio developed for media and storytelling is inspiring.
"Once really shy and uncertain about her production skills, she now carries herself with such confidence behind and in front of the camera," Aiwohi said.
Sagucio will be working on a first-person narrative video project about the Miss Filipina Hawaii Pageant with Robert Pennybacker, the Director of Learning Initiatives at PBS Hawai`i', who is also deeply involved with HIKI NŌ, the station's statewide student news network.
"We at PBS Hawai`i are proud to honor the legacy of Gwen Ifill by mentoring Kaua`i High School graduate Tiffany Sagucio as one of this year's Gwen Ifill Fellows," said Pennybacker. "She represents a new generation of journalists that will bring a much needed sense of empathy and humanity to the profession."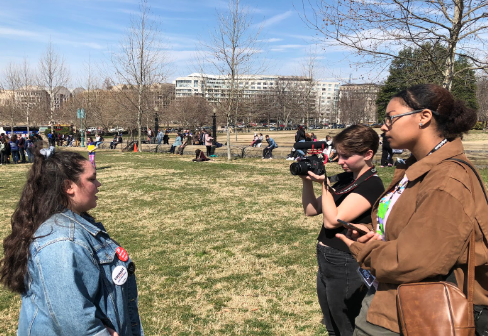 Jaylah Moore-Ross is a graduating senior from John F. Kennedy High School in Wheaton, Maryland and has contributed to some of the most innovative youth media content at SRL, including coverage of student walkouts against gun violence following the school shooting in Parkland, Florida.
"The Gwen Ifill Fellowship is not only a complete honor but an amazing opportunity for my growth as an artist," said Moore-Ross. 
"It's been an incredible experience watching Jaylah grow as a storyteller," said Elis Estrada, Director of Student Reporting Labs. "Gwen Ifill would have been so proud to see someone like Jaylah emerge as a true leader at her school's journalism program." 
The summer fellowships were created in honor of award-winning anchor, reporter, and author Gwen Ifill, the former PBS NewsHour co-anchor and managing editor and Washington Week moderator and managing editor, who died in November 2016 after complications from endometrial cancer.
Ifill became one of the nation's most respected political journalists: the first African-American woman to moderate a vice-presidential debate and the first to host a major weekly political-affairs program. After Ifill was named the co-anchor of the PBS NewsHour, she said she hoped little girls would watch her and think it "perfectly normal" to occupy an anchor's desk someday.
About Student Reporting Labs
Student Reporting Labs (SRL) creates transformative educational experiences through video journalism that inspire youth to find their voice and engage with their communities. SRL lesson plans, assignment prompts and instruction tools facilitate project-based learning that builds critical thinking, problem-solving, teamwork, and communication skills. Follow Student Reporting Labs on Facebook, Twitter, and Instagram. Major support is provided by the Corporation for Public Broadcasting, the MacArthur Foundation, the National Science Foundation and the National Institutes of Health Science Education Partnership Award.  
About KLRU
KLRU-TV, Austin PBS is dedicated to telling stories that entertain, inspire and change our lives. KLRU highlights what makes Austin unique—whether music, arts or public issues —by creating and distributing award-winning original content. KLRU produces several series including Austin City Limits, Arts In Context, Central Texas Gardener, Decibel and Overheard with Evan Smith. As a nonprofit educational organization, KLRU also prepares children to succeed in school and creates lifelong learning opportunities for all. Find out more at  KLRU.org.
About WETA
WETA's mission is to produce and distribute content of intellectual integrity and cultural merit using a broad range of media to reach audiences both in our community and nationwide. With deep roots in public education, WETA was founded to enrich the lives of the people of Greater Washington, and over the years has developed educational resources that serve all local residents, including some of the most vulnerable and underserved.
About PBS Hawaii
PBS Hawai'i is the Islands' sole member of the respected Public Broadcasting Service (PBS). It is a community-supported multimedia station, licensed to the Hawai'i Public Television Foundation and broadcasting to six Hawaiian Islands. The station's work is supported by active volunteers, many of them current or retired teachers. PBS Hawai'i is the home of the award-winning HIKI NŌ: The Nation's First Statewide Student News Network.
About PBS NewsHour                         
PBS NewsHour is seen by over four million weekly viewers and is also available online, via public radio in select markets, and via podcast. PBS NewsHour is a production of NewsHour Productions LLC, a wholly-owned nonprofit subsidiary of WETA Washington, D.C., in association with WNET in New York. More information on PBS NewsHour is available at pbs.org/newshour. On social media, visit NewsHour on Facebook or follow @NewsHour on Twitter.
Media Contacts
Leah Clapman, Managing Editor, Student Reporting Labs: lclapman@newshour.org
Elis Estrada, Director, Student Reporting Labs: eestrada@newshour.org