SRL Announces 2020 Student Academy Fellows
Arlington, Va.— PBS NewsHour Student Reporting Labs (SRL) is pleased to announce the selection of 30 distinguished students from 17 different states for its 2020 Student Academy.
Originally planned to take place in person at the Walter Cronkite School of Journalism and Mass Communication at Arizona State University, the Academy will now take place virtually due to the COVID-19 pandemic.
"This unprecedented moment calls for extraordinary storytellers and media-makers to shine a light on untold narratives of communities and individuals," says SRL Senior Director Elis Estrada.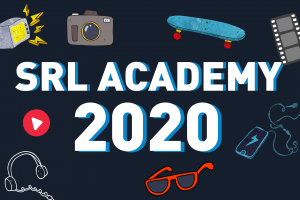 Over the course of ten weeks this spring and summer, SRL fellows will virtually work in teams to cover stories about the impact of the coronavirus pandemic on various communities. Fellows will receive equipment and other resources to produce pieces remotely and from the safety of their homes. SRL's Youth Media Producers and other team members will support fellows each week by providing coaching and mentorship through every step of the production process. True to the NewsHour, SRL will highlight important criteria and best practices for balanced, fair journalism.
Fellows will connect virtually with their local PBS stations and NewsHour correspondents and producers, and engage in conversations about the future of journalism, public media and how the coronavirus pandemic is changing our society. 
A select number of fellows will begin work immediately through SRL's partnership with KQED's YouTube show, Above The Noise. Students will share their experiences of how they are coping with the coronavirus pandemic and how they are taking stock of their mental health.
Find out more about this year's cohort  HERE
---
Anlli Magaly Ramirez
Grade: 11
School: Ontario High School
Location: Ontario, CA
SRL Connected Educator: Traci White
Local Station: PBS SoCal KCET
Harlow Frank
Grade: 11
School: Daniel Pearl Magnet High School
Location: Los Angeles, CA
SRL Connected Educator: Adriana Chavira
Local Station: PBS SoCal KCET
Katelynn Annabella Gonzalez
Grade: 10
School: Canyon High School
Location: Santa Clarita, CA
SRL Connected Educator: Ryanne Meschkat
Local Station: PBS SoCal KCET
Justin Sybron
Grade: 11
School: Oak Ridge High School
Location: Conroe, Texas
SRL Connected Educator: Jeff Yale
Local Station: Houston Public Media 
Yeonseo Seok
Grade: 11
School: Westview High School
Location: San Diego, CA
SRL Connected Educator: Robert Casas
Local Station: KPBS San Diego
Alexander Joseph Lopez
Grade: 11
School: Northview High School
Location: Covina, CA
SRL Connected Educator: Amy Woods
Local Station: PBS SoCal KCET
Rose Karen Hoover
Grade: 11
School: Alonzo and Tracy Mourning Senior High School
Location: North Miami, FL
SRL Connected Educator: Charles Lampard
Local Station: South Florida PBS
Kate Mie Nakamura
Grade: 9
School: Kauai High School
Location: Kauai, HI
SRL Connected Educator: Leah Aiwhoi
Local Station: PBS Hawaii
Sienna Jolie Patao Racoma
Grade: 8
School: Maui Waena Intermediate School
Location: Maui, HI
SRL Connected Educator: Jennifer Suzuki
Local Station: PBS Hawaii
Grace Hannah Gibbs
Grade: 11
School: Madison Senior High School
Location: Rexburg, ID
SRL Connected Educator: Nicole Stanford
Local Station: PBS Idaho
Madison Amaya Weis
Grade: 11
School: Pleasure Ridge Park High
Location: Louisville, KY
SRL Connected Educator: Molly Huff
Local Station: Kentucky Educational Television (KET)
Cecilia Grace Spencer
Grade: 11
School: University View Academy
Location: Baton Rouge, LA
SRL Connected Educator: Joan Magee
Local Station: Louisiana Public Broadcasting
Elliot Rivers Corbin
Grade: 11
School: Frederick V. Pankow Center
Location: Clinton Township, MI
SRL Connected Educators: Michael Kaufman
Local Station: Detroit Public Television (DPTV)
Emily Rose Birnbaum
Grade: 11
School: Royal Oak High School
Location: Royal Oak, MI
SRL Connected Educator: Michael Conrad
Local Station: Detroit Public Television (DPTV)
Tranayé Jada Hayes
Grade: 10
School: Cass Tech High School
Location: Detroit, MI
SRL Connected Educator: Anita Crouch
Local Station: Detroit Public Television (DPTV)
April Merino
Grade: 11
School: Cape May Technical High School
Location: Cape May Court House, NJ
SRL Connected Educator: Chris Jones
Local Station: New Jersey Television (NJTV)
Hannah M. Bradley
Grade: 11
School: Cleveland Heights High School
Location: Cleveland Heights, OH
SRL Connected Educator: Cynthia Booker
Local Station: WVIZ (Cleveland PBS)
Mikayla Jean Bloom
Grade: 11
School: Trumbull Career and Technical Center
Location: Warren, OH
SRL Connected Educator: Kristofer Doran
Local Station: PBS Western Reserve (OH)
Kaleb Hernandez
Grade: 9
School: Legacy Early College High School
Location: Greenville, SC
SRL Connected Educator: Neena Kumar
Local Station: South Carolina Educational Television (SCETV)
David Kang
Grade: 11
School: Westwood High School
Location: Austin, TX
SRL Connected Educator: Tish Saliani
Local Station: Austin PBS
Joselyn Alexa Blanco
Grade: 12
School: Juan Navarro Early College High School
Location: Austin, TX
SRL Connected Educator: Tara Bordeaux
Local Station: Austin PBS
Miki Chhun
Grade: 11
School: Jersey Village High School
Location: Jersey Village, TX
SRL Connected Educator: Brandy Milson
Local Station: Houston Public Media
Bridgette Adoma Adu-Wadier
Grade: 11
School: T.C. Williams High School
Location: Alexandria, VA
SRL Connected Educator: Vilma Zefran
Local Station: Washington [DC] Educational Telecommunications Association (WETA)
Kevin William Myers
Grade: 11
School: Dominion High School
Location: Sterling, VA
SRL Connected Educator: Mitch Schwartz
Local Station: Washington [DC] Educational Telecommunications Association (WETA)
Eleanor Elizabeth Wirtz
Grade: 11
School: Black River Falls High School
Location: Black River Falls, WI
SRL Connected Educator: Julie Tiedens
Local Station: PBS Wisconsin
Arianna Tashiya Mathuin
Grade: 11
School: Cody High School
Location: Cody, WY
SRL Connected Educator: Erika Quick
Local Station: Wyoming PBS
Sophie Anne McDonough
Grade: 9
School: Health and Science School
Location: Beaverton, OR
SRL Connected Educator: Jared Agard
Local Station: Oregon Public Broadcasting
Arely Ángeles Guerra Hernandez
Grade: 11
School: Juan Navarro Early College High School
Location: Austin, TX
SRL Connected Educator: Tara Bordeux
Local Station: Austin PBS
Shakyna Noelle Golphin
Grade: 10
School: University Prep
Location: Pittsburgh, PA
SRL Connected Educator: Jeffrey Hackett
Local Station: WQED Pittsburgh