SRL Hosts 2023 Teacher Workshop — Meet the Teachers!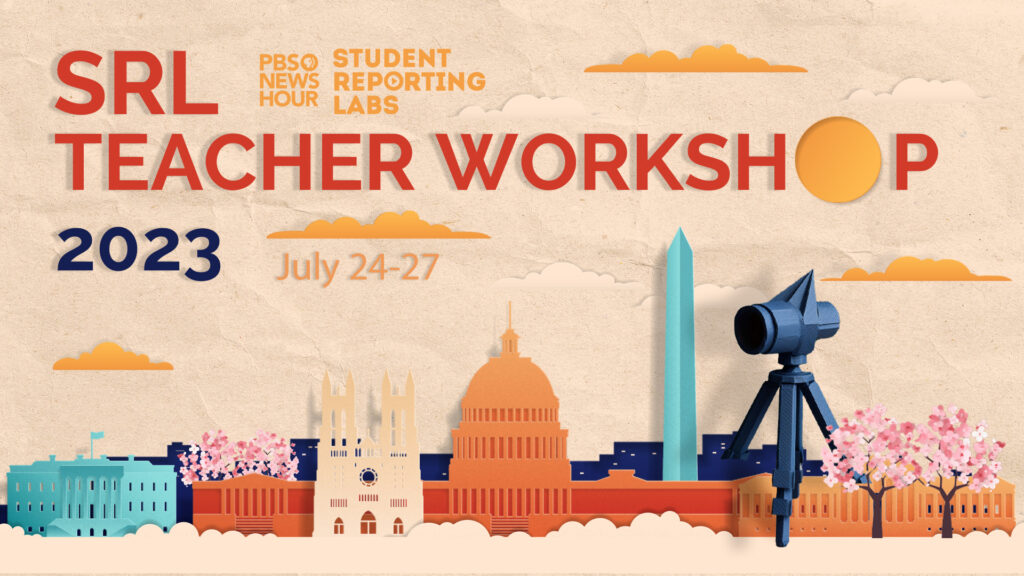 PBS NewsHour Student Reporting Labs (SRL) will host over 40 educators from across the country for its 13th annual SRL Teacher Workshop from July 24 to 27 at WETA in Arlington, VA. Educators will work alongside the SRL team to strengthen their technical and editorial skills in areas like interviewing, digital photography/videography, editing, and podcasting, with the goal of educators bringing these skills back to their classrooms to support high school student journalists as they report important stories from a youth perspective. 
A warm Student Reporting Labs welcome to the following educators and media professionals joining us this year: 
Adison Godfrey, from York Suburban High School in York, Pennsylvania
Alejandro Gonzalez, from Miami Arts Studio 6-12 @Zelda Glazer in Miami, Florida
Anna Ford, from Southern Oregon PBS in Medford, Oregon
Ashley Porter, from DC International School in Washington, D.C.
Candis Brinegar, from Gadsden Independent School in Anthony, New Mexico
Chris Cuthill, from PS/IS 229K – Dyker in Brooklyn, New York
Corwin Roncase, from Sustainable Scoop in Arlington, VA
Craig Hunter, from Mott Hall II in New York, New York
Cynthia Booker, from Cleveland Heights High School in Cleveland Heights, Ohio
Devin Marsh, from Miami Arts Studio in Miami, Florida
Donna J Herold, from Ferris High School in Spokane, Washington
Dr. Sequoyah Wharton, from Brentwood High School in Brentwood, New York
E. Michael Chelsky, from Independence High School in San Francisco, California
Gabriela Mendez, from Hola Cultura DC in Washington, D.C.
Georgina Gines, from After-School All-Stars in Los Angeles, California
Hannah Patterson, from ReImagine ATL in Atlanta, Georgia
Holly Goldberg, from Pine Crest School in Fort Lauderdale, Florida
Jason Kaye, from Plymouth-Canton Community Schools in Plymouth, Michigan
Jen Olson, from Montrose Elementary School of Innovation in Montrose, Minnesota
Jennifer Chaffman, from Community School of Davidson in Huntersville, North Carolina
Kate Plows, from Strath Haven High School in Wallingford, Pennsylvania
Kendra Phillips, Montrose Elementary School of Innovation, Montrose, Minnesota 
Kevin E. Brown, from Dunbar Vocational Career Academy in Chicago, Illinois
Kolinda Scialabba, from Gwinnett County Public Schools Television in Suwanee, Georgia
Melissa L. Bedford Fears, from Crossroads Preparatory Academy in Lee's Summit, Missouri
Mike Conrad, from Royal Oak High School in Royal Oak, Michigan
Mindy Pavone, from Clinton High School in Clinton, New York
Miriam Gennari, from SustainableScoop in Arlington, Virginia
Miriam Townsend, from McKinley Classical Leadership Academy in St. Louis, Missouri
Nancy Frazier, from Tierra Del Sol Continuation High School in Bakersfield, California
Pablo Herrera, from Colectivo Piloto in Washington, D.C.
Robert Casas, from Westview High School in San Diego, California
Roberta Callaway, from Lincoln Charter High School in Lincolnton, North Carolina
Sara Baragona, from Discovery Middle School in Madison, Alabama
Stacy Dalton, from Baltimore County Public Schools in Towson, Maryland
Tim Williams, from Lawrence High School in Riverside, New Jersey
Tishawna Tate, from Maryland Public Television in Owings Mills, Maryland
Tricia George, from A. I. Prince Technical High School in Hartford, Connecticut
Tyler Hahn, from Cherokee Public Library in Cherokee, Iowa
Walter Cicchetti, from NSU University School in Fort Lauderdale, Florida
William Work, from Cesar Chavez Academy in Corona, California
Yvette Walker, from Rodriguez Middle School in Aubrey, Texas
---
About Student Reporting Labs
Through video journalism, Student Reporting Labs (SRL) creates transformative educational experiences that inspire middle and high school students to report on the issues that matter to them, find their voice and engage with their communities. SRL lesson plans, assignment prompts and instruction tools facilitate project-based learning that builds critical thinking, problem-solving, teamwork, and communication skills. Follow Student Reporting Labs on Facebook, Twitter, and Instagram. Major support is provided by the Corporation for Public Broadcasting, the MacArthur Foundation, the National Science Foundation and the National Institutes of Health Science Education Partnership Award.                                                                                                                                          
About PBS NewsHour                                                                                  
PBS NewsHour is seen by over four million weekly viewers and is also available online, via public radio in select markets, and via podcast. PBS NewsHour is a production of NewsHour Productions LLC, a wholly-owned nonprofit subsidiary of WETA Washington, D.C., in association with WNET in New York. Major corporate funding is provided by BNSF, with additional support from Alfred P. Sloan Foundation, Carnegie Corporation of New York, the J. Paul Getty Trust, the S.D. Bechtel, Jr. Foundation, the John D. and Catherine T. MacArthur Foundation, the Lemelson Foundation, National Institutes of Health, National Science Foundation, The PEW Charitable Trusts, The William and Flora Hewlett Foundation, Ford Foundation, Skoll Foundation, The Gordon and Betty Moore Foundation, Friends of the NewsHour and others. More information on PBS NewsHour is available at pbs.org/newshour. On social media, visit NewsHour on Facebook or follow @NewsHour on Twitter.