SRL Hosts Eleventh Annual Teacher Workshop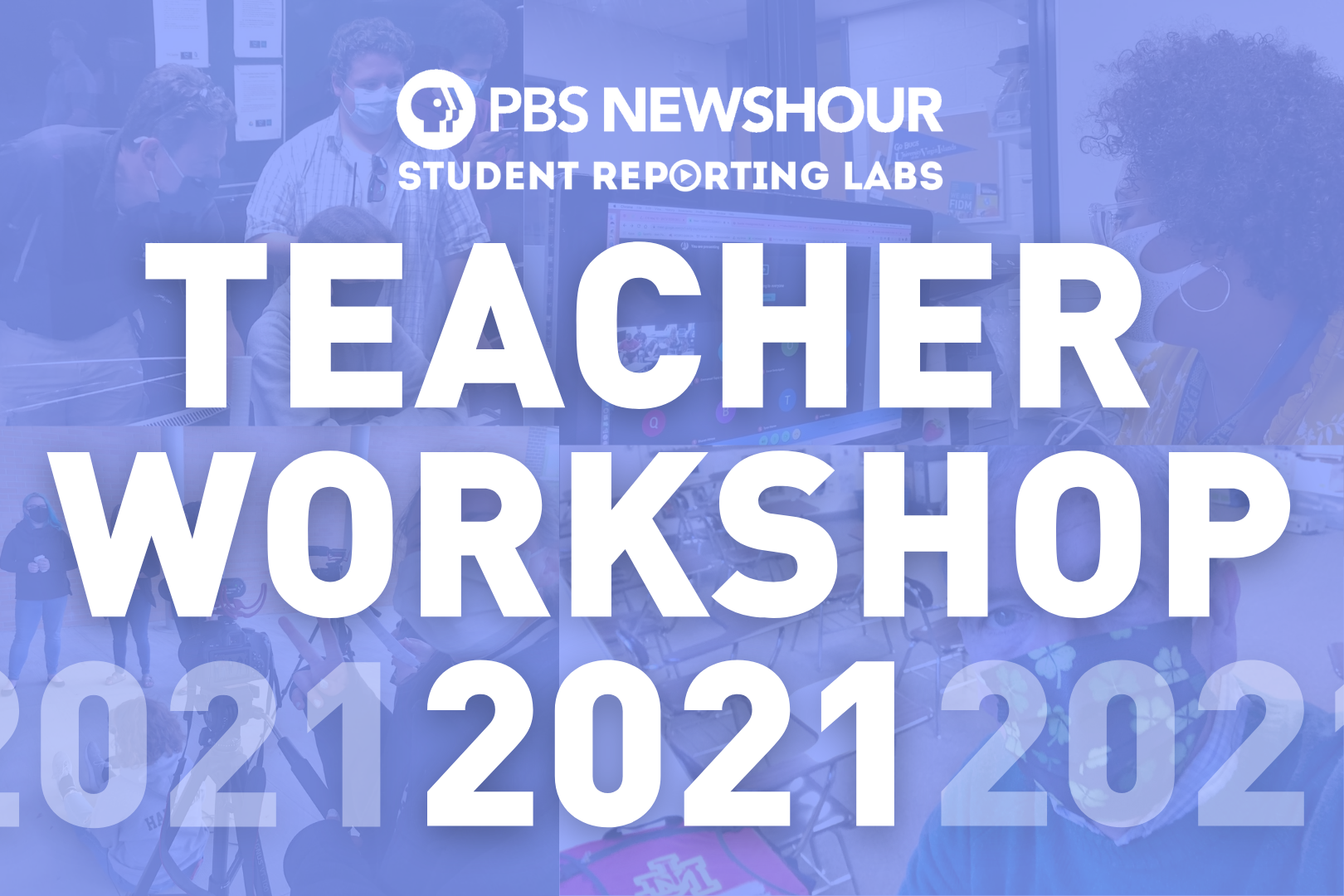 Washington, D.C. – PBS NewsHour Student Reporting Labs (SRL) is excited to announce its 2021 virtual professional development series for educators around the country. This event replaces our annual workshop in Washington, D.C., due to coronavirus pandemic.
This year, selected teachers will work alongside the Student Reporting Labs team and other public media professionals for a series of webinars from July 21 to July 23 to learn best practices for implementing SRL's original video journalism and media literacy curriculum during the 2021-2022 academic year. 
This year's workshop will focus on identifying the needs of educators facing a variety of teaching environments including going back to in-person learning, distance learning and a mix of both. Participants will focus on training for video production, storytelling and journalism, and strengthening SRL's teacher communities with local PBS stations throughout the country. Teachers will also help national program leaders design assignment prompts and instructional tools to engage middle and high school students in the biggest issues of our time including the American Rescue Plan, climate change, mental health, and the long-term impacts of COVID-19 on education. 
"Creative teachers with a passion for student voice and civic journalism are our lifeblood," says Leah Clapman, PBS NewsHour Managing Editor for Education. "Every year, we learn so much from new educators about the needs of local communities and innovative ways to engage teenagers, school leaders and families, especially during times of crisis."
About Student Reporting Labs
Student Reporting Labs (SRL) creates transformative educational experiences through video journalism that inspire youth to find their voice and engage with their communities. SRL lesson plans, assignment prompts and instruction tools facilitate project-based learning that builds critical thinking, problem-solving, teamwork, and communication skills. Follow Student Reporting Labs on Facebook, Twitter, and Instagram
Major support is provided by the Corporation for Public Broadcasting, the MacArthur Foundation, the National Science Foundation and the National Institutes of Health Science Education Partnership Award.                                                                                                                                                                                                                          
About PBS NewsHour                                                                                  
PBS NewsHour is seen by over four million weekly viewers and is also available online, via public radio in select markets, and via podcast. PBS NewsHour is a production of NewsHour Productions LLC, a wholly-owned nonprofit subsidiary of WETA Washington, D.C., in association with WNET in New York. Major corporate funding is provided by BNSF, with additional support from Alfred P. Sloan Foundation, Carnegie Corporation of New York, the J. Paul Getty Trust, the S.D. Bechtel, Jr. Foundation, the John D. and Catherine T. MacArthur Foundation, the Lemelson Foundation, National Institutes of Health, National Science Foundation, The PEW Charitable Trusts, The William and Flora Hewlett Foundation, Ford Foundation, Skoll Foundation, The Gordon and Betty Moore Foundation, Friends of the NewsHour and others. More information on PBS NewsHour is available at pbs.org/newshour. On social media, visit NewsHour on Facebook or follow @NewsHour on Twitter.
Media Contact
Marcus Markle, Communications Manager: mmarkle@newshour.org
Elis Estrada, Senior Director, Student Reporting Labs: eestrada@newshour.org