SRL Launches #Election2020 Toolkit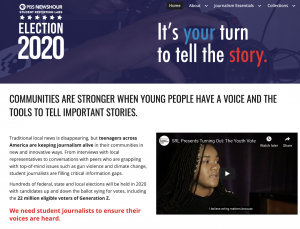 Arlington, Va.–– PBS NewsHour Student Reporting Labs (SRL) announces a new resource for students and educators to produce election stories and report on the issues that matter to Gen Z. SRL's #Election2020 Journalism Toolkit features how to's, lessons and student challenges, giving young storytellers turnkey assignments for covering local politics and national elections.
"Teenagers are tired of being talked about and marketed to, it's time they had a voice in the election coverage and the critical policy debates that directly impact their future," says Leah Clapman, SRL's founder and managing editor for education at the PBS NewsHour
Gen Z is estimated by the Pew Research Center to be 1 in 10 eligible voters by November 3, which amounts to 22 million teens.
"This free resource enables teens to engage with #election2020 in novel and unique ways, especially through video and storytelling," shares Elis Estrada, SRL's director, who conceived of the toolkit after hearing student reporters say how eager they were to cover elections, but didn't have the tools or confidence to do so. 
For over 10 years, Student Reporting Labs has been training teachers and providing curriculum to help students cover important issues that affect their lives.
"The Toolkit supports students and educators across the U.S. with the skills and resources necessary to track the issues they care about and how to press candidates on how their decisions will impact communities," says Chris Allen, SRL's education project manager and lead creator of the toolkit.
Additional lessons and student challenges will be added throughout the spring and summer. Users are invited to collaborate with SRL on this project and submit ideas, tips and other resources to help build out the toolkit.
Educators, students, and schools are invited to contact Chris Allen (chris@studentreportinglabs.org) for more information.
About SRL
PBS NewsHour Student Reporting Labs (SRL) is building the next generation of video journalists by connecting educators with an innovative video journalism curriculum and network of public broadcasting mentors to develop digital media, critical thinking, and communication skills while producing original news reports from a youth perspective. Over 150 schools across 46 states and the District of Columbia participate, reaching 3,000 students. Over the last decade, SRL youth media producers have helped students place over 50 video news reports on the PBS NewsHour's nightly broadcast and more on local media outlets. Visit www.studentreportinglabs.org to learn more.
About PBS NewsHour
For more than 40 years, millions of Americans and citizens of the world have turned to the PBS NewsHour for the solid, reliable reporting that has made it one of the most trusted news programs on television. PBS NewsHour is a production of NewsHour Productions LLC, a wholly-owned non-profit subsidiary of WETA Washington, DC, in association with WNET in New York. More information on PBS NewsHour is available at www.pbs.org/newshour. On social media, visit PBS NewsHour on Facebook or follow @NewsHour on Twitter. 
Support Provided By
The MacArthur Foundation, National Institutes of Health SEPA partnership, The American Graduate: Getting to Work initiative, public media's long-term commitment, made possible by the Corporation for Public Broadcasting (CPB) to help young people succeed in school, career, and life.