SRL partners with KQED and the National Writing Project for national youth media challenge: Let's Talk About Election 2020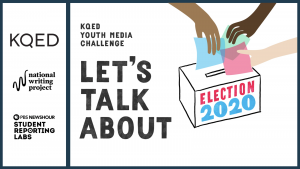 Arlington, Va.–– PBS NewsHour Student Reporting Labs (SRL) is joining forces with KQED and the National Writing Project on the Let's Talk About Election 2020 youth media challenge to empower young voices and provide a real-world audience for student voice. 
The challenge aims to support students in developing the tools they need to participate in modern civic life. Randy Depew, Managing Director of Education for KQED shares, "Students who participate in discussions of important local, national or global issues report that they are more engaged in school, more interested in politics, better communicators and critical thinkers, and have a greater likelihood of engaging in civic life as adults." 
"This youth media challenge aligns perfectly with Student Reporting Labs' media production curriculum and mission of inspiring young people to find their voice and become active members of their communities," said Elis Estrada, Director of SRL. "We're proud to partner with two trusted organizations bringing young voices front and center in 2020."
Students have a lot to say about Election 2020. Building on the Letters to the Next President program, this challenge expands the scope of students' critical thinking and persuasive skills to include media production. Students will choose an election-related issue that matters to them and create evidence-based audio or video commentary on the issue that incorporates their personal experience and authentic voice. These commentaries will be featured in the Election 2020 showcase, hosted on KQED Learn. Some pieces will also be selected for broadcast on PBS and NPR member stations.
This standards-aligned program includes teacher guidance and lesson plans to implement the challenge in their classrooms, including curricular support and professional development. It is aligned with Common Core State Standards (CCSS), Next Generation Science Standards (NGSS), International Society for Technology in Education (ISTE), and Civically Engaged Writing Analysis Continuum (CEWAC) standards.
Learn more about the challenge and register here. 
---
About PBS NewsHour Student Reporting Labs
Student Reporting Labs (SRL) connect students with an innovative video journalism curriculum and a network of public broadcasting mentors to develop digital media, critical thinking and communication skills while producing original news reports from a youth perspective. SRL believes that thoughtful, well-grounded local reporting and the interdisciplinary work of video production are powerful forms of learning and civic engagement.  Public media empowers young people to report stories, reach authentic audiences, join conversations about the issues that affect their future and recognize their unlimited potential as valued members of society.
About the National Writing Project
Through its mission, the National Writing Project (NWP) focuses the knowledge, expertise, and leadership of our nation's educators on sustained efforts to help youth become successful writers and learners. NWP supports a network of local Writing Project sites, located on nearly 185 university and college campuses, to provide high-quality professional development in schools, universities, libraries, museums, and after-school programs. Through its many successful programs and partnerships, the organization reaches 1.4 million Pre-K through college-age students in over 2,000 school districts annually. NWP envisions a future where every person is an accomplished writer, engaged learner, and active participant in a digital, interconnected world.
About KQED
KQED is a San Francisco-based nonprofit, public media station and PBS and NPR affiliate. KQED serves educators and students nationwide by providing free, high-quality resources that strengthen media literacy skills, empower youth voice and encourage civil discourse. As a nonprofit and a leader in media innovation, KQED provides standards-aligned classroom content and professional development courses that educators can trust. The KQED education team is comprised of educators and experienced media professionals with a passion for equity and access in education. Learn more at kqed.org/education.
Media Contact:
Marcus Markle, SRL Communications Manager, mmarkle@newshour.org