SRL reporters capture youth angle at 2016 national conventions
By Adelyn Baxter
As the 2016 National Conventions in Cleveland, Ohio, and Philadelphia, Pennsylvania played prominently on newsfeeds and broadcasts across the country, Student Reporting Labs journalists were there to make sure the perspectives and opinions of the youngest demographic of American voters were not left out.
The SRL A-Team, Chloe from Miami, Evan from Royal Oak, Michigan and Kennedy from Pflugerville, Texas, spent two weeks talking to young voters — many of whom will vote for the first time in November's election — about their hopes and fears for the next president of the United States.
Young delegates at the convention, onlookers, and locals who call the two cities home identified issues that ranged from guns and immigration to student debt and the job market. Many were worried about the current feeling of division within the United States, both politically and socially.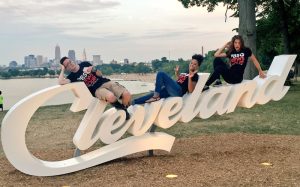 "I expected to find many of the young people not that politically inclined or informed, but I learned that so many people do care and we all have our own opinions on everything," said Chloe, a senior at Alonzo and Tracy Mourning Senior High School in Miami.
Over the course of the assignment, the team put in long hours shooting interviews and covering the convention. The days began early and included visits to local youth organizations, panel discussions on the future of high school education, and iconic locations like the Rock and Roll Hall of Fame in Cleveland and the steps of the Philadelphia Museum of Art in Philadelphia.
They talked to the youngest delegates from states like Georgia, Colorado, and Iowa and watched candidates Donald Trump and Hillary Clinton officially accept their respective party's nomination on the final night of each convention.
"I meet so many people day to day who don't really follow what's going on, but to meet people who really care about the state of the country and the political process and are adamant about their values was great to see," said Evan, a sophomore at Columbia College in Chicago, Illinois.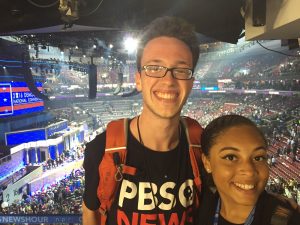 "It was amazing to go out on the street with equipment and tell a story and have youth voices heard by youth voices," said Kennedy, a sophomore at the University of North Texas.
Covering the conventions tested the team's skills as journalists and forced them to think critically about their own roles as young voters.
"It's definitely going to take initiative from everyone to make sure that our voices are heard," Kennedy reflected. "You can't get anywhere if there are only a couple of people that care about what's happening."
Watch the team's reports from both conventions below:
Student Reporting Labs Goes to the RNC in Cleveland from Student Reporting Labs on Vimeo.
Student Reporting Labs Goes to the DNC in Philadelphia from Student Reporting Labs on Vimeo.
NewsHour Extra Lessons:
Democratic and Republican conventions through the eyes of young voters