SRL returns to SXSW EDU in person after a two year absence 
Austin, Texas—PBS NewsHour Student Reporting Labs (SRL) returned in person to Austin for SXSW EDU, the annual conference that attracts the education field's leading minds on how to positively transform and improve education for students.
Over 4 days, SRL convened 50 local students across the Austin-metro area, On Our Minds teen co-hosts Noah Konevitch and Zion Williams, and several SRL educators to discuss the transformative power of storytelling and conduct interviews with conference headliners.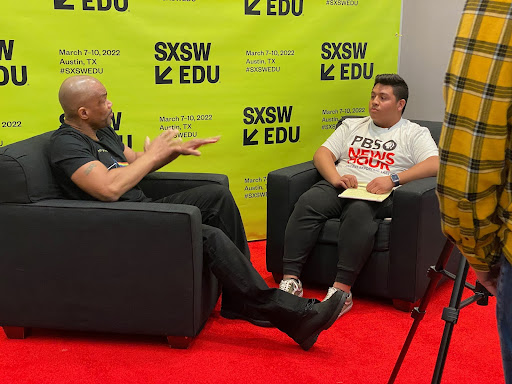 SRL student reporter Jacob Tacdol of Rouse High School interviewed hip hop music legend Darryl "DMC" McDaniels, who spoke about his first-hand experience with suicide and depression. Tacdol asked McDaniels to share his journey with therapy and what might be important for teens to know about its benefits. 
"My journey with mental health was kind of unexpected because I was probably in my 30s," recalls McDaniels. "It's especially important for teens to know that they can get help to know that they can beat and defeat whatever it is that they're struggling with."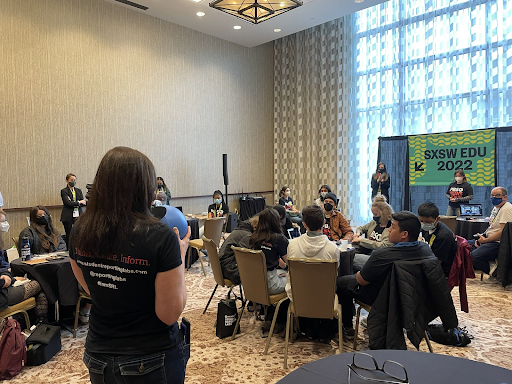 SRL also hosted a powerful meet-up, where 50 student reporters across the Austin metro area met to discuss the power of storytelling. Rouse High School in Leander, Texas and McCallum High School in Austin, Texas were among the schools represented and were able to meet and hear from each other as peers. The event concluded with a writing activity, where students were asked to reflect on the last two years and their hope for the future.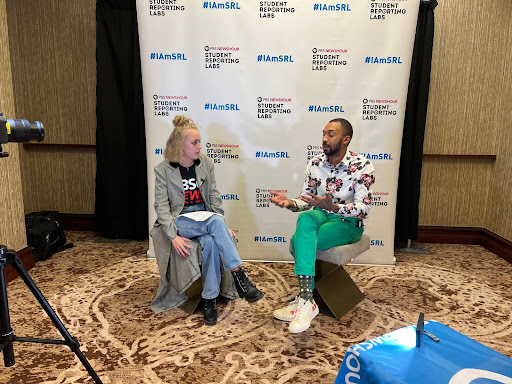 Emma Hagood from McCallum High School interviewed George M. Johnson, author of All Boys Aren't Blue, a book documenting the experiences of queer men of color. Hagood asked Johnson to comment on the growing number of book bans, especially the one Johnson authored, as well as the increase in laws targeting LGBTQ+ teens.
"Many of us are fighting so hard to push back against all of these different types of oppressive laws because teens really deserve the right to more than just exist," Johnson shared. "They deserve the right to read about their experiences […] from Stonewall and the Harlem Renaissance and Slavery and beyond. They deserve the right to have their stories told, just like any other student or child does."
SRL's PanelPicker chosen by SXSW EDU focused on a discussion about youth mental health and SRL's inaugural podcast, On Our Minds with Noah and Zion. SRL youth media producer Briget Ganske spoke about the genesis of the podcast and Noah Konevitch and Zion Williams, as its teen co-hosts, shared what they learned about the experience. 
Asked about what she learned about herself, Williams shared, "I just really realized how amazing I can be. The sky's the limit for everyone in the room. When you work hard at something you can always achieve."
Konevitch learned, "I am a lot more capable than I give myself credit for. Confidence is a really important thing when you're going through mental health issues."
SRL senior director Elis Estrada led a storytelling activity with the audience, which asked attendees to think back to the people  in their life they could lean on for mental health support.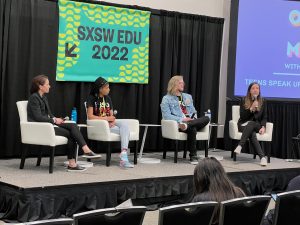 Local Austin-area SRL students also conducted interviews with U.S. Secretary of Education Miguel Cardona, 14-year-old National Spelling Bee winner Zaila Avant-garde, and outgoing PBS NewsHour Weekend anchor Hari Sreenivasan. 
Mak Lambert of Rouse High School asked Secretary Cardona about the mental health challenges students across the country are facing, especially in the wake of school shootings on top of the pandemic and what students can do to effect change.
"I would love to see students across the country take this as an opportunity to elevate their voice so that their voices will shape what schools look like moving forward," Cardona said. "I always say students have a voice. And throughout my career some of the best experiences I've had as an educator and a school and district leader were when we allowed students to have more say in how things get done."
Also from Rouse High School in Leander, Texas, SRL student reporter Jeremiah Sudarmento interviewed Zaila Avant-garde, who became the first African-American to win a national spelling bee championship. Sudarto asked about the mental health pressures that come with competition, how Avant-garde persists through it all, and what it means to have accomplished her achievements.
"I'm really proud of it. When I was first starting out… one of my motivating principles is I try to break boundaries, you know, break the glass ceiling and show that…other people know that they can do it too," she shared. "I personally have faced multiple instances of discrimination against what is because of the color of my skin or the way my hair looks, or just the fact that I'm a girl. I definitely always want to be a motivator for young girls like me."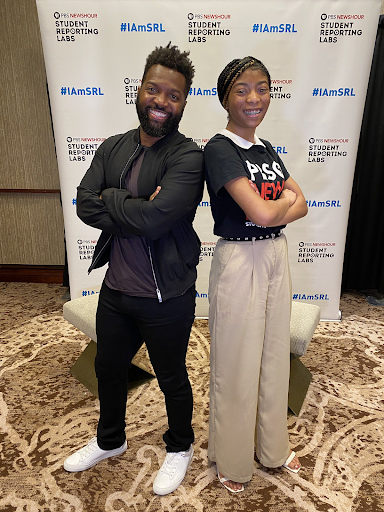 On the last day, Zion Williams sat down  with Baratunde Thurston, host of the forthcoming PBS show America Outdoors. Williams interviewed Thurston about his thinking about race, civics, the outdoors and the current moment and mood in the country.
"Dear America," Thurston started to jest in a serious tone, and then responded to Williams. "Take a deep breath. Remember that we all come together to use our power in the way that we choose."
Check out the highlights reel here.
SRL has participated at SXSW EDU since it was conceived in 2011. 2019 was the last in-person event SRL attended before the coronavirus pandemic suspended 2020's SXSW EDU event, and participated virtually in 2021.