SRL Student Journalists of the Year to attend 2020 Public Media Education Conference
Washington, D.C. (December 31, 2019) — PBS NewsHour Student Reporting Labs (SRL) has selected four up-and-coming journalists from its nationwide network of high school broadcast programs to be honored at the NETA conference in Washington, DC.
The Student Press Law Center and the Freedom Forum Institute declared 2019 the year of the student journalist to honor the critical role student reporters play in keeping their communities informed. Student Reporting Labs, with over 150 schools and clubs across the country, engages 3,000 students per year to produce original reporting on important local issues from a youth perspective. Recent series include teens and vaping, immigration, school safety, local public art and the impact of stereotyping.
The National Education Telecommunications Association (NETA) conference is the premier gathering of local public media stations from across the country dedicated to education programming, services and outreach. At the January meeting in Washington, NETA will recognize the incredible work of teen journalists.
"We are honored to recognize the SRL Student Journalists of the Year during our conference this year" said Eric Hyyppa, NETA President. "Our theme for the conference is The Future of Education and Media. Our four honorees embody how bright the future of Education and Media will be."
The four chosen student journalists represent different regions of the country, and each embodies the mission of public media to engage, inform and educate.
"We get to work with so many exceptional students through SRL and these particular students honed their skills at our annual week-long journalism fellowship and continue to make an impact in their communities as Next Gen reporters and storytellers," said Elis Estrada, Director of Student Reporting Labs.
Mary Williams is a college sophomore in Cincinnati, Ohio, attending the University of Cincinnati's College-Conservatory of Music. Mary, who graduated from Hughes STEM High School, was a 2017 SRL Fellow, and went on to become a Gwen Ifill Fellow at local station CET in 2018. She has produced several pieces for the PBS NewsHour, including this story about a Mt. Vernon tour guide working to remember the lives of enslaved people who built America, and this piece about how a 3-D printed hand gave a young girl the gift of play.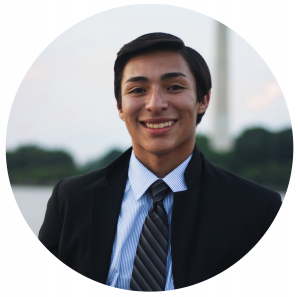 Xavier Dominguez is a senior at Las Cruces High School in New Mexico. Xavier was an SRL Fellow in 2018 and returned to the Academy in 2019 as SRL's behind-the-scenes student correspondent. His story about youth groups organizing to lower the voting age to 16 in Washington D.C. was featured in Teen Vogue. He is also featured in KQED's Election Challenge sizzle.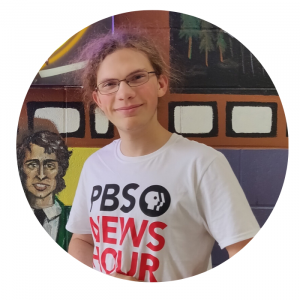 Kaleb Velez, is a senior at Jersey Village High School in Houston, Texas. Kaleb was an SRL Fellow in 2019 and became the lead anchor for his school district's weekly show during the 2019-2020 school year. He's featured in many SRL Rapid Responses, including this one about the stories students wish to see in the media.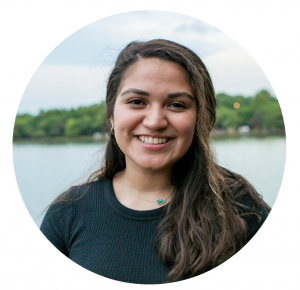 Karen Ramos, is a senior at Dominion High School in Sterling, Virginia. In addition to attending the 2019 SRL Academy, Karen has been featured on several panels in local DC-area conferences. A story she did with classmates about coding programs for students in Elementary school was featured on the NewsHour and most recently, she got to sit down with Greta Thunberg in September 2019. 
About Us:
Student Reporting Labs connect students with an innovative video journalism curriculum and a network of public broadcasting mentors to develop digital media, critical thinking and communication skills while producing original news reports from a youth perspective. Visit studentreportinglabs.org to learn more.
About NETA:
The National Educational Telecommunications Association (NETA) is a professional association representing 275 member stations in 46 states, the Virgin Islands and the District of Columbia. NETA provides leadership, general audience content, educational services, professional development and trusted financial management services, including human resources and benefits administration, to individual public media licensees, their affinity groups and public media as a whole.