SRL Trains Jordanian Teachers on Video Journalism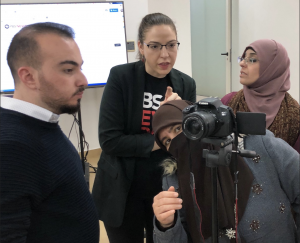 Amman, Jordan––PBS NewsHour Student Reporting Labs (SRL) team members Leah Clapman, Elis Estrada and Rawan Elbaba were in Amman, Jordan from February 17-26, 2020 for "Storytelling and Giving Youth a Voice in the Media," a training event facilitated by the Jordan Media Institute (JMI) and funded by the Carnegie Corporation of New York.
As part of Carnegie's "Transnational Movements and The Arab Region"– which focuses on the emergence of citizen governance as a force in filling public sector gaps– SRL trained 12 teachers from 4 public schools located in Amman, As-Salt, and Madaba on the basics of media literacy and video production. Teachers will take what they learned back to the classroom and teach a cohort of 40 students in the first year.
The teachers, selected by the Ministry of Education, covered a range of subjects: science, athletics, Arabic, French, history – none had ever edited video. In five days, they learned professional DSLR cameras, audio, b-roll sequencing, transcribing, scripting and Adobe Premiere. Each teacher filmed and edited a 2-minute profile.
The training started with an SRL lesson plan called Shifting the Frame that asks students to think about different groups and identities in their community and the prevailing narratives.
"As we overcame language and cultural differences, the teachers' energy shifted from skepticism to excitement as they realized how to challenge narratives they feel distort public perceptions of education, Islam, health care, economic opportunity and the role of women," said SRL founder Leah Clapman. "The teachers really got it. One of them told me she was so excited to do this with her students because 'We don't get to do anything like this, and they are going to love it."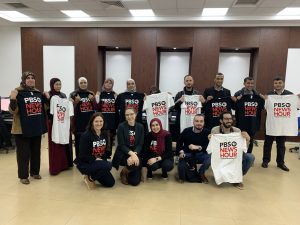 The 40 students will spend a week at JMI this summer working with mentors in a journalism camp based on the SRL Student Academy. One of the goals is to produce 4 stories to run on Jordan Public Broadcasting. The SRL team also met with Jordan Television CEO Dana Suyyagh who is partnered with JMI on this project as part of the larger strategy to engage younger audiences with citizen journalism.
"It was eye-opening to see just how similar American and Jordanian teachers are in their hopes and dreams for their classroom communities," said SRL Digital Producer Rawan Elbaba. "They also share similar struggles like classroom sizes, adequate resources and community engagement."