PBS NewsHour Student Reporting Labs Selects Students for First-ever Student Advisory Team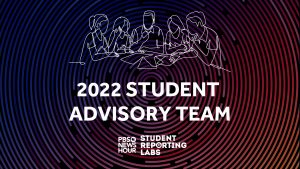 Arlington, Va.—PBS NewsHour Student Reporting Labs (SRL) is pleased to announce members of its first-ever Student Advisory Team, a select group of students to guide SRL's editorial and content production strategy during the 2022-23 school year.
The Student Advisory Team is a dedicated and diverse group of 19 student reporters and storytellers from all over the United States. Team members will focus on key issues that matter to young people and work with SRL's award-winning youth media producers.
"As we enter the 13th year in our organization's history and navigate an ever-changing media landscape, we're excited to hone our efforts alongside this group of talented, passionate students," said Marie Cusick, SRL's editorial director.
"We have long understood the immense value of working closely with students and I'm delighted to see the stories they produce, content that is the hallmark of our program," said Leah Clapman, SRL's executive director.
"Politics is a fascination of mine," said student advisor Aydin Tariq of Mattoon High School in Mattoon, Illinois. "Keeping youth informed is vital to building strong future generations."    
"I want to cover the effects of technology on mental health and social interactions," said student advisor Davi Jacobs of Richard Montgomery High School in Rockville, Maryland, "and the unconventional paths students take once they complete high school."
Students will meet virtually once a month over the school year to discuss story ideas.
Read more about each student's background below.
NAME: Adaninci Michelle Rodriguez Lopez

SCHOOL: Independence High School

LOCATION: San Franciso, California

Adaninci Michelle grew up in a lively, positive, and encouraging Guatemalan household. She fell in love with video creating and editing and began making videos on a Facebook account with her audience being her family. She mostly posted silly videos about challenges, quarantine life, and family events that happened in her life. She always loved making videos and aspired to become one of those YouTubers she saw growing up. Her biggest values are her spiritual life, her family, health & well-being. She wants to advocate for good, heart-filling, and positive messages and represent her Latino and Guatemalan family.

NAME: Aidan Booker

SCHOOL: Twinsburg High School

LOCATION: Twinsburg, Ohio

Aidan Booker is a junior at Twinsburg High School in Twinsburg, Ohio. His favorite subjects in school are language arts and interactive media. Outside of school, he enjoys listening to music, writing stories, and constantly learning new things. He has always had a passion for creating stories. That passion inspired him to participate in an eight-week journalism program (Cleveland Media Academy) in the fall of 2022 where he won a scholarship and had several articles published on Cleveland.com. Aidan is looking forward to working with SRL and collaborating with other students who have similar interests.

NAME: Alexia Monica Nastasia

SCHOOL: Lindbergh High School

LOCATION: Saint Louis, Missouri

Alexia Nastasia is a participant in the U.S. Department of State's Kennedy-Lugar YES Abroad Program, which has enabled her to live and study in the country of Senegal, in Western Africa. Alexia takes courses at the Sacré Cœur School in Dakar and engages in an array of community service activities. In her home city of Saint Louis, Missouri, Alexia pursued the International Baccalaureate at Lindbergh High School. As a member of a family of new immigrants from Eastern Europe, Alexia highly values rigor, creativity, and striving to overcome challenges as well as providing inclusive opportunities.

NAME: Alexis Schmidt

SCHOOL: Frederick V. Pankow Center

LOCATION: Clinton Township, Michigan

Alexis is a senior at the Frederick V. Pankow Center in Clinton Township, Michigan. She spends most of her time in her broadcast journalism class where she is always learning new things & improving skills. Alexis loves doing anything media related & some of her hobbies include videography, photography, going to concerts, and watching lots of movies & tv. She is very excited to be joining the advisory team and can't wait to work with the SRL team & the other student advisory members!

NAME: Ananya Vinay

SCHOOL: Clovis North High School

LOCATION: Fresno, California

Ananya Vinay is a senior at Clovis North High School. She is an aspiring scientist, poet, and journalist. Ananya is a science editor at the Iris News, a Literary Apprentice at BreakBread Magazine, and a staff writer for New Scene Magazine and The Teen Magazine. She is deeply interested in the intersection of medicine and technology, especially in regard to virtual reality. Ananya was the 2017 Scripps National Spelling Bee Champion. She founded SpellGenius, an organization aiming to provide a scientific approach to understanding language for young spellers.

NAME: Ariana Castañeda

SCHOOL: Bellaire High School

LOCATION: Houston, Texas

Ariana is a junior at Bellaire High School in Bellaire, Texas. She is a managing editor of her school newspaper, Three Penny Press. She joined the newspaper to create stories that connect people from all walks of life. She is looking forward to working alongside, learning from, and meeting various storytellers at PBS.

NAME: Aydin Tariq

SCHOOL: Mattoon High School

LOCATION: Mattoon, Illinois

Aydin is a sophomore at Mattoon High School in Mattoon, Illinois. He has been obsessed with advocacy and reporting since his 5th-grade year when he sent a letter to the local school board about installing solar panels at his elementary school. Since then he's built connections and been a voice for youth, LBGTQ+ rights, and mental health representation. In early 2022, he started his own mental health-based organization dedicated to preventing youth suicide. He now serves as youth representative for three community organizations and represents 19 schools as the Eastern Illinois District Association of Student Councils' Vice President. Aydin hopes to one day serve as a politician give the underrepresented a voice, and inspire hope and kindness.

NAME: Brianna Schmidt

SCHOOL: Frederick V. Pankow Center

LOCATION: Clinton Township, Michigan

Brianna is a senior at the Frederick V. Pankow Center in Clinton Township, Michigan. In her free time, she enjoys going to concerts, photography, videography, going to musicals, and hanging out with friends. Most of her day is dedicated to her broadcast journalism class, where she is always striving to improve her skills. She is thrilled to be a part of the student advisory team, and excited to get a chance to work closer with the SRL team and students!

NAME: Brynn Dominguez

SCHOOL: Communications Arts High School

LOCATION: San Antonio, Texas

Brynn Dominguez is a junior at Communications Arts High School in San Antonio, Texas. It's a magnet school that specializes in Animation, Audio and Visual Tech Production, and Broadcast Journalism. Brynn studies Broadcast Journalism and is the News Editor. Outside of school Brynn loves to bake and is a camp councilor. She can't wait to meet to work with other students on the board!

NAME: Davi Jacobs

SCHOOL: Richard Montgomery High School

LOCATION: Rockville, Maryland

Davi Jacobs is a senior at Richard Montgomery High School in Rockville, Maryland. In her sophomore year, she began actively contributing to her school newspaper, The Tide. After writing several timely articles, she took on deeper subjects and discovered a passion for uncovering people's inner narratives. Beyond journalism and writing/reading, Davi enjoys exercising and being among nature, volunteering and listening to podcasts. She is excited to contribute to SRL while meeting new people and working with professionals as an advisor.

NAME: Julia Smerling

SCHOOL: Dreyfoos School of the Arts

LOCATION: Lake Worth, Florida

Julia Smerling is from Lake Worth, Florida and is a communication art senior at A.W. Dreyfoos School of the Arts, with concentrations in creative writing, journalism, and photography. She has been doing photography since she could hold a camera and writing for her entire life. As well, she is currently co-class president of her senior class, an editor for the Marquee Yearbook, and co-president of the Slam Poetry Team. Her artwork revolves around human interaction and what it entails to live the human experience. Through her photography, writing, and films, she hopes to inspire others through her work.

NAME: Lauren O'Brien

SCHOOL: Palmyra Area High School

LOCATION: Palmyra, Pennsylvania

Lauren is from Palmyra, Pennsylvania and has been a part of her school's journalism/ broadcast program for three years. She is very passionate about journalism. She is always looking for ways to grow and improve in the field. She enjoys traveling, and documenting new learning experiences. Lauren hopes to take on new challenges during her time on the Student Advisory Team.

NAME: Lydia Tong

SCHOOL: Bellaire High School

LOCATION: Bellaire, Texas

Lydia is a junior at Bellaire High School in Bellaire, Texas. Her favorite subjects are Three Penny Press, her school's student-run newspaper, and biology. She loves to shoot short videos and plan TikToks, as well as write and design for her newspaper's print issues. In her free time, Lydia loves to cook, listen to Taylor Swift and Niall Horan, and play with her cat. Lydia hopes to one day create a short film documenting the high school experience in America.

NAME: Marissa Johnson

SCHOOL: Maui High School

LOCATION: Kahului, Hawai'i

Marissa was born and raised on the island of Maui in Hawai'i. She is a junior at Maui High School and in her school's Broadcast Media class and video club. Her favorite classes are English and broadcast/digital media. After high school, she wants to go to college for film and television. Some of her favorite things to do during her spare time are to read, spend time with her friends and family, and surf. She is excited about this opportunity and to meet and work with everyone.

NAME: Max Wang

SCHOOL: Hononegah Community High School

LOCATION: South Beloit, llinois

Max is a junior in high-school who is passionate about journalism and youth empowerment. He's excited to be part of the advisory board and contribute to SRL content. In school he's involved in Scholastic Bowl and Model UN, while outside of school, hobbies include playing tennis and the drums.

NAME: Natalia Fletcher

SCHOOL: Francis Howell High School

LOCATION: Weldon Springs, Missouri

Nat is a sophomore at Francis Howell High School in Weldon Springs, Missouri. She likes to read, play lacrosse and write. She also helps with her school's yearbook where she is the Social Media editor. Nat is most excited to interact and learn from other students and professionals.

NAME: Poojasai Kona

SCHOOL: Frisco High School

LOCATION: Frisco, Texas

As a freshman at Frisco High School in Frisco, Texas, Poojasai discovered an interest for journalism after actively writing in her blog and sharing the perspectives and voices of young individuals with rare diseases and how it has had an effect on their mental health. Apart from her love of writing, she enjoys reading, listening to music, playing badminton, and loves to hang out with her little brother. She is so incredibly grateful for the opportunity she has been given in being a part of SRL's first ever Student Advisory Team.

NAME: Raha Murtuza

SCHOOL: Richard Montgomery High School

LOCATION: Rockville, Maryland

Raha is a junior at Richard Montgomery High School in Rockville, Maryland. She enjoys embroidery, Arabic calligraphy, the outdoors, and sharing people's stories. As a member of the SRL Student Advisory Team, she hopes to amplify student voices from around the country, while getting to experience the inner workings of broadcast journalism.

NAME: Sonya Kulkarni

SCHOOL: Bellaire High School

LOCATION: Houston, Texas

Sonya Kulkarni is the executive editor-in-chief of the Bellaire High School student newspaper, the Three Penny Press. She uses her platform to give a voice to the unheard through stories covering social movements, student personalities and issues affecting her school and community, as well as holding school and district administration accountable. She has self-published two children's books, one about genetics and the other about hearing loss. She is a National Ambassador for the American Cancer Society and enjoys advocating in Congress for childhood cancer research by using her experience as a cancer research assistant at MD Anderson Cancer Center. At home, she spends her time playing with her dog and drinking copious amounts of tea!
About Student Reporting Labs
Student Reporting Labs (SRL) is a national youth journalism program and public media initiative of the PBS NewsHour and WETA that trains teenagers across the country to produce stories that highlight the achievements, challenges, and reality of today's young people. SRL creates transformative educational experiences through video journalism that inspire students to find their voice and engage in their communities. Since 2009, SRL youth media producers have helped students place over 100 video news reports on PBS NewsHour's nightly broadcast and more on local media outlets and reach 3,000 educators through its free learning platform StoryMaker. Visit www.studentreportinglabs.org and www.story-maker.org to learn more.
About PBS NewsHour
PBS NewsHour is a production of NewsHour Productions LLC, a wholly-owned non-profit subsidiary of WETA Washington, DC. Major corporate funding is provided by BNSF, Consumer Cellular, Fidelity, Johnson & Johnson, and Raymond James, with additional support from the Carnegie Corporation of New York, the Ford Foundation, the Gordon and Betty Moore Foundation, the John D. and Catherine T. MacArthur Foundation, The Kendeda Fund, the John S. and James L. Knight Foundation, the Andrew W. Mellon Foundation, the National Science Foundation, The Pew Charitable Trusts, the Skoll Foundation, the Walton Family Foundation, the William and Flora Hewlett Foundation, Friends of the NewsHour and others. More information on PBS NewsHour is available at www.pbs.org/newshour. You can watch and find NewsHour on YouTube, Facebook, Twitter, and Instagram. NewsHour Productions also produces PBS News Weekend and Washington Week.
About WETA
Founded in 1961, the Washington Educational Telecommunications Association (WETA) is the leading public broadcasting station in the nation's capital, serving Virginia, Maryland and the District of Columbia with educational, cultural, news and public affairs programs and services. WETA hosts the production of the PBS NewsHour, a classical music radio station, and programming that focuses on the United Kingdom. Learn more at https://weta.org. 
***
Student Reporting Labs is supported by the Corporation for Public Broadcasting, the National Science Foundation, the MacArthur Foundation, the Frieda Berlinski Foundation, the Charles Stewart Mott Foundation, the National Institutes of Health Science Education Partnership Award, the Ewing Marion Kauffman Foundation, and the Society for Professional Journalists.