Student reporters produce Boston stories on young activists, a youth environmental training program, the juvenile justice system at the 2023 SRL Academy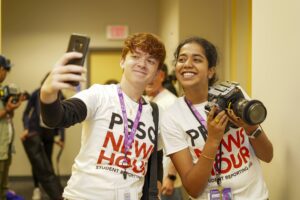 Written by Einav Tsach
Boston, MA — 28 high school student journalists from nearly 20 states gathered in Boston in late June for the PBS NewsHour Student Reporting Labs' 2023 SRL Academy, an intensive journalism training program where students worked in teams to produce seven local news reports — in just one week. This year's academy was produced in collaboration with GBH, Boston's PBS station, and hosted at Emerson College's Department of Visual & Media Arts.
"My favorite experience of this has been learning so much and learning it in such a safe environment where you can grow, and you're not judged or shamed if you don't know something. That has been so powerful," said rising senior Pride David at the live-streamed screening of final video reports, the culmination of the week's events.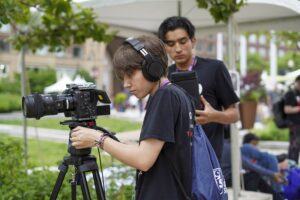 Throughout the week-long training program, student fellows attended workshops on every element of the video journalism production process: from interviewing and scripting to filming on state-of-the-art equipment and learning to edit. Sessions were led by SRL staff alongside industry professionals like Geoff Bennett, PBS NewsHour anchor, and producers from NOVA, Frontline, and GBH. (See behind the scenes here!)
Working in seven small groups, fellows then produced a variety of impactful local Boston stories—from student activists investigating unfair pricing patterns in a grocery store chain to an exhibit on the history of discrimination in Major League Baseball. (Watch here!)
Victor Fernandez, director of SRL's Youth Media Program, led the planning and execution of the event. He said this year's boot camp, his eighth, fostered connection and community: "It's not just about the program, it's about the people."
SRL Youth Media Producer Chris Schwalm, who led the program's technical training, expressed that the academy represents the core values behind SRL.
"It's the best week of the year for us because this is what we're all about," Schwalm said. "Helping youth collaborate with one another, bringing youth together and working with them on-site to story-tell—there's nothing else like it."
---
MEET THE ACADEMY GROUPS!
TEAM BOSTON TEA PARTY
Team Boston Tea Party produced a story profiling an organization that educates and trains the Boston community on sustainability and the effects of climate change. Watch: Exploring Boston's Thompson Island with youth environmentalists,
The team: Sandeep Brijesh Pillai, a sophomore at Beaverton Academy of Science and Engineering in Beaverton, Oregon; Sophia Ortiz, a sophomore at Young Women's Leadership Academy in San Antonio, Texas; Pride David, a junior at Buffalo Academy for Visual and Performing Arts in Buffalo, New York; and Allison Pope, a junior at Madison High School in Rexburg, Idaho. 
Team mentors: Christine Zirneklis, SRL Sr. Manager of Communications and Partnerships from Brooklyn, New York, and Tonia Magras, Principal Owner of Hull Bay Productions from Leominster, MA. 
THE BEANIE BUDDIES
The Beanie Buddies covered Boston's Beantown Beanfest, an event to raise money for the Equalizer Institute. Part of the New England Legal Foundation, the organization provides pro-bono legal support for underrepresented entrepreneurs. Watch: How a bean festival helps small businesses in the Boston area.
The team: Mahi Jariwala, a junior at Monte Vista High School in Danville, California; Ani Ceccacci, a sophomore at Royal Oak High School in Royal Oak, Michigan; Matthew Domingo Ochoa, a junior at Alta Vista Early College High School in Anthony, New Mexico; and Rawan Lilo, a sophomore at Albuquerque School of Excellence in Albuquerque, New Mexico. 
Team mentors: Emily Dobkin, SRL Community Manager from Denver, Colorado, and Becky Wandel, SRL Youth Media Producer from Washington, D.C. 
BOSTON BADDIES 
The Boston Baddies produced a piece on a traveling museum exhibit featuring the stories of 13 trailblazing Major League Baseball players. The display preserves the history of colored people in the sport, and educates the public. Watch: traveling museum exhibit that celebrates the 13 players who desegregated Major League Baseball. 
The team: Cate Roeder, a junior at Columbus East High School in Columbus, Indiana; Gabriella Duran, a sophomore at Cooper City High School in Cooper City, Florida; Poojasai Kona, a freshman at Frisco High School in Frisco, Texas; and Aydin Tariq, a sophomore at Mattoon High School in Mattoon, Illinois. 
Team mentors: Jaylah Moore Ross, SRL Associate Producer from Bowie, Maryland, and Anurag Papolu, SRL Graphic Designer from Brooklyn, New York
IT'S NOT FUNNY
It's Not Funny reported a story about Boston's Center for Teen Empowerment, an organization that works with teens to help them address issues in their community. The program coordinator, who was interviewed by the young reporters, was 17 years old when he was tried as an adult.  Watch: Juvenile vs. Adult justice systems.  
The team: Justin Kulas, junior at Eagle Valley High School in Gypsum, Colorado, Anastasiia Grygorieva; junior at Rouse High School in Leander, Texas; Hayden Yu Anderson, senior at Chief Sealth International High School in Seattle, Washington; and Maria Witcher, sophomore at Cass Technical High School in Detroit, Michigan.
Team mentors: Mohammad Pasha, a freelance journalist in Washington, D.C., and Ashley Porter, a Digital Media Teacher at District of Columbia International School in Washington, D.C.
PLAYAZ 2
Playaz 2 showcased the Boston Renegades, a women's tackle football team that has won multiple championships. The story highlights the pay gap experienced by the players and the sexism surrounding their game. Watch: National champion women's tackle football team struggles for recognition.
The team: Sarah Youssef, sophomore at Westview High School in San Diego, California; Keely Crawford, sophomore at Edmond North High School in Edmond, Oklahoma; Shawn McCarthy, junior at Kensington High School Philadelphia, Pennsylvania; and Angelik LaShell Twombly, junior at Omaha North High School in Omaha, Nebraska.
Team mentors: Leah Clapman, SRL Founder and Executive Director from Washington, D.C., and Michael Kaufman, SRL teacher from Frederick V. Pankow Center in Harrison Township, Michigan.
THE HOLY CANNOLIS
The Holy Cannolis explored the history of Nobska Lighthouse in Cape Cod, Massachusetts, a historical landmark being given away by the federal government to non-profits and other government entities. The young journalists captured the impact of the site on the local community. Watch: Massachusetts is selling iconic lighthouses.
The team: Hannah Coulthurst, a junior at Northview High School in Covina, California, Morgan Hawkins, a sophomore at District of Columbia International School in Washington, D.C., Riona Sheikh, a junior at Richard Montgomery High School in Rockville, Maryland, and Aidan Booker, a junior at Twinsburg High School in Twinsburg, Ohio. 
Team mentors: Marie Cusick, SRL Editorial Director from Arlington, Virginia, and Dewey Raposo, WSBE Rhode Island PBS Editor/Photographer.
THE TEAM WITH NONAME 
The Team With Noname covered the Hyde Square Task Force, a group of young activists working to challenge the Stop & Shop grocery chain's pricing practices. According to the group, the chain's groceries cost more in low-income communities than in affluent ones. Watch: Teen activists challenge grocery store pricing practices.
The team: Effie Gross, a junior at West Ranch High School in Stevenson Ranch, California, Precious Foreman, a homeschooled freshman in Waldorf, Maryland, Sriya Tallapragada, a sophomore at The Pingry School in Bernards Township, New Jersey, and Mielat Zeray, a junior at Wauwatosa West High School in Wauwatosa, Wisconsin. 
Team mentors: Chris Schwalm, SRL Youth Media Producer from Seattle, Washington, and Michael Conrad, SRL teacher from Royal Oak High School in Royal Oak, Michigan.