Student Reporting Labs Hosts StoryMaker Virtual Professional Development Series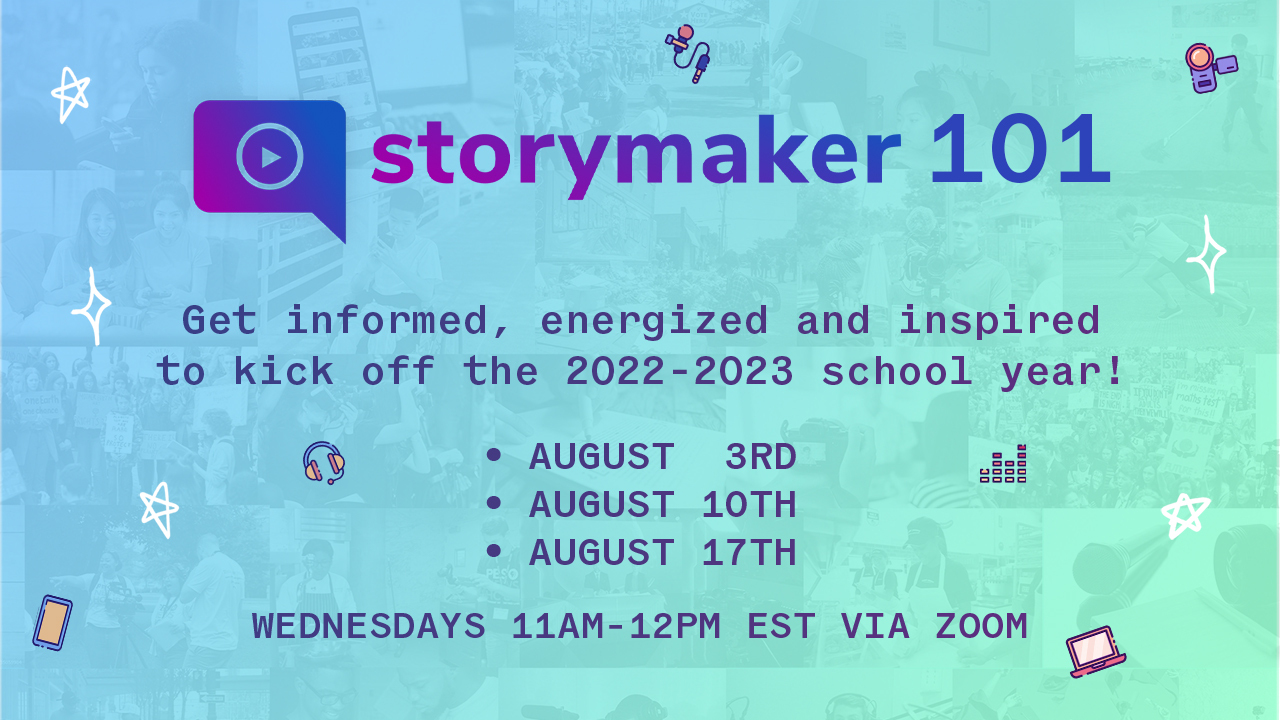 Arlington, Va.—PBS NewsHour Student Reporting Labs (SRL) will host a virtual, three-part professional development series for educators across the nation through StoryMaker, SRL's new, free learning platform for educators and students.
SRL's award-winning lesson plans are available on StoryMaker, an online platform that houses video journalism curriculum, resources, and activities for middle and high school students interested in leveraging video and audio storytelling to cover the issues and stories that matter to them and their communities.
Join StoryMaker Community Manager Emily Hope Dobkin on the following times and dates (unique RSVPs required for each session). Participants are encouraged to attend all of the following 3-part sessions, but it is not required. All workshops are free and one hour long. Recordings will be available for later viewing.
"StoryMaker is a one-stop shop for storytellers everywhere, whether you've been doing this kind of work for years or just starting out," Emily shares. "We know it can be daunting learning a new platform. This virtual series is geared to demystify the experience and really show educators how this platform can add value and efficiency to their courses or programs." 
"Educators can lean on the strong track-record of the PBS NewsHour and trust that the learning experiences they share in the classroom will lead to transformational change in young people and consumers of media" shares Leah Clapman, executive director of education for the PBS NewsHour and SRL founder.
Attendees will come away with a firm understanding of how to incorporate StoryMaker lesson plans and activities in their classrooms in order to tap into the power of storytelling that young people possess.
About StoryMaker
StoryMaker is a free learning platform designed by PBS NewsHour Student Reporting Labs to build the next generation of media creators. Through award-winning lesson plans and activities, StoryMaker provides a strong foundation of storytelling and journalism skills to help students gain confidence, find their voice, and discover their place in the world. Learn more at https://story-maker.org 
About Student Reporting Labs (SRL)
Through video journalism, Student Reporting Labs (SRL) creates transformative educational experiences that inspire middle and high school students to report on the issues that matter to them, find their voice and engage with their communities. SRL lesson plans, assignment prompts and instruction tools facilitate project-based learning that builds critical thinking, problem-solving, teamwork, and communication skills. Follow Student Reporting Labs on Facebook, Twitter, and Instagram.Major support is provided by the Corporation for Public Broadcasting, the MacArthur Foundation, the National Science Foundation and the National Institutes of Health Science Education Partnership Award.                                                                                           
About PBS NewsHour                                                                                  
PBS NewsHour is seen by over four million weekly viewers and is also available online, via public radio in select markets, and via podcast. PBS NewsHour is a production of NewsHour Productions LLC, a wholly-owned nonprofit subsidiary of WETA Washington, D.C., in association with WNET in New York. Major corporate funding is provided by BNSF, with additional support from Alfred P. Sloan Foundation, Carnegie Corporation of New York, the J. Paul Getty Trust, the S.D. Bechtel, Jr. Foundation, the John D. and Catherine T. MacArthur Foundation, the Lemelson Foundation, National Institutes of Health, National Science Foundation, The PEW Charitable Trusts, The William and Flora Hewlett Foundation, Ford Foundation, Skoll Foundation, The Gordon and Betty Moore Foundation, Friends of the NewsHour and others. More information on PBS NewsHour is available at pbs.org/newshour. On social media, visit NewsHour on Facebook or follow @NewsHour on Twitter.