Women scientists combat stereotypes with #girlswithtoys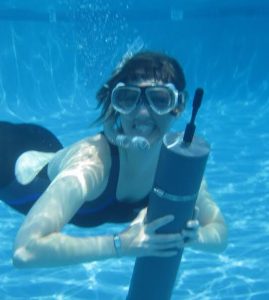 Heather Heenehan, a PhD candidate at Duke University studying marine science and conservation, used the hashtag #GirlswithToys to tweet this photo of her using acoustic loggers to study spinner dolphins.
A comment made by a male astronomer on NPR prompted a social media outcry over the weekend when female scientists around the world took to Twitter using the hashtag #GirlsWithToys. 
"Many scientists, I think, secretly are what I call 'boys with toys'," Shrinivas Kulkarni, a Caltech professor of astronomy and planetary science, said in a profile that aired on Saturday's episode of Weekend Edition. 
Although Kulkarni's did not intend to undermine the contributions of women to the sciences, it came at a time when multiple organizations and initiatives are striving to promote the engagement of women in science, technology, engineering, and mathematics fields — also known as STEM — and encourage more girls to pursue careers in science and math. 
A recent study by the American Association of University Women found that men outnumber women in nearly every STEM field, with as few as 20 percent of bachelor's degrees in fields like physics, engineering and computer science going to women.
#GirlsWithToys continued to trend Tuesday, with women sharing photos of themselves posing with telescopes, peering into microscopes, controlling mars rovers or climbing into ice caverns to show off their research and the growing role they play in scientific discovery.
Fourteen-year-old Keely Slade of John Hardin High School in Radcliff, Kentucky is already an avid competitor in robotics competitions and excels in her school's Project Lead the Way engineering class.
"Being a female and also being a freshman is kind of difficult," Slade said. "You have guys look at you like you're weak and you're timid. They don't really expect someone who's loud, outgoing and independent."
Keely has inspired other girls to join the class and said she hopes to pursue a career in engineering. 
"I know that I can see myself, 20 years from now, building bridges in civil engineering or helping with road construction designs," she said.
This video was produced by AlexisLee Lawson, a Student Reporting Labs reporter at North Hardin High School in Kentucky with support from KET, Kentucky Educational Television.