Teacher Feature September 2023: Dr. Sequoyah Wharton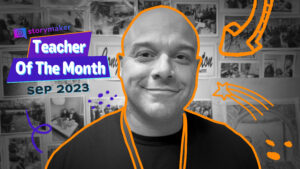 Dr. Sequoyah Wharton is a digital film, broadcast journalism and visual arts teacher at Brentwood High School in Brentwood, NY. As a dedicated educator with a skills-trade background, he is passionate about empowering the next generation through journalism and storytelling. Sequoyah's teaching journey has been enriched by his love for art, extensive travels, and a commitment to lifelong learning. He believes in fostering critical thinking, creativity, and global perspectives in his students. 
Sequoyah is always excited to be part of the SRL community and eager to share ideas, best practices, and the joy of learning with fellow educators. Learn about his favorite media-making tools, StoryMaker lessons, and pro tips, in our Q&A below. 
How long have you been using StoryMaker or SRL resources in your classroom?  Going into my 6th year!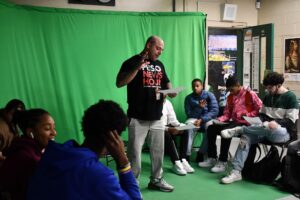 What's your favorite StoryMaker lesson?  
One of my absolute favorite prompts from StoryMaker has to be Food, Family, Culture and Community. It brilliantly combines my love for culture and education. It encourages students to explore how food shapes our identities, traditions, and the cultural tapestry of our world. It's a topic that never fails to ignite fascinating discussions and allows students to connect on a personal level with diverse cultural experiences. Another prompt that truly resonates with me is Engineering Our People, Our Planet – How We Shape Our World. As a self-professed nerd when it comes to culture and the environment, this prompt aligns perfectly with my interests. It invites students to delve into the ways in which human actions impact our planet and society. It's a fantastic opportunity to instill a sense of responsibility for the environment and inspire the next generation of problem solvers. Additionally, I'm excited about the new option for students to Pitch their own Stories to the SRL team. This feature empowers students to take the reins of their storytelling journey, fostering creativity and independent thinking. I look forward to guiding and supporting my students as they develop their unique ideas and send them to the SRL team, fostering a sense of ownership and pride in their work. It's an amazing avenue for students to showcase their creativity and make their voices heard.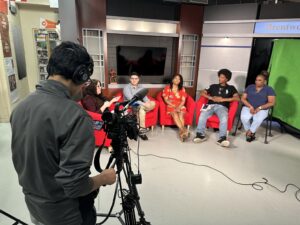 What's a media-making tool you can't live without? 
Adobe Creative Cloud. Its suite of software, including Photoshop, Premiere Pro, and Illustrator, allows me to blend my passion for art with educational content creation. Whether it's designing engaging visuals for presentations, editing videos for educational projects, or crafting compelling graphics for online courses, Adobe Creative Cloud allows me to bring creativity and innovation into the classroom. It's a versatile and indispensable resource in my teaching toolkit. I also enjoy using the DJI Osmo with my students because it opens up exciting opportunities for hands-on learning and creativity. This portable gimbal camera system allows us to capture stunning cinematic shots and tell compelling stories. It's a fantastic tool for teaching visual storytelling techniques, fostering teamwork, and encouraging students to explore their artistic talents. Through the DJI Osmo, my students can experience the thrill of filmmaking while gaining valuable skills that extend beyond the classroom, making learning both enjoyable and practical.
Links to your students' work: can be found here 
What's a dream story you'd like to report on?
As an educator deeply passionate about culture and the environment, I'd love to report on indigenous communities around the world and their sustainable practices. Exploring how these communities have harmoniously coexisted with their environments for centuries while facing the challenges of the modern world, would be both enlightening and inspiring. It would shed light on invaluable traditional knowledge and innovative solutions to pressing environmental issues. A dream interviewee for such a story would be Malala Yousafzai. Malala is an advocate for girls' education and the youngest-ever Nobel Prize laureate. Her experiences and activism in promoting education, particularly for girls in regions facing adversity, make her a powerful voice in the field of education. Malala's extensive travels and engagements with students and educators worldwide have provided her with firsthand insights into the challenges and barriers to education in many parts of the world. Her work through the Malala Fund has contributed to increasing access to education for girls and advocating for educational equity. An interview with Malala Yousafzai could explore topics such as the importance of girls' education, the role of youth activism in driving social change, and practical strategies for educators to support marginalized students. It would be an inspiring conversation for educators passionate about advancing educational access and equity globally.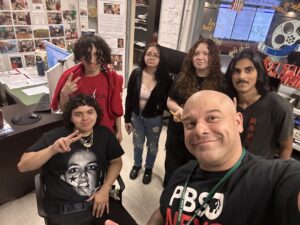 What's your advice for teachers and educators just getting started on StoryMaker? StoryMaker provides a dynamic platform for students to express themselves, explore their passions, and engage with important issues. I encourage your students to fearlessly share their unique perspectives and voices through their stories. Foster an environment of creativity and curiosity, where mistakes are opportunities for growth. Remember: the journey of storytelling is as valuable as the final product, so enjoy the process with your students. And don't hesitate to reach out to the supportive SRL community for guidance and inspiration. Together, we can empower the next generation of storytellers and change-makers.
What are you currently listening to? Chris Stapleton – Maggie's Song
Fun facts about you?
One of my favorite hobbies is collecting art from my travels. Each piece tells a unique story and serves as a constant source of inspiration for both my personal and professional life. I believe that art has the power to transcend borders and connect people from different cultures, making it a valuable educational tool in its own right. I have a special tradition of giving the artwork I collect to my mother, the person who inspired me to travel and explore the world. It's a meaningful way to share the beauty and culture of the places I visit with her.
You can reach out to Sequoyah directly to learn more about how he's adapted StoryMaker into his classroom. Email him at: sequoyahart@gmail.com
You can also follow Sequoyah on Instagram,  Twitter, Facebook and LinkedIn.