SRL teen reporters interview young delegates to the 2020 Democratic and Republican National Conventions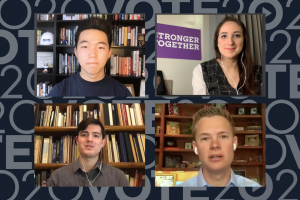 Arlington, Va.–– PBS NewsHour Student Reporting Labs (SRL) worked with high school student reporters remotely across the country to cover both the virtual Democratic National Convention (DNC) and the Republican National Convention (RNC).
First, SRL reporters Sara Stanislawski, 17, of Wauwatosa West High School and AJ Dixon, 17, of Wauwatosa East High School in Wauwatosa, Wis. zeroed in on two young DNC delegates about why they chose to be involved in the convention. 
"We see what's at stake and we have an incompetent president. So I think people know that the stakes are high and that they're going to be fighting for their candidate to win this election," Rachel Gonzalez, a 21-year-old Joe Biden delegate from Missouri's 5th congressional district, said. 
Gonzalez was also the youngest delegate supporting Hillary Clinton at the 2016 convention.
"I think that young people really crave representation in politics. They don't feel heard and politics. So it's up to now elected officials and politicians to really acknowledge that and value that concern from the perspective of young people so that they really do turn out to vote in November," Victor Shi, the youngest delegate from Illinois to support former Vice President Biden said. 
Shi is an incoming freshman at the University of California, Los Angeles (UCLA).
Stanislawski and Dixon co-produced the pieces with SRL producers Victor Fernandez and Rawan Elbaba. Additional support was provided by SRL Connected Educators Jean Biebel and Chris Lazarski.
Next, student reporters Teri Bell from Caesar Rodney High School in Camden, Delaware, and Elaine Hudgins from Jacksonville High School in Jacksonville, Alabama interviewed two young alternate delegates to the GOP's national convention.
Bell spoke with alternate delegate Connor Barron of Plano, Texas who is also serving on several municipal boards. They discussed his conservative roots, President Trump, and the role of youth in politics.
On why President Donald Trump should be reelected, Barron said:

"He has proven that he's been very committed to what he campaigned on. I've seen from experience you don't always get that from politicians. He has proven to be very supportive of the ideals found in the United States Constitution."
Hudgins interviewed Carson Butler, an alternate delegate to the RNC from Alabama on his father's influence in joining politics at a young age and the importance of voting in this year's election. Butler's father is a former Alabama state representative, Mack Butler.
"You know, a lot of people get shocked when I tell them I'm that young and they're like, 'Why are you the politics then?' But, you know, I'm a believer of the Constitution. I believe in liberty. And I believe, you know, all young people, whether you're Republican or Democrat, it's good for a young age to get involved in politics," said Butler.
Bell and Hudgins co-produced the pieces with SRL producers Eli Kintisch, Marie Cusick, and Briget Ganske.
For more information on how conventions work, check out this graphic explainer on SRL's Instagram. 
WATCH the interviews with young DNC & RNC delegates:
On how YOU can cover #Election2020, check out the SRL #Election2020 Toolkit.