PBS NewsHour Student Reporting Labs (SRL) Debuts StoryMaker, a New Learning Platform for Educators and Students
September 21 

, 2021
Arlington, Va.— PBS NewsHour Student Reporting Labs (SRL) released StoryMaker, a new, free, digital tool that will serve as a one-stop shop for educators and students interested in engaging with SRL's signature youth journalism and storytelling curriculum and program. 
The self-directed online educational tool includes:
Lesson Plans, projects, challenges, and video tutorials for video journalism production, recording, and editing
Educator directory for teachers interested in sharing their expertise and connecting with colleagues.
Office hours with SRL's youth media experts who provide coaching and mentoring to teachers and students on media making projects.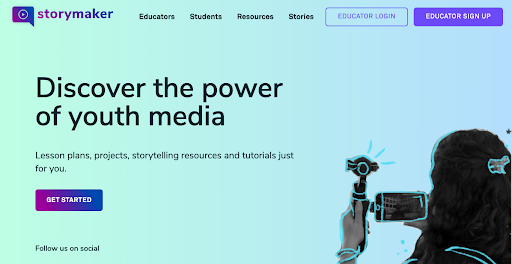 Co-created with educators, StoryMaker features standards-aligned curricula, designed and tailored for middle and high school students, and grounded in the belief that journalism and storytelling is critical to a young person's educational experience.  
Educators can sign up for free and learn more about the platform on the Getting Started Page, which features an onboarding video where new users are guided through StoryMaker's features, tailored to make the most of media making and creation in the classroom.
StoryMaker was designed to help as many teachers as possible create journalism and storytelling opportunities for their students, and build a community of teachers who help each other. SRL intends for StoryMaker to be iterative, with regular updates to the online tool to improve user experience. 
Funding for StoryMaker was made possible by the National Science Foundation.
Explore all StoryMaker has to offer.
About Student Reporting Labs
Student Reporting Labs (SRL) creates transformative educational experiences through video journalism that inspire youth to find their voice and engage with their communities. SRL lesson plans, assignment prompts and instruction tools facilitate project-based learning that builds critical thinking, problem-solving, teamwork, and communication skills. Follow Student Reporting Labs on Facebook, Twitter, and Instagram. Major support is provided by the Corporation for Public Broadcasting, the MacArthur Foundation, the National Science Foundation and the National Institutes of Health Science Education Partnership Award.                                                                                                                                                                                                                          
About PBS NewsHour                                                                                  
PBS NewsHour is seen by over four million weekly viewers and is also available online, via public radio in select markets, and via podcast. PBS NewsHour is a production of NewsHour Productions LLC, a wholly-owned nonprofit subsidiary of WETA Washington, D.C., in association with WNET in New York. Major corporate funding is provided by BNSF, with additional support from Alfred P. Sloan Foundation, Carnegie Corporation of New York, the J. Paul Getty Trust, the S.D. Bechtel, Jr. Foundation, the John D. and Catherine T. MacArthur Foundation, the Lemelson Foundation, National Institutes of Health, National Science Foundation, The PEW Charitable Trusts, The William and Flora Hewlett Foundation, Ford Foundation, Skoll Foundation, The Gordon and Betty Moore Foundation, Friends of the NewsHour and others. More information on PBS NewsHour is available at pbs.org/newshour. On social media, visit NewsHour on Facebook or follow @NewsHour on Twitter.
Media Contacts
Marcus Markle, SRL Communications Manager: mmarkle@newshour.org
Elis Estrada, SRL Senior Director: eestrada@newshour.org