SRL students take center stage at 2020 NETA Conference & CPB Public Media Thought Leader Forum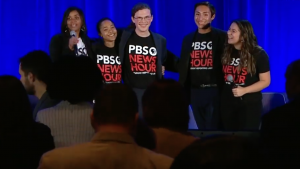 Arlington, Va.–– SRL attended the National Educational Telecommunications Association (NETA)'s annual conference, which convened over 600 representatives from member PBS stations across the country. The conference included an awards gala to honor the work of public media stations in various categories. SRL was recognized for its work at the 2019 Student Reporting Labs Academy, winning the Division 1 award for Education – Celebrating Teaching & Learning. 
SRL also partnered with NETA to celebrate four Student Journalists of the Year from the program's national network of middle and high school students.  Mary Williams of Ohio, Kaleb Velez of Texas, Xavier Dominguez of New Mexico, and Karen Ramos of Virginia won awards for their exemplary work in the field of video journalism
These students had the opportunity to share their voice and insights with conference attendees during a panel moderated by UNC-TV Youth Media Producer Erica Starke-Knight. When reflecting on her overall experience of the conference, one attendee noted that the students left an indelible impression on her.
SRL teachers and Youth Media Producer Marie Cusick also had an opportunity to discuss the impact of SRL on their profession during a panel moderated by PBS Charlotte General Manager Amy Burkett. Afterward, students interviewed NETA attendees about the future of education and public media.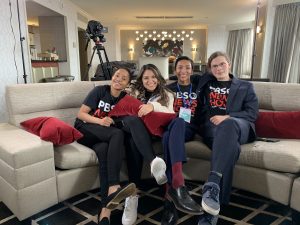 "We are proud and grateful for the work of our students, educators, and team," said Leah Clapman, founder of SRL. "It's been ten years in the making."
SRL also co-hosted a session entitled, "Engage the Power of Student Voice: Election 2020" where Elis Estrada discussed SRL's partnership with KQED and the National Writing Project and SRL's upcoming #Election2020 toolkit.